Good morning, Buckeye fans, and welcome to Friday! I'd say we should all get this party started, but it seems our old pal, Art, started without us. Stay away from drugs, kids. They're just bad news, and... isn't food addiction more fun anyway? I think so. Just don't ask Paula Deen about that. 
Before I go off on an endless food tangent, which I'm completely capable of (insane In N Out craving, at the moment), let's get to the good stuff.
SPRING BREAK, 2012! Save the date, Buckeye fans. Ohio State announced this week that the 2012 Spring Game will take place April 21st at 1:30pm EST. 
This year's spring game will be the first Tressel-less one in quite some time, and also serves as the first opportunity for fans to witness the much anticipated Urban Meyer-coached Buckeyes. Ohio State spring games in the past have seen as many as 95k in attendance (a national record), and with the excitement around the Urban Meyer hire, this year could quite possibly put that to shame. Take that, again, Nick Saban. 
What could make witnessing the arrival of Urban Meyer's offense even more fun? A post-game night of debauchery with your favorite Buckeye-obsessed basement dwellers. How does one secure such a fabulous opportunity? Well, lift your jaw off the ground, and read up on the 11W Respect the Basement Fundraiser.
CAM YOU DIG IT?! I'm not sure if you're aware, but Eleven Warriors' own Alex Gleitman is on top of it. Cam Burrows made his commitment to Ohio State's 2013 recruiting class official yesterday, and you can read Alex's post on the announcement, as well as watch Burrow's video highlights, here. 
In addition to being a huge get for Urban Meyer, Burrows has the privilege of attending Defensive Back U, as Ohio State boasts 11 DBs on NFL rosters, the most in the nation. Miami and LSU trail with ten and nine, respectively.
Cam not only serves as a great addition to the future Ohio State football team, but also, according to Alex, might be the catalyst to several verbal pledges that may be heading Urban's way in the coming weeks.
Given the history of Urban's recruits named Cam, let's just keep an eye on his parents. [Insert the flashing of a playful grin here].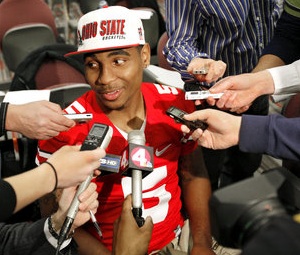 COLLEGE DROPOUTS. The NFL announced Thursday that 65 underclassmen will be declaring for the NFL draft this year. Not only does this top the previous record, last year's 56, it pretty much shatters it.
While some early departures, such as Oklahoma State WR Justin Blackmon and USC OT Matt Kalil, weren't big surprises, Oregon QB Darron Thomas did provide a few chuckles earlier this week when he announced he'd be entering the draft. What draft? Oh, the NFL Draft? What is he smoking? (Cliff Harris wasn't kidding.)
For those who like to see players return for their senior seasons, it wasn't all bad... USC's QB, and Heisman hopeful, Matt Barkley opted to stay (and got a championship parade-ish press conference, in return), as did Wisconsin RB Montee Ball, Alabama OL Barrett Jones, and Oklahoma QB Landry Jones (no comment, some jokes write themselves).
HE'S A MAN! HE'S COACH OF THE YEAR! Is this joke getting old yet? I really hope not. I've found most guys are suckers for a girl at the bar with a well-timed Mike Gundy reference, and I'm not quite sure I can pull this off.
But, back to the point, Oklahoma State head coach Mike Gundy won the Paul "Bear" Bryant College Coach of the Year Award on Thursday night, beating out Les Miles, Brady Hoke, Bret Bielema, Bill Snyder, and quite a few others. Seriously, the list was longer than that of Antonio Cromartie's kids. (Speaking of jokes that will never get old to me...)
Gundy's Cowboys went 12-1 this season, with their sole loss coming in double OT to the 6-6 Iowa State Cyclones. The Oklahoma State coach has been outspoken this year about his support for a four team playoff system, and he used some of his time before the ceremony Thursday to spread that message some more. 
Former Iowa head coach Hayden Frye was also honored at the ceremony, as the recipient of the Bryant Lifetime Achievement Award (awarded by the National Sportscasters and Sportswriters Association). Though Frye is most commonly associated with his time at Iowa, he was also the first head coach to give a scholarship to an African-American in the south, in 1966, during his time at SMU. Upon accepting the award, Frye said, "I can't think of anyone I'd rather be associated with than coach Bryant. We were very close friends. He told me a lot of things that helped me win football games throughout my career."
WEED, THE ULTIMATE GATOR BAIT. It seems the Florida arrest record that many pinned on Urban Meyer, may not have been an Urban Meyer issue, after all. Florida Gator DT Leon Orr was arrested this month, on marijuana charges. According to the Orlando Sentinel, Orr makes Florida's ninth arrest since Will Muschamp took over as head coach one year ago. Orr is apparently also the sixth Florida player, during Muschamp's tenure, to be arrested for marijuana charges, already topping the total of four during Meyer's time as the Gators' head coach.
I'm not sure what kind of weed they're smoking in Gainesville, but if it's producing .500 seasons, they should call up the Honey Badger, and ask for his synthetic stuff.
FRIDAY FUNDAY. The college football Wikipedia pages we all want to see... To the fine people of the state of Alabama: Hide your trees, hide your teabags... Brush up on your recruiting lingo... This can't be real life... Just because life is short, and this all looks delicious... I dare you not to smile... Want to know who to watch for, this Sunday?