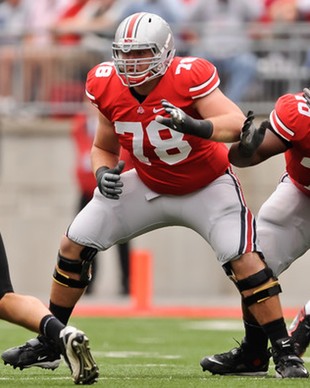 There was a time, way back during the first half of Jim Tressel's tenure in Columbus, when Ohio State was known for having fearsome, dominant lines. It was one of those lines, in fact, that powered the Buckeye rushing attack to an upset over a formidable Miami front in the 2003 National Championship.
But then something happened. Five-star recruits stopped living up to their billing and the unit was exposed as out of shape and slow, first against the Florida Gators in the 2007 championship game and then a year later against LSU.
What had once been a strength of the team was routinely exposed against faster SEC defensive lines and things needed fixed and in a hurry.
2008 was supposed to solve that. The two Jims were bringing in the "Brew Crew", three of the top offensive line recruits in the nation, in the form of tackles Mike Adams and J.B. Shugarts and center Michael Brewster.
While there were some aggravations along the way in the form of suspensions and false starts, the group largely performed up to expectations. The trio combined for 109 starts and left Columbus with two BCS bowl wins and several all-conference and all-American nods.
Now, a new era begins, both in terms of contributors on the line and coaching. New offensive line coach Ed Warinner must still deal with a recruiting approach that somehow thought it would be okay to sign just five offensive linemen total in the 2010 and 2011 classes, but the cupboard isn't completely bare. Two honorable mention All-Big Ten selections are returning and the new staff brings the hope that somehow, this time, things will be better.
Not since 2008 has the line entered a season with so many spots up for grabs. While starters Andrew Norwell and Jack Mewhort, both guards, return, there will be three positions technically up for grabs at fall camp later this year.
Mewhort will be returning to his spot at right guard, where he started eight games last season (he started the other five games at left guard while the line was shuffled during Mike Adams' suspension). An honorable mention All-Big Ten selection as a redshirt sophomore last season, Mewhort has a lot of experience under his belt already, having seen action in quite a few games before he emerged as a starter last year. He's steady and well on his way to becoming a very great guard.
Departing

| # | Name | Notes |
| --- | --- | --- |
| 75 | Mike Adams | 25 starts; NFL-bound |
| 50 | Michael Brewster | 49 starts; NFL-bound |
| 76 | JB Shugarts | 35 starts; Drink! |
Returning

| # | Name | HT/WT | YR |
| --- | --- | --- | --- |
| 51 | Brian Bobek | 6-2/280 | SO |
| 55 | Tommy Brown | 6-5/320 | SO |
| 72 | Chris Carter | 6-6/350 | R-FR |
| 77 | Reid Fragel | 6-8/290 | SR |
| 79 | Marcus Hall | 6-5/315 | R-JR |
| 71 | Corey Linsley | 6-2/310 | R-JR |
| 74 | Jack Mewhort | 6-6/303 | R-JR |
| 78 | Andrew Norwell | 6-5/308 | JR |
| 73 | Antonio Underwood | 6-3/305 | SO |
Incoming

| Name | HT/WT | YR | Rivals |
| --- | --- | --- | --- |
| Jacoby Boren | 6-3/273 | FR | ★★★ |
| Taylor Decker | 6-8/313 | FR | ★★★★ |
| Pat Elflein | 6-3/285 | FR | ★★★ |
| Joey O'Connor | 6-4/295 | FR | ★★★★ |
Norwell will likely slide out to left tackle to fill the spot vacated by the departing Adams. Those are not easy shoes to fill. Adams was a two-time all-conference selection and shared the Jim Parker Award as the team's outstanding lineman with Brewster in 2011. However, it was Norwell that the staff turned to to assume the left tackle position last year while Adams was out, so he knows the spot and brings plenty of experience and confidence into 2012.
Redshirt junior Corey Linsley should be the starter at left guard, sliding into Norwell's spot. He saw snaps in nine games last year, including time at right tackle, but spent most of the season backing Mewhort up at right guard. He's a natural guard will emerge into a consistent every-down starter this season.
Brian Bobek, who backed up Brewster at center almost from the day he set foot on campus will finally get an opportunity to show what he can do as a starter. Brewster rarely left the field during his four seasons in Columbus (his 49 career starts are second only to Luke Fickell's school record of 50), but Bobek did see action in five games, primarily in the fourth quarter in games that were already decided. As a senior in high school, he was Rivals' 3rd-ranked center, so the talent is there.
We may see a battle for the right tackle spot opened up by Shugart's departure. The two leading candidates to assume the position are redshirt junior Marcus Hall and senior Reid Fragel. Regardless of who wins the spot, we're all winners in the sense that false starts should plummet.
Hall came to Columbus with plenty of hype and accolades, but got off to a rough start as he became an academic casualty. He battled his way into the lineup last year, starting the first five games of the season at right guard when the line was reconfigured during Adams' suspension, but spent the better part of last year backing up Norwell at left guard. He certainly has the talent and physical tools to seize the job, but it will come down to whether he wants it bad enough.
Fragel spent his first three seasons as a tight end, but announced his switch to offensive line and to a new number (77) a few weeks ago. His footwork should be off the charts and he certainly has the height (6-8) to play the position, but it's all a matter of him putting on weight now. He's on a mission to top 300 and he's closing in on that mark. If he does earn the job, don't be surprised to see some tackle eligible magic near the goal line.
So, just to recap, here's how I see the line to start the season (left to right): Norwell, Linsley, Bobek, Mewhort and Fragel/Hall.
Depth will be a problem, however, and the staff is trying frantically to remedy that with efforts in this class. Sophomore guard Tommy Brown saw action in just one game last season (Miami) and fellow guard Chris Carter picked up a redshirt after reporting to camp a little high on the weight side.
Tackle Antonio Underwood earned a start at right tackle against Purdue last season when Shugarts was out with a leg injury, but his performance in that game left some feeling queasy. Another year in the program will help from an S&C and experience perspective, however.
Ohio State currently has four offensive line commitments as part of the 2012 class, including #12 tackle Joey O'Connor (Windsor, Colorado) and Notre Dame flip and #23 tackle Taylor Decker (Vandalia, Ohio).
Two guards from Pickerington will also be part of the class. Jacoby Boren of Pickerington Central is Rivals' #37 guard and will be the third Boren to suit up for the Buckeyes in the last three years. Pickerington North's Pat Elflein, one of the first commitments to the class, brings a sturdy frame to town.
Thanks again to the lack of numbers from an offensive line recruiting standpoint the last couple of years, all four incoming linemen have a chance to force their way onto the two-deep and see time early at Ohio State.
The line will be green, yet talented this year. With a new coach assuming leadership of the group, there is plenty of room for optimism, however. We'll be back next week to take a look at the tight ends and receivers.