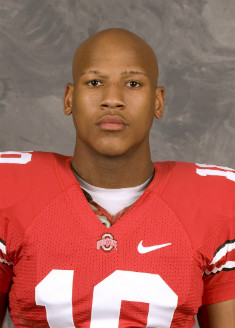 Remember when we spoke glowingly of how dominant the defensive line should be next year?
That's good because if the linebackers perform in 2012 like they did during the 2011 season, the line will once again be carrying the load in terms of run-support and pressuring opposing quarterbacks with a linebacker corps that is atypical for an Ohio State team in that is somewhat serviceable, but nothing near spectacular.
Sure, there were bright spots. Andrew Sweat performed admirably as a senior leader on the unit, finishing with 72 tackles and rebounding from a late season concussion to show his toughness. True freshman Ryan Shazier, undersized a bit for the position at just 212 pounds, emerged as playmaker who has the potential to become one of the all-time greats in Columbus.
But, with all due respect to our friends to the east, when you think of great linebacker play, you think of Ohio State and we just didn't see enough of that in 2011.
Expectations were high, especially for guys like Etienne Sabino, who has been in the program for a while and came to Columbus as one of the top prep linebackers in the country and new linebacker coach Mike Vrabel, who arrived with Super Bowl rings and plenty of praise for his knowledge of the game.
What we ended up with was a defensive tackle and two defensive backs buttressing Sweat in the top four for tackles on the team and a new coach likely learning a lot on his first year on the job, not limited to how best to approach coworkers over philosophical disagreements.
The good news is that the architect of so many of the great linebacker corps in recent memory, Luke Fickell, is now working with the linebackers once again in Urban Meyer's new staff. Depth will be a problem as the team presently has just six linebackers on scholarship -- only three of which saw any significant time at the position last year -- but this is still Ohio State and the linebackers are still expected to be great.
The 2012 Buckeyes will first have to cope with the departure of the man in the middle, Andrew Sweat. Sweat exits Ohio State having seen action in 38 games, starting in 19 of them, including 11 last season. Though he's the only departing linebacker that saw starts in 2011, his experience and toughness will be missed and someone will need to emerge into his roll as captain of the unit, calling plays and handling adjustments.
Senior-to-be Storm Klein backed Sweat up at the Mike spot towards the end of the season but started 10 games himself while Sweat played at Will to start the year and finished 8th on the team with 45 tackles, also chipping in two TFLs, one sack, one interception, a forced-fumble and a fumble recovery. Klein certainly has the size to man the middle, but there are some concerns about his speed and pursuit angles.
The ideal scenario here would be for things to finally click for sophomore Curtis Grant. The five-star recruit from Richmond, VA was considered the best inside linebacker in the country by more than one recruiting service, but had trouble getting onto the field outside of special teams play for most of his freshman season, appearing in nine games on kicks. His season highlight came against the Badgers when he recovered a blocked punt inside the five yard line, setting up a Buckeye touchdown. If Fickell can get Grant ready from a mental standpoint, he has the physical tools to step in and be dominant.
Departing

| # | Name | HT/WT | Notes |
| --- | --- | --- | --- |
| 38 | Scott McVey | 6-0/225 | Medical hardship |
| 41 | Tony Jackson | 5-10/225 | Special teamer |
| 42 | Andrew Sweat | 6-2/238 | 19 starts |
Returning

| # | Name | HT/WT | YR |
| --- | --- | --- | --- |
| 36 | Connor Crowell | 6-1/220 | R-FR |
| 14 | Curtis Grant | 6-3225 | SO |
| 35 | James Hastings | 5-10/220 | R-JR |
| 32 | Storm Klein | 6-2/240 | SR |
| 6 | Etienne Sabino | 6-3/242 | 5-SR |
| 10 | Ryan Shazier | 6-2/212 | SO |
| 39 | Jordan Whiting | 6-1/238 | R-JR |
Incoming

| Name | HT/WT | YR |
| --- | --- | --- |
| Josh Perry | 6-4/228 | FR |
| Luke Roberts | 6-3/230 | FR |
Shazier will return at the Will spot, which is the perfect position for the ball-seeking Buckeye missile that he is. He started his freshman campaign on special teams, but quickly found his way onto the field at linebacker, eventually starting the final three games of the year yet still finishing 6th on the team with 57 tackles and five TFLs, three sacks, two forced fumbles and a huge punt block in the Wisconsin game. Despite the limited playing time, his TFL and sack numbers were good enough for 4th and 3rd on the team, respectively, so there's little doubt as to why he emerged as a fan favorite.
5th-year senior Etienne Sabino was listed as Shazier's backup at Will, but was also the starter at the Sam spot, so the staff will want to work to find a true backup for Shazier. Look for one of the incoming freshmen to fight their way into the backup spot.
Speaking of Sabino, he's another player that arrived with plenty of hype as a member of the 2008 class, but thus far, hasn't lived up to expectations on the field.
As a true freshman, he backed up James Laurinaitis, but mostly saw action on special teams, where he scooped up a blocked punt against Purdue for the game's only touchdown. As a sophomore in 2009, he saw reserve action, but did little to force his way on the field. As a junior, he accepted a redshirt, hoping to position himself for more playing time and responded with five starts last year, finishing 5th on the team with 62 tackles and 6.5 TFLs (good enough for 2nd on the team).
It's no stretch to say that his career has been a disappointment, but Sabino will have one more season to show what he can do. The light did appear to come on a bit during the Gator Bowl, and he finished the game with two TFLs among quite a few solid hits, so optimism is there for him to have a breakout senior season.
Grant was listed as Sabino's backup late in the year, but if he moves to the middle, one of the freshman, or perhaps Jordan Whiting can step in as Sabino's backup. As a redshirt junior last season, Whiting was suspended for one game for his involvement in the tattoos for merchandise affair, but didn't see any snaps after that point. His status with the team is questionable, though we have not heard anything about his departure.
Hopefully, redshirt freshman Connor Crowell will add depth to the linebacker picture this year after a season missed following surgery to further repair two broken bones he suffered in his left leg as a high school senior. He started fall camp on crutches last year, but from all accounts, should be good to go in 2012. If he's able, look for him to maybe provide depth at the Will spot.
While Meyer has offers out to a handful of linebackers for this class, the two that have committed are talented and have an opportunity to see early playing time.
Olentangy's Josh Perry is a Rivals four-star, rated as the nation's 10th-best outside linebacker. At 6-4/228, he's already blessed with the size needed to play and will only benefit with time in Mickey Marroti's program. A 3.8 student with a 26 under his belt on the ACT, he should be able to pick up the playbook quickly. Of the two freshmen, Perry has the best chance of seeing the field early.
Lancaster's Luke Roberts, a Rivals three-star at inside linebacker has the size as well, and may even be quicker to pick up mental aspect of the college game as he's already registered a 30 on the ACT. Roberts may not immediately see the field, but he follows a long line of linebackers from Lancaster to Ohio State, so he will have some peer pressure to make his mark.
We'll be back next week to look at the defensive backs. In the meantime, pray for Luke Fickell and the linebackers.