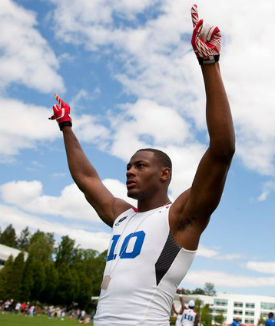 We spoke to David "Boom" Perkins back in early December and at the time, the four-star stand out seemed like a bit of a long shot to end up as a Buckeye. Fast forward to yesterday and Perkins became the 22nd member of an Ohio State recruiting class of 2012 that is headed for a top three national finish.
The linebacker from South Bend (IN) Washington made the trip one state east for his official visit last weekend and the visit went extremely well to say the least. Perkins didn't keep it a secret how much he was enjoying his time in Columbus on the visit and it appeared the Buckeyes were in the driver's seat upon his departure from campus. Perkins stated he really loved the trip, but was set on making his final two visits two Illinois and California before concluding his recruitment.
That plan changed, however, as Perkins felt the love for Ohio State continuing to grow and canceled the visits to Champaign and Berkeley, making the call to pledge to the Buckeyes. In Perkins, OSU is getting a freak athlete, who runs a 4.4 in the 40-yard dash and compiled 103 tackles (26 for loss), 7 sacks, 2 interceptions (one for a TD), 8 forced fumbles, and 5 fumble recoveries at linebacker during his senior season, in addition to over 1,300 yards and 20 TDs while playing running back.
We got a chance to catch up with David to get the scoop on why he committed to Ohio State, what position he'll play in college, what went down on his official visit last weekend, and much more. Join us after the jump to get the latest news on the newest Buckeye, David Perkins.
You just made it official that your are committed to Ohio State. How does it feel to be a Buckeye?
Honestly, it feels amazing. This feeling is what I wanted for a while now. I am loving every minute of this so far and can't wait to get on campus and get going as a Buckeye.
When did you notify the coaching staff about your commitment and how did they react?
I left campus on Sunday and got a call from Coach Fickell and Coach Vrabel on Monday night. They told me they were with Coach Meyer and that they were going to be coming by the school on Wednesday to see me. I asked them if Coach Meyer would be coming and they said no that he would come when I was ready to wrap things up. I told them well then he should come with you two on Wednesday because I am ready to commit. Coach Meyer then got on the phone and told me he was so excited, that I was one of their top guys. He told me they expect big things from me both on and off the field and there were high expectations for me from here on out.
Did the coaches say anything about redshirting or playing next year?
Yeah, they told me to get ready to be thrown into the fire, that I wasn't coming there to redshirt or play special teams only. They said I should be ready as a freshman to work my way into the rotation and come to campus ready to play right away. I told them I was ready to compete for a starting job and Coach Meyer said "Good, that's why we love you so much".
Obviously last weekend's visit sealed the deal for you. What did you do/see on the visit that had you coming away knowing that Ohio State was the place you belonged?
From the minute I got off the plane and got on campus, I had "that feeling". People always say you will just know when a school is right for you and that's how I felt about Ohio State. In addition, the facilities, people, academic support, and everything else at Ohio State is just great. You can tell everyone knows why you are coming to a place like that and they really put you in a position to succeed. I also spent a lot of time with the players, especially Ryan Shazier. He is great and we are so much alike, I was calling him my "light-skinned twin" (laughs). He was a great host and we got real right over the weekend.
What was your first impression of Urban Meyer when meeting him?
At first, the thing I noticed was how tall he was. I was surprised because I thought he was only going to be like 5'7" or something like that, but he was at least 6'2". Other than that, I just noticed how he is down to earth, fiery, passionate, and has that natural competitive instinct. Just sitting down to talk, breaking down my film, or just hanging out with him, you can tell that he's a really passionate guy.
What position did Ohio State tell you that you'd be playing in college?
They didn't say for sure, but they thought I could play any of the three linebacker spots. They kind of said initially they liked me at the SAM linebacker position, and I know they really want to use my pass-rushing skills to get after the quarterback.
When will you be enrolling in classes? What do you plan to study?
I will be enrolling in June and I think right now I am planning to study Sports Management.
What part of your game do you need to work on the most before you get to Columbus?
I really just want to polish off my game overall, but pass-rushing skills, my get-off, and fundamentals are the things I will work on the most. Fundamentals are probably the most important and the coaches told me that they were very vital to me playing my freshman year. Things like working on squaring up and using lateral movement will help me see the field earlier at Ohio State.
If you can say one thing to Buckeye Nation, what would it be?
I would just like to say thank you to Buckeye Nation for embracing me and I want you all to expect big things. You are getting a guy who is going to come in and immediately be a leader, not just in my class, but for the whole team. When plays need to be made I am going to step up and make them. I'm going to work extremely hard to be a very special player for all of you and I just want to say Go Buckeyes!