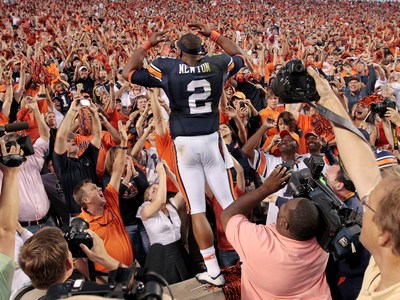 There was a time in college football when years would pass without a single NCAA violation. It wasn't a simpler, more innocent time: There just weren't any rules to break.
It isn't a difficult concept: Rules that do not exist cannot be violated. When Cecil Newton put his son Cam out for bid to (at the very least) Mississippi State, that wasn't a violation.
The transaction of money would have been a big one. But engaging in that bidding process itself was not, via family proxy.
It is now, specifically because of Papa Newton, with a polite nod to former Alabama Outland Trophy winner Andre Smith who was suspended because a family member had illegal contact with an agent on his behalf (a player doing so was already against the rules).
The NCAA no longer creates rules to make college football more exciting or interesting. These days, changes are almost exclusively intended to improve safety or to protect underpriced labor that supplies a multi-billion dollar industry amateurism. The latter comes at the expense of superior athletes with a limited window to financially capitalize on their ability.
Newton, for all the smoke that surrounded him at Auburn, made college football better for one great season. He's not a bad guy, unless you happen to be the Florida student whose laptop he stole - a criminal act which didn't violate any NCAA rules.
Recently, the NCAA has repeatedly attempted to shorten football games, which is kind of like giving a perfect C-cup a breast reduction. This would have absolutely no impact on the actual length of game broadcasts, and instead act as an advertising stimulus that delivers more beer and truck commercials where football would normally be.
When college football was still in its infancy figuring itself out were variables galore, but game length wasn't one of them. The boogeyman here is big, callous corporations chasing more millions at the expense of the guild. Big business is always a convenient and willing bad guy.
The football was born out of a soccer ball, which soon became a rugby ball before slowly transforming into the leather and polyurethane big brown eggs we love so much today. It took 124 years and 12 rules changes to get the ball to what it is now. It's easier to throw and carry this way. The rules that allowed these changes improved the game.
In 1880 college football went from a 15-on-15 game into 11-on-11. Prior to 1965 there was a limit to the number of substitutions a team could use during a game. Again, rules like these made football better.
Up until the 1982 season, pass interference flags were routinely thrown on Bauserbombs that exploded in C-deck, far from any receiver. The fumblerooski was a legitimate play until 1993. Ed: It's still legit; just illegal.
The villains in those cases were clutter and nonsense. At some point in the course of football's evolution, useful game rules slowed to a trickle and then ceased. Not since ties were replaced by overtime have any college football rules provided value to the consumer.
Had Emmitt Smith not felt obligated to rip his helmet off in celebration after every four-yard gain, we might not have the Emmitt Smith rule that prohibits players from doing that. All he did was spoil the fun for the next Emmitt, as the Newtons wrecked cheating-by-proxy for the next family intent on closing the ludicrous gap between scholarship and fair market value.
The rules of the game are inspired by the best, highest profile players of the game. There's a reason why the Cam Newton Rule came immediately following a Heisman-winning national champion who was known for fact to have been put up for bid: To eliminate the gray area that Auburn benefited from when the NCAA closed its investigation without handcuffs.
Great players create the rules; that's why you won't ever see an Anthony Morelli rule (to the utter dismay of Buckeye fans - such a rule would probably produce Ohio State touchdowns). These rules are unintentionally fun: They tie the past to the future. College football is a constant history lesson.
Brilliant players like Newton have their fingerprints all over rules we take for granted, and that includes within the game itself. Fran Tarkenton's mobility was singlehandedly responsible for job creation: It was so hard to determine during the course of his scrambling if he was ahead or behind the line of scrimmage that the Line Judge was created specifically for the purpose of knowing.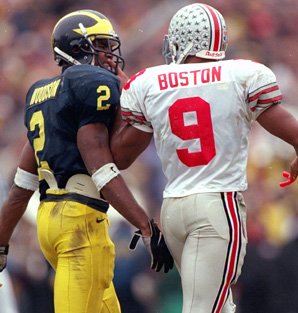 Stronger rules only produce the next generation of ingenuity. The NCAA couldn't prove Auburn actually paid the Newton family despite knowing for fact that he was on sale. That the elder Newton's crumbling church magically received necessary repairs with timing that coincided with his son choosing the Tigers didn't produce the necessary evidence.
So going forward, the NCAA made his provable act the violation itself. It won't retroactively nail Newton; it will serve to get the next guy who tries it.
Similarly, Ohio State was able to effectively isolate Jim Tressel as a rogue cheater instead of absorbing greater punishment as an athletic department. As with Newton's open solicitation, there was no evidence Tressel ever reported the Tatgate violations to any of his superiors or to the compliance department.
The efficacy of OSU's strategy ended up being irrelevant once the second Notice of Allegations centered on Bobby DiGeronimo was issued. That ultimately produced the punishment commonly and incorrectly attributed to Tatgate, but the NCAA could very easily make a rule holding the entire athletic department of a school culpable for the actions of a head or assistant coach.
This would make the "did Tressel really keep the discounted tattoo news to himself?" debate a non-issue for the next Tatgate. It would mean the end for the Rogue Individual defense and require another layer between standard violations and Lack of Institutional Control.
Conversely, an inverse indictment - applying the violations of a school or its boosters back to its head coach - would be disastrous for guys like John Calipari, who has left smoldering programs and vacated Final Four appearances along with crippling sanctions behind him at every stop. Whereas Ohio State pointed its collective fingers at Tressel, UMass and Memphis went down on account of third-party shadows.
In that regard, the NCAA is actively working on a standard menu of punishments that could shorten COI decision time. The only loser here would be reckless speculators, such as those who were predicting a TV ban for Ohio State less than a year ago. Athletic Directors like Gene Smith may be a little less clueless about the punishment stick heading his way if this is ratified.
College football as you know it is basically a leviathan of rules constructed to perpetuate a myth of amateurism. These games are not played by the open student body population anymore.
You cannot pick up recruits in helicopters anymore because that practice was abused. You cannot recreate a gameday-like scenario for the same reason (this is what Bret Bielema falsely accused Urban Meyer of doing in his vague, meat-headed way).
These rules have no impact on the games you consume; they simply enhance the second sport of college football - recruiting - which we occupy ourselves with to pass the time between seasons. As with the false preservation of amateurism, this stunts what would be organic growth of a sport more popular than it is allowed to be.
Prior to 1987, boosters were fully-integrated into the recruiting process. Their success brought about their formal removal as well as the advent of the recruiting calendar for all college sports. Face-to-face meetings were limited, so coaches took to the phone across all college sports. Kelvin Sampson can tell you how important those phone rules are.
The big boys are too big to actually be hurt by the NCAA. Ohio State recovered immediately after Tatgate. Should Calipari's shadows take down Kentucky the way they did Memphis and UMass, UK basketball will be fine as well. It's already survived one death penalty and barely dodged another. Memphis and UMass are another story, as was SMU football.
That leviathan of rules that perpetuates the myth of amateurism genuinely serves one real purpose: How fans frame their world view and give themselves comfort.
You participate in this catharsis whether you realize it or not: The SEC has been successful over the last decade because its schools cheat in plain sight. Oversigning is a rule waiting to happen, just as the National Letter of Intent also evolved out of the practice of recruiting.
Ohio State owned Michigan during the Tressel era only because Tressel cheated. Oklahoma and Miami in the 1980s, Florida State in the 1990s - pick a champion and you'll find an opposing fan to devalue its accomplishments on account of cheating out of self-comfort.
Ask any Michigan fan how much better they feel about the Tressel era now that it's been revealed he failed to report petty cash violations in 2010. Because that reverses everything that his teams did to the Wolverines since 2001.
It's a valid defense of emotions from a fan base with a collective memory selective enough to absolve its basketball program of a scandal that dwarfs most conferences' violations over the same time period. Note that it would have cost Ed Martin several dozen Tatgates to pay just Chris Webber.
Buckeye fans use cheating to their advantage too. Tennessee wore illegal cleats in the 1996 Citrus Bowl. That unpenalized equipment violation didn't lose the other nine bowl games to SEC teams that the Buckeyes also have blemishing their resume, but damn it - they wore illegal cleats.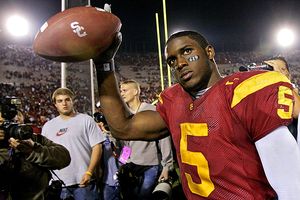 If the NCAA was at all competent, Charles Woodson would have turned in his Heisman long before Reggie Bush ever did. Woodson was alleged to have received about $14,000 in cash and gifts while he was at Michigan. His mother, who was a forklift operator in Fremont, received a fur coat worth thousands of dollars while he was still in school.
A paper trail had Woodson traveling to South Carolina - where his future agent's offices were - while he was still an amateur. He claimed coincidence, when pressed. The willful ignorance plea isn't just for coaches who get caught.
Woodson couldn't remember when the $5,215 coat landed on his mother's person. He maintained that fees he paid his representation almost immediately after he left Michigan were not intended as back-pay for money he had received while in school. And he, as is his right, refused to testify against himself or elaborate on any further details once off the witness stand.
Michigan fans have taken to vacating all of their frustration from the entire Tressel era on account of Tatgate. Using the same logic one could vacate Michigan's 1996 and 1997 victories over Ohio State, both of which would have been impossible without Woodson, whom it should be noted was grossly underpaid thanks to the NCAA's false amateurism.
Woodson made college football significantly better, partly at Ohio State's expense. Even with mama's fur coat, his illegal cash and prizes and obvious agent involvement while he was still wearing a winged helmet, he was never the bad guy and neither was Bush.
The real villain is the one that creates the perception of bad guys out of rules erected to protect a myth at the expense of the market for the most talented collegians. Amateurism has been dead since the 1950s. It should be allowed to die with dignity.
If the NCAA was truly interested in protecting amateurism at large without stifling football powerhouses it would not keep 120 schools in its bloated Football Bowl Subdivision. It would create a fluid subset of tiers that separate programs that are winning the arms race in spite of that leviathan of arcane rules and allow them to operate by a different set of restrictions that make more sense.
In the meantime, the bad guys will continue to be portrayed as the ones wearing the other team's helmets, or sweater vests, or crashing jetskis into yachts, or carrying bags of free clothes out of Dillards or Foot Locker. Please continue to pay no attention to the old men behind the curtain.
At its best, off-the-field villainy is spectator sport that occupies our downtime and adds compelling subtext to on-the-field rivalries. At its worst, it has a 100% failure rate in bringing the real scoundrels to justice.