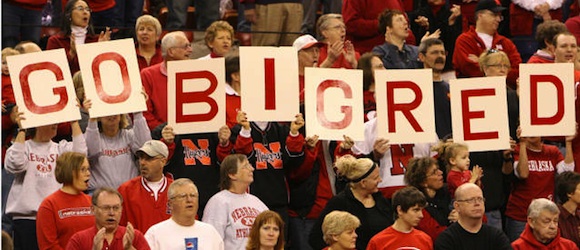 On January 3rd, following a rather infuriating loss at Indiana, Ohio State hosted Nebraska... and took their revenge out on the Huskers, to the tune of 71-40 pummeling. Now, following a victory over that same Hoosier team, the Buckeyes travel to Lincoln to face the Huskers again this Saturday at 8pm EST. 
The Huskers, though showing slight signs of improvement since the last meeting between these two teams, are still just 9-8, with only a single B1G victory thus far. 
I had a chance to chat with Brandon Cavanaugh, of Husker Locker, and further dissect the Nebraska hoops team, Saturday's game, and the differences he's noticed since the Huskers made the switch over to the Big Ten.
For anyone who missed the first matchup between these two teams, and isn't familiar with the 2011 Huskers basketball team, what are three things you would tell them about Nebraska to get them up to speed?
First, Nebraska is a team of two halves. No, not of basketball, either the offense has a solid day or the defense does. When the defense is on, they can keep the Huskers in just about any game. When they're not, they lose 71-40.
Secondly, it seems like Nebraska head coach Doc Sadler is essentially throwing lineups at the wall and hoping something sticks. Up to this point, nothing's held on long enough to do so in five out of six Big Ten contests.
Third, as my colleague Brian Towle would say, coach Sadler is "walking The Green Mile."
What would you say were the biggest factors in Nebraska's loss, the first time around, to Ohio State?
Nebraska got socked in the mouth by Wisconsin and Michigan State, two then-top 20 teams, to enter conference play and that was in Lincoln. Their first Big Ten road game being an away trip to Columbus was a game to put your kid's college fund on in favor of the Buckeyes. OSU's talent and the home crowd were enough to make life miserable enough and once the game started slipping away from Nebraska, the Buckeyes knew when to put heel to throat. Then you add the stress and psychological impact of repeatedly losing and knowing your coach is on the hot seat. Things got rough in a hurry.
Have you seen any signs of improvement in those areas in the time since that first matchup?
Well, talent's not going to get shipped FedEx overnight, but after Nebraska's close loss to Wisconsin at Madison, there might be some hope returning among the team. The Cornhuskers notched their first Big Ten win against Penn State which snapped a four-game skid. Moral victories aren't something a coach wants to turn to, but at this point, only losing by five to Wisconsin and having a legitimate chance to win that game may actually be a positive talking point in the locker room.
What does Nebraska need to do, in order to improve upon their 9-8 season thus far?
Doc needs to find a lineup that he's content with and stick with it. Right now, he's leaning on talent. if Nebraska's going to make a dent against Ohio State, it's going to be thanks to center Brian Jorge Diaz (No. 21), guard Toney McCray (No. 0), guard Dylan Talley (No. 24) or guard Bo Spencer (No.23), a transfer from LSU. These four have been on the floor for Nebraska nearly 50 percent of the time. They've also scored nearly 63 percent of the Cornhuskers' points this season. Forget a sixth man, Nebraska needs to find a fifth first.
Are there any reasons, injuries or otherwise, that we should expect to see any personnel changes from the Huskers this Saturday, versus the game a couple weeks ago?
Nebraska's gotten healthier. Diaz had feet issues and Talley had a thigh bruise back when Nebraska began conference play. If anything, you may not see many changes simply because the rotations Doc's been implementing have come full circle, but the numbers above speak for themselves.
This Nebraska team ranks pretty low in quite a few statistical categories, but what are the biggest strengths you see in this team?
As I mentioned, Nebraska's head football coach would be proud as when this team's defense plays to their abilities, they're salty. The problem is most Big Ten teams have the horses to hold them off just long enough, assuming they actually show up.
In Nebraska's inaugural B1G basketball season, what are some differences you've noticed thus far between the Big Ten and Big XII?
Coming into the season, it was obvious the Big Ten would be much different. The Big Ten/ACC Challenge showed year after year that these teams could go toe to toe which spoke volumes. Philosophically, Nebraska saw more styles that mirrored their own than in their previous conference (sound familiar, football fans?).
The Big 12's got talent, but the league's cocky. Nebraska could play spoiler more often than they'll get away with now. They might beat Texas or Kansas and while somewhat surprising, as the game began, fans could legitimately see it happening.
That feeling's not there with Ohio State or Michigan State. It's a combination of the freshness of Nebraska's arrival, unfamiliarity and superior talent. Until they improve across the board, I don't see the Huskers beating the bad boys of the Big Ten often.
Lastly, do you have a score prediction, or any final thoughts on the game?
The Buckeyes have guys like Jared Sullinger, William Buford and Deshaun Thomas, so they're going to have to get cocky for Nebraska to have a shot. Ohio State can afford to make some mistakes against this Nebraska team. Don't expect another 71-40 victory for the Buckeyes as the Huskers usually fight harder at home, but a double-digit win for OSU is the likely outcome.
---
Thanks again to Brandon of Husker Locker for joining us this week and sharing his insight. You can read more from Brandon, and the other Husker Locker writers, by checking out the links below.

Husker Locker on Twitter: @HuskerLocker
Husker Locker on Facebook: /HuskerLocker