The Ohio State University getting dumped by Urban Meyer's Florida Gators in 2007 was probably the most gut-wrenching loss of my life... Just with what was expected compared to what happened (and especially releasing the SEC Krakken)... it still pains me to think about it. It was supposed to be nothing but a ceremonial scrimmage before Troy Smith and Ohio State's rightful coronation into college football eternity. I remember being in Marion's Finish Line -- one of three legitimate businesses left standing in the City of Kings -- a few weeks before the game and pondering with my friend over which Ohio State jersey I wanted: Troy Smith's, Teddy Ginn's or Gonzo's? 
"Get Troy Smith, man. He's going to win the Heisman trophy and a national title and become an Ohio State God," my friend said to me. "Great logic," I replied as I took the pearlin' #10 red Ohio State jersey off the rack. 
Of course, I think everybody around here knows how this story ends. All I remember about the game -- and I don't remember much -- was Florida's defensive line's relentlessness. Play after play, there was some large man clad in blue and orange going berserk in Ohio State's backfield. After the game, it seemed so rudimentary. If a team has a dominating front-line, they will be tough to beat.
Fast forward to the present and it appears it will be Ohio State's defensive line will be the one's giving other team's fans the headaches. Yesterday, Bob Lichtenfels of Scout.com reported 5-star defensive end Noah Spence would be a Buckeye. Spence, a 6'3" 240 lbs. DE from Harrisburg, Pennsylvania, was supposedly a PSU-lean before Urban Meyer came knocking. Spence joins a DL recruiting class of Tommy Schutt, Adolphus Washington, and Se'Vonn Pittman. (BTW: Don't forget to follow Alex on Twitter if you need recruiting answers.) Add those four gentlemen to some of the talent Ohio State already has on the unit, and you can start to see why Brady Hoke is beefing up his offensive line. I'm sure Woody and Bo will be delighted to watch the talent boon in the trenches in the coming years of the Hoke and Meyer Holy War. 
 THE NCAA HAMMER COULD BE LURKING THIS WEEK. As 11W's O.G., Ramzy, reported yesterday on Twitter, Ohio State will receive its final verdict from the Highest Court in the Land by no later than Wednesday. At Urban Meyer's introductory press conference, Gene Smith basically laughed off the idea of the Buckeyes' receiving a stiff penalty as "not having any precedence." Urban Meyer didn't seem too worried about it either, so I am not worried in the least about these sanctions.
It will be hilarious to watch the tears of the Ohio State-haters, though. They will be glorious, so let those tears flow. So much faux-anger about 20 year olds getting discounted tattoos and a few hundred bucks -- I can't wait. And when that biblical flood of tears come -- and it will come, my friends -- here's what I propose be the official reaction of every Ohio State fan to the haters: ¯\_(ツ)_/¯.
 TIM BECKMAN, LAME DUCK POACHER. 97.1's Lori Schmidt found this article about Illinois' new coach Tim Beckman and how he may poach some members off Ohio State's "lame duck coaching staff." (That sound you hear? The quaking of Ohio State's fan-base as they envision Jim Bollman unleashing his 22nd century offense from behind the opponent's sidelines.) Honestly, I don't know who he would want. Heacock, if he's not ready to ride off into the sunset?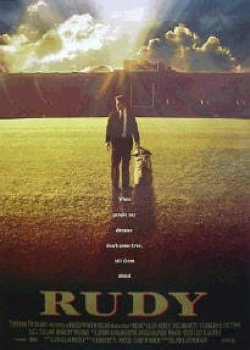 RUDY IS WHO WE THOUGHT HE WAS. I've never seen Rudy and that fact will be etched into my tombstone. I know what it's about -- some undersized white dude from Indiana Illinois making a special teams tackle in the 3rd quarter against Rutgers, or something. I hate Notre Dame. Why would anybody outside of that community watch that movie? 
Besides, it turns out ol' Daniel Ruettiger, the inspiration for Rudy, is a bit of a swindler. He recently settled an SEC stock fraud case for a princely sum of $383,000. Of course, he's allegedly pilfered $11,000,000 from people, so I'm sure he's got that laying around in some coffee cans in his aunt with dementia's tomato garden in Kansas. Really, the fact that Rudy -- so long the poster-boy of the "GEE WILLICKERS, SON, LOOK AT THESE HEROIC SPORTS TITANS" generation -- got sewn up by the Feds is just the perfect capstone on a season where college football has done nothing but shine like the bright diamond of moral clarity it always has been.
 A GLIMPSE INTO THE FUTURE. Tim May of the Columbus Dispatch brings a profile on Ohio State's future offensive coordinator, Tom Herman, who is coaching at Iowa State and recruiting for the Buckeyes. While Herman cautions Ohio State fans only may see a "glimpse" of their team's future offense, he doesn't agree that he's a spread-only coach (emphasis mine):
His philosophy is a mix, "and we just happen to be doing it out of the shotgun. But you can't get away from the core principles of offensive football, and that's whether you are running the spread-bone like at Georgia Tech, or you're lining up under center in a pro set like USC, or you're spreading people out. You've still got to block people and you've got to be able to run the ball effectively to win games. But as Coach Meyer and I talked about, the field is 120 yards long and almost 54 yards wide, and the defense has only 11 human beings to cover it. Or main objective is to use that space and those numbers to our advantage."
 WILL THE BROWNS WIN A GAME THE REST OF THE YEAR? After waking up at an earth-shatteringly hour (10 AM) to watch Aston Villa fail to even play a child's version of the game of soccer, I was treated to the Browns' overtime loss to the immortal John Skelton. Will they win a game the rest of the year? Probably not, but then they'll probably beat Pittsburgh on New Year's Day and then I'll be roped back into this circle of masochism next year. *sigh*
 SO OL' KIM JONG-IL WAS MORTAL AFTER ALL, EH? Ain't no party like a Pyongyang Party... Kim Jong-il looking at things... Rad-dudes.com... Sketchy bunnies...