"... but in this world nothing can be said to be certain, except death, taxes, and the NCAA pissing people off." - Benjamin Franklin, 1789
What a visionary Ben was! And, as we should all be trying to do, moving on...
AT LEAST BUCKEYE BASKETBALL BEAT A TEAM NAMED MIAMI. If you love the Honey Badger of the Midwest, you likely loved Ohio State's domination of Miami (OH) in basketball last night, when the Buckeyes beat the RedHawks 69-40.
Though Craft only put up four points, he proved himself worthy of his status as the apple of many a Buckeye fan's eye with eight assists, three rebounds, two steals, and 27 minutes of... just being Aaron Craft!
What did the coaches have to say about him after the game? Well, I'm glad you asked! Miami coach, Charlie Coles said, "He's unbelievable. He looks so innocent out there. He's so good you just sit back and watch. If I can't have him, I'm going to enjoy watching him play for somebody else."
It shouldn't come as a surprise to anyone that Thad Matta certainly agrees, and encouraged the other players to get a little honey badger-ish themselves, saying, "You see the other four guys watching him hawk the ball and he's just kind of all over the other team. I signaled him out during film in a positive way: 'If you were all like this, they'd never score on you.'"
Speaking of other members of the team, William Buford racked up 18 points, three rebounds and four assists, making him the fourth Buckeye ever to reach 1,500 points, 500 rebounds and 300 assists in his career at OSU. Deshaun Thomas put up 15 points, and Jared Sullinger continued his comeback with 11 points, six rebounds, two blocks and two steals.
 ZACH ATTACK. Jeremy discussed further additions, Everett Withers and Mike Vrabel, to Urban Meyer's staff in yesterday's Skull Session. Since then, it's become official that Zach Smith, previously the wide receivers coach and special teams coordinator for the Temple Owls, will be returning to Columbus as the new WR coach for the Buckeyes.
Meyer, who has worked with Smith before at the University of Florida from 2005-2009, said about Zach, "I know what a quality coach he is. He knows my system inside and out and he teaches the system the way I want it to be taught. He has coached and taught some great players already, like Percy Harvin, Aaron Hernandez and Louis Murphy."
During his time under Urban Meyer in Gainesville, Smith was involved with game planning and opponent breakdowns, working with wide receivers, quarterbacks and special teams. He also took on the tasks of evaluating potential recruits, creating and designing a recruiting action plan, and game prep tests and quality control.
Smith spent the 2010 season at Marshall, severing as the wide receivers and special teams coach for the Thundering Herd, before heading to Temple for the 2011 season.
Originally from Dublin, he is also the grandson of former Ohio State head coach Earle Bruce. Another guy I can think of, who was brought on as a WR coach by someone mentored by a member of his family? Lane Kiffin joined USC's staff in 2001, coaching the wide receivers for Pete Carroll, who was mentored by Monte Kiffin during their time at Arkansas, coaching the Razorbacks' defense.
Admittedly, I was never been a big fan of the way the whole Lane Kiffin-Norm Chow scenario eventually went down at USC, but it's tough to deny the success that coaching staff brought during their tenure together. For those who are superstitious, I suppose you can take it as a good sign for this upcoming Buckeye staff. For those who are not, then I suppose the takeaway is that it pays off, for your future generations, to mentor others.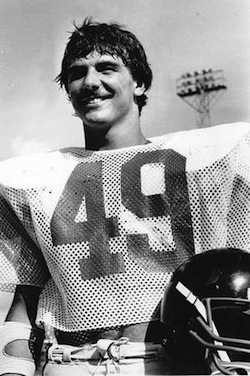 THE CAKE WALK CONTINUES, IN LAS VEGAS. If you missed the Las Vegas Bowl, you didn't really miss much. Rumor has it that even Todd Graham, Dennis Erickson's new replacement as head coach of ASU, left the game at halftime. I suppose he may have had some important SMS business to attend to in the City of Sin. Or, perhaps, he was off to interview for his fifth job in six years. 
So, what did you miss? Other than ESPN salivating over an 11-1 team beating up on a 6-6 one (not that I'm one to hate on 6-6 teams, this year)... well, you did miss this sign, which literally had me laughing out loud. But maybe I really needed the laugh, and that's just me. 
Amid the chorus of praises sung by those who think he can do no wrong, and against the 91st ranked passing defense in the country, Kellen Moore racked up his 50th NCAA win, 293 passing yards, two touchdowns and three turnovers. It was really impressive, if you're into beating-up-on-outmatched-opponents sort of thing. The Broncos, who were never in jeopardy of losing this game once it got started, beat the Sun Devils 56-24.
After the game, Chris Petersen said, "I have no idea what we're going to do without Kellen Moore, so don't ask it." Does this mean we won't have to hear the Cinderella story of a top five preseason ranked team, (who can't beat all the non AQ's on their schedule) next year? I, for one, hope so. Props to Boise State on another high-win-percentage season, but can we get a clean up of all the drool on Aisle-National Media?
MATT BARKLEY CAN'T WAIT TO LEARN BALLROOM DANCING. In a celebration that included a Christmas tree, marching band and cheerleaders, Matt Barkley took the podium at Heritage Hall Thursday and announced he will be forgoing the NFL draft and returning for his senior season as the Trojans' quarterback. 
With the USC Trojans coming off of a 10-2 season, in which Barkley finished sixth in the Heisman Trophy race, this announcement immediately makes USC a serious contender for the 2012 national title. Barkley made his announcement, and a reference to the unfinished business his team (in the second season of a two year postseason ban) has left to take care of, by saying, "the 2012 team has some serious business to attend to, and I intend to play a part in it." The crowd went wild. I kid you not, Heritage Hall was louder than the LA Memorial Coliseum during the 4th quarter of a close game.
Though next year's USC team will suffer with the loss of a few starters, including All-American left tackle Matt Kalil, they have more than enough players returning to get excited over. Something new that college football fans can expect to see out of Barkley next year? Kiffin apparently offered Barkley the ability to call more plays next year, much like the play-calling responsibilities that helped solidify Andrew Luck as the clear cut favorite for the #1 pick in the NFL Draft. 
After the announcement, Lane Kiffin called it "an exciting day." As he should, he landed his biggest recruit yet.
 NOT QUITE AS DELICIOUS AS SAUSAGE LINKS, BUT HERE YOU GO. Nine days left in the worst year in sports... Let's see how many errors you can find in this... The best Las Vegas Bowl recap I've seen... Honey Badger's mom might have a thing for Herbie... If you have the time, this was an interesting read... Almost as enjoyable as the Shiva Bowl Shuffle (RIP Season 3 of The League)... Because there's no way you're sick of watching this.