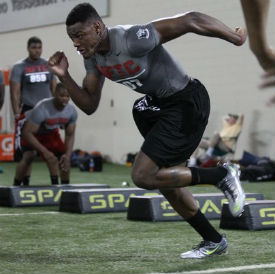 It was a big recruiting weekend at Ohio State for Urban Meyer and the staff. Some of the top prospects in the country made the trip to Columbus, including Jordan Diamond, Tommy Schutt, Kyle Dodson, Se'Von Pittman, Bri'onte Dunn, and others.
One elite prospect who was not in attendance, but will be in the near future is David Perkins. The 6-2/210 running back and linebacker from South Bend (IN) Washington was in Columbia, Missouri for an official visit to the Tigers this week, but will be in Columbus very soon.
Perkins is a consensus 4-star prospect who was originally committed to Notre Dame. Before his senior season, he de-committed from the Irish and began to look around at other schools. Ohio State was always one school that was on his radar, but there was little to no contact between the two parties. That changed in the past few weeks, when the new Buckeye regime reached out to Perkins with serious interest.
We got the chance to sit down with Perkins to discuss his final list of schools, why he de-committed from Notre Dame, what sparked Ohio State's renewed interest and more. Join us after the jump to catch up with David Perkins.
How did your senior season go? How did your team do and how did your perform individually?
My season went real well. Our team went to the school's first championship game since the first year of state titles existed. Individually, I rushed for over 1,300 yards and had 20 touchdowns, becoming the first 1,000 yard rusher at my school since like 1998. On defense I had 103 tackles (26 for loss), 7 sacks, 2 interceptions (one for a TD), 8 forced fumbles, and 5 fumbles recovered. I guess you can say I was a ball hawk.
You were committed to Notre Dame at one point, but de-committed. Why did you make that decision?
I committed to Notre Dame back in June and de-committed around November. I made the decision because I just felt like I never fit in there. I just couldn't see myself playing there. One big thing that was a part of it was that they wouldn't let committed players visit elsewhere. That was the biggest thing for me, other than the fact that they didn't have a plan for me or know where I would play. I was honest with Coach Kelly and told him how I felt. He was respectful of my decision and that was that.
Now that you're open again, it appears you are closing towards a decision again. You recently named a top five. Who are those schools and what do you like about them?
My top five, in no order, is Missouri, Michigan State, Ohio State, LSU, and Tennessee. Here is what I like about each of them:
Missouri- They have come and recruited me hard from the start. They gave me two lay outs---one for running back and one for linebacker. I like that they are prepared for me to come and make plays for them and have a plan for me.
Michigan State-I think I fit their offense well. They say I'm Big Ten ready and feel I can be a good Big Ten back. They want to use me in numerous ways and I like that.
Ohio State- That offer was big. That's a great school right there and it doesn't get much better. They have great players, great coaches, really everything is great there.
LSU- That was my dream school growing up. They contacted me mid-summer before I even saw what they were going to do on the field. They want me for running back and that's a great offense to play in for that. They're in the SEC too, which is the best conference in the country.
Tennessee- Another SEC school. They want me for linebacker. I really like the coaches there and their defensive system is the type I'd want to play in.
What visits will you take and when will you take them?
I will be officially visiting all five of my finalists. I was just at Missouri this weekend, will be at MSU next weekend, will be at Ohio State January 14, LSU January 20, and Tennessee the last weekend in January.
When do you expect to make your college decision?
I'll probably make it on National Signing Day. Maybe even a little before that after my visits are done.
What are your thoughts on Urban Meyer being hired at Ohio State?
He's a good coach. He won at Florida. That's a really nice pick-up for Ohio State, especially coming off the Jim Tressel era.
Have you spoken to Coach Meyer or anyone on the staff since he was hired?
I haven't spoke to Coach Meyer yet, but I am supposed to speak with him on Tuesday. The first person to reach out to me at Ohio State was Coach Mark Pantoni. I was in the midst of putting together my top five schools when he reached out and asked about my interest in Ohio State. I told him of course I was interested and he said someone would be contacting me soon. Sooner than I know it, I get a call from Coach Vrabel who told me he wanted to offer me for linebacker. Vrabel is coming to my school soon and I'm excited to meet him.
What are you looking forward to most when visiting Ohio State?
I'm just looking for a good surprise. They came in late, but I have really high expectations for my visit there. I just want to have a good time and see what the coaches have in mine for me.
What are you looking for when making your college decision?
I'm looking for three things. First, would be to go somewhere where I can get a good degree. Second, would be somewhere I can win a National Championship. Finally, I want to go somewhere that I can play early. I want to break records and be the best at my position, so to do that I need to see the field early.
HIGHLIGHTS: