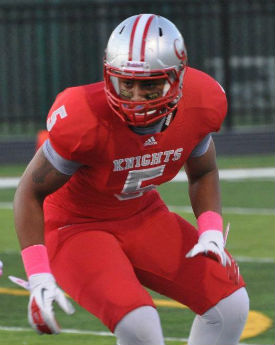 Urban Meyer and the Buckeye recruiting train is moving full steam ahead and it doesn't appear to be slowing down anytime in the near future..
After an epic recruiting weekend that resulted in the Buckeyes landing Tommy Schutt and Se'Von Pittman last night and another big weekend coming up in which the staff plans to be hosting Noah Spence and Cyrus Jones, it was hard to imagine more good news coming so soon for Ohio State fans. Believe it or not, Buckeye Nation didn't have to wait long as another star prospect was on campus the past couple days soaking in Urbtopia.
That prospect is Camren Williams of West Roxbury (MA) Catholic Memorial. Williams, a 6-2/200 linebacker, is a four star recruit that is currently committed to Penn State. He is the son of former NFL defensive end Brent Williams and the brother of current UNC offensive lineman Brennan Williams. In fact, Brent got to know current OSU coach Mike Vrabel pretty well from going to Patriots team function while Vrabel played for the team.
While he has been somewhat of a leader in the Nittany Lions' recruiting class, all the turmoil and the pending coaching change surround the program has the New England native looking around a bit. That journey started on Sunday when Camren and Brent decided to make the trip to Columbus in what turned out to be an official visit.
We caught up with Williams to hear how the visit went, what he learned while at Ohio State, what the status of his recruitment is and more. Join us after the jump to learn about Camren Williams' official visit.
You just finished your Ohio State trip. What made you decide to take the visit?
Well, right now, Penn State is a big question mark with the coaching situation there. I felt it was in my best interest to take a look at some other schools. Ohio State is a great opportunity for anyone and Coach Meyer called me to tell me they were interested, so I definitely wanted to look into it.
How did the trip go? What did you get to see while you were in Columbus?
The trip went really well. I got to see all of the football facilities, the academics, and the entire campus while I was there. Everything was really good.
What coaches did you speak to while on your visit? What did they tell you?
I got to speak to all the coaches, but especially Coach Meyer, Coach Fickell, and Coach Vrabel. They were talking to me about the opportunity that was there on the defense and showing me their plans for the defense next year. I got to see how their defense runs which was cool. 
What was your impression of Coach Meyer? What did you talk to him about?
This was the first time I met Coach Meyer in person. He was a really cool guy, funny, and was easy to talk to. He was talking to me about his vision for Ohio State and how he was going to win there. I also made two promises to him. The first was that I would come back in January for an unofficial visit with my mother so she can see Ohio State and I can see more of the school. The second promise I made was that I would let him come up to Massachusetts and visit me in my home sometime in January.
Did you meet or talk to any current players? What did they say to you?
I spoke to Ryan Shazier a lot. He gave me a feel of what it was like to be a player at Ohio State. He told me last year when he visited it was -6 degrees out which scared him a bit since he's from Florida. But then he fell in love with the school and the people here really sold him.
I also was texting with Josh Perry who is one of the recruits committed for their class. He came out to dinner with Coach Gillum, Coach Vrabel, and me one night and we went to an Italian restaurant. He was real cool.
After your visit, what are your thoughts and feelings about Ohio State? How did your dad feel about the school?
We both really liked it. I am definitely waiting to see what happens with Penn State, but we are both very interested to keep looking into Ohio State after this visit.
Are you still committed to Penn State? What are your thoughts about the situation going on there?
Yes I am still committed to Penn State for now. I'm kind of in a wait and see, holding tight mode right now. I want to see what happens there.
Will you take any visits to other schools?
No, my decision will be only between Ohio State and Penn State.
Is OSU recruiting Armani [Reeves, who is his father's godson and his best friend]? Are you two a packaged deal and does that have any impact on your decision?
Ohio State is not recruiting Armani. It would be nice to go to school together, but at the end of the day, I ultimately need to find the best place for me. If the best fit for each of us ends up separating us, then we will go our separate ways. I know he is looking around too, so we will see what happens.
When do you expect to announce a final college decision?
Right now I have no idea. Definitely by National Signing Day, though. It will be either Ohio State or Penn State.
HIGHLIGHTS: