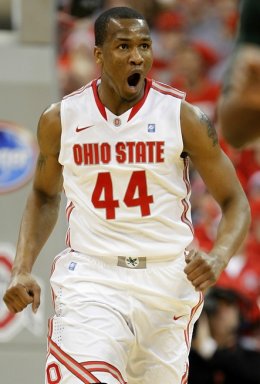 Mired in a 21/64 shooting slump (32%) spanning the previous five games, William Buford led the Buckeyes with 18 points on 8/16 from the floor and joined a prestigious club as Ohio State cruised past the Miami Redhawks 69-40 tonight in Nationwide Arena. 
Deshaun Thomas continued his breakout sophomore campaign with 15 points (7/14) and Jared Sullinger added 11 points (3/9), six boards and two blocks in 24 pain free minutes. 
Finding Sullinger for the first bucket of the game, Buford became just the fourth member of Ohio State's 1,500 point, 500 rebound and 300 assist club along with Jim Jackson, Evan Turner and David Lighty. 
The next trip down the floor, Buford splashed a triple from the wing and just a few possessions later hit a layup off a nice look from Aaron Craft giving the Buckeyes an early 11-0 lead. Ohio State hit five of their first six shots while forcing Miami into 1/7 with six turnovers in the early going. 
Ohio State would later use an 11-4 run to take a 24-10 lead with 4:47 remaining highlighted by a smooth Buford baseline stroke off an inbounds play and later a fluid jump hook along the opposite baseline. Moments later, Sam Thompson flashed a hanging drive in traffic waking up the crowd and Deshaun Thomas capped the run with a determined putback of a Sully miss. 
Once again playing a sluggish brand of offense, the Buckeyes couldn't shake Miami leading just 26-17 at the break thanks to 39% shooting including a dismal 1/8 from distance. 
The defense did its job holding the Redhawks to 31% shooting including 0/7 from downtown and forced 12 turnovers leading to an 11-0 edge in points off turnovers. Craft and Lenzelle Smith stifled the Redhawks out top helping force guards Quentin Rollins and Josh Sewell into a combined seven turnovers. The defensive work beyond the arc, combined with holding Lamar to 0/12 on Tuesday, meant OSU held its opponents to 0/19 from three over a 60 minute stretch. 
Just as we witnessed against Lamar, the Buckeyes came out much more focused to start the 2nd half. After spotting Miami a bucket on their opening possession, Ohio State hit seven of the their first 12 shots sparking a 17-4 burst  to take a commanding 43-23 lead with 13:01 to play.
Buford started the blitz with another jumper from the baseline and backed it up with a bunny off a great feed from Smith across the lane while Craft did work with a pick at midcourt for a layup. Sullinger and Thomas added four points each and Smith drained a trey near the top of the circle in the well balanced run. 
The best offensive sequence of the night occurred a few minutes later after back to back buckets from Miami trimmed the lead to 46-27. Craft kicked it off with an all too familiar hesitation drive from the top of the key. After a Miami miss, Buford unleashed a laser to Thomas for an easy layup. OSU forced a turnover on the next possession and Smith found Ravenel for an easy deuce and finally, after another forced Miami turnover, Craft found Buford for an and-1 to cap the 9-0 run giving the Buckeyes a 55-27 cushion allowing Matta to empty the bench. 
LaQuinton Ross was the story among the reserves as he made his Buckeye debut. Entering with just under five minutes to play, Ross took his first touch straight up for a three that hit nothing but net sending the OSU bench into a frenzy. He hit a pair of free throws a few possessions later to finish with a quick five points. Yes, it was garbage time but I still say this kid is going to be a major factor in conference play even if it takes until late mid-late January for him to pay his practice dues. 
The guy who figures to see his minutes decrease thanks to Ross and Sam Thompson, Jordan Sibert was 0/3 from the field and is now 5/21 over his last six games. Meanwhile, Thompson scored thre points and pulled down three boards in 14 minutes. I'm sure Matta will give him more time based on his experience but Sibert has to be on notice. 
Back to the starters, Craft was sensational as he completely disrupted the Redhawk attack. Credited with just two steals, his impact on Miami's offense can't be measured statistically. At the other end, he dropped eight dimes with four points in 27 minutes. 
Smith was also a beast on defense especially early on with two steals in addition to another four rebounds from the two guard spot in just 18 minutes of action. 
For the game, OSU shot a meh 45% including another derp from three point land (4/15, 27%) but committed just five turnovers. Defensively, they held Miami to 33% from the field and racked up nine steals.
In what was the stat of the night, OSU forced 18 miscues leading to an insane 25-0 bulge in points off turnovers. 
The win improved the Buckeyes to 11-1 on the season with B1G play set to start next Wednesday against Northwestern. Make note of the early 5:30pm tip time in the Schott.