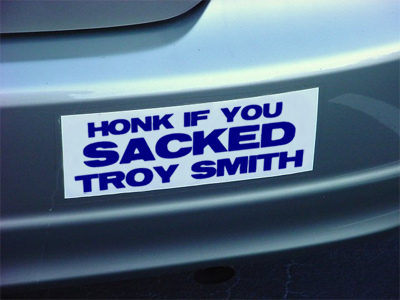 There is still another game left, you know.
The 2011 season didn't mercifully end immediately after Braxton Miller overthrew DeVier Posey for what would have been the game-winning touchdown in Ann Arbor.
It wasn't over shortly thereafter once he curiously spiked the ball on third down, or after the following play when the offense failed to convert on its final opportunity.
Unfortunately, it didn't end on that high note hours later when Urban Meyer was announced as Ohio State's head coach. It didn't even end last week when the NCAA preemptively erased the Buckeyes 2012 postseason.
As much as you would like it to just finish so we can get on with celebrating Meyer's honeymoon year, this painfully mediocre chapter of Ohio State football won't end for another seven days.
Even with a victory, the Buckeyes aren't even in range of that coveted Also Receiving Votes group of teams that almost ended the season being ranked. This Gator Bowl is purely an exercise in aftertaste control.
You've got much more in store than just a second-tier bowl (on ESPN2! In Jacksonville!) against a third-tier SEC team: ESPN has a whole mess of Ohio State-related storylines to reshape into digestible little controversies for you, and you owe it to yourself to be ready for them all.
As ambivalent as you are about this game, we're here to help by chopping up, dissecting and preparing you for the narratives that will be fired in your direction heading up to and during the game broadcast.
Remember what you were subjected to in the second half of the 2004 Alamo Bowl? You were totally unprepared. We all were. This time it will be different. So that you'll be ready, here are the five most likely storylines that ESPN's sixth-string crew that will be covering the game with Florida will broach as part of its in-game banter.
Narrative #1: Ohio State's Last Gator Bowl Appearance was punchy
Remember when Woody Hayes punched Charlie Baumann? That was at the Gator Bowl, at it marked the sad end of a legendary coaching legacy. WOAH WOAH WOAH parallels much?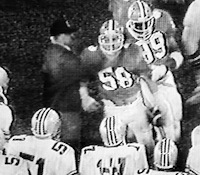 Jim Tressel doesn't have the same benefit that Woody had of coaching his final team, but this is Tressel's squad and every player on the roster chose Ohio State to play for Tressel.
Normally this storyline would hang on the banner, but too much has happened recently with Ohio State to isolate it in the spotlight for too long. It's like Dick Clark getting a few minutes on New Year's Eve just to make him happy while making everyone really uncomfortable before throwing back to Ryan Seacrest.
Hayes has been dead almost 25 years. This little gem from college football history - and it's impossible to argue against its relevance; a coach punching a player during a game? - will only merit a ten-second clip and a couple of sentences during the game broadcast. You can thank the dumpster fire of 2011 for relegating it to the Director's Cut of the 2012 Gator Bowl.
Narrative #2: Ohio State's Last Game vs Florida was oh god no no no
Ohio State was favored the last time - the only time - they faced Florida.
The 51-day comedown following six weeks of buildup to facing Michigan in a colossal #1 vs. #2 matchup took its toll, a pound of flesh and everybody's first-born. Too many congratulatory gravy boats on the banquet circuit, way too many trips to In-N-Out, and the heaping helping of entitlement that came with being a wire-to-wire #1 did not help the team's mindset or focus either.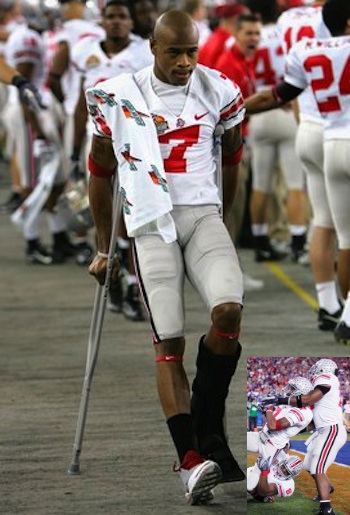 Add to that several recent successful bowl trips to Arizona with a blase business-as-usual mindset and it all culminated in a nationally-televised catastrophe for Ohio State football.
Also unhelpful: Florida was exceptionally good; even better on that night than they had been for most of the season. Chris Leak? Really?
Not even the 2011 PR disaster that was Tatgate and the downfall of Tressel can compete with the inaugural BCS Championship Game for what was more damaging to Buckeye Football. It's that game in a landslide.
Scandals come and go (just ask [INSERT SEC PROGRAM HERE] about how damaging sanctions are long-term) but disastrous losses can impact perception forever, and this was the Titanic of college football hubris, complete with the Ohio State marching band eliminating the metaphor with a reenactment of its sinking-ship reenactment.
The Buckeyes' inability to even look competitive against Florida was the fertilizer upon which SEC superiority was built. Thanks to Ohio State, there is a gigantic perceived gap between the SEC and Big Ten.
Actual gap over the past decade? It's SEC 13, Big Ten 12 in head-to-head bowl games since 2002. KEEP THE INCONVENIENT NUMBERS OUT OF OUR POSTGAME CHANTING PLANS PLEASE.
Ohio State did a disservice for non-southeastern football that evening. The frosting on that cake came via LSU the following year in a game the Buckeyes shouldn't have even been invited to (more on that below).
That's not to say that the SEC isn't the best conference in the country. It's mostly hot garbage this season, but it's been on top for several years and LSU and Alabama are both elite. /obligatory Oversigning comment
Narrative #3: Urban Meyer's Former Players vs. Urban Meyer's Future Players
Meyer retired twice while he was at Florida. In his almost-year-off he's learned two valuable lessons about himself: 1) Work-life balance, and 2) Managing his health and well-being. The two are inextricably connected.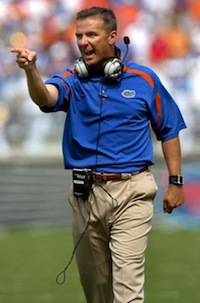 The timing of the Buckeyes' head coaching vacancy, at least from Ohio State's perspective - and Meyer's if you buy into the whole "dream job" thing - was fortunate.
Had Meyer been able to learn how to control his own damaging tendencies while active at Florida we would probably be busy learning to love Bo Pelini all over again.
This is where manufactured controversy settles in and digs deep: How will Florida's players take out their anger on the team who is almost ready to be coached by its former coach?
Were the reasons for his departure valid? Did he really have health problems? Has anyone noticed that "Meyer" rhymes with "liar" yet?
Most importantly: How much air time can we occupy with this topic to avoid talking about a game between two 6-6 teams whose offenses are among the very worst in all of football?
Virtually every player on the field will be able to say that they have met, known or spoken with Urban Meyer. It's going to be visited throughout the broadcast. The problem with making this out to be more than what it is: He won't be at the game.
Narrative #4: Ohio State is 0-9* Against the SEC in Bowl Games
Arguing against math is futile. Understanding math is much more productive.
Ohio State has singlehanded given the SEC its advantage in bowl wins over the Big Ten. This is largely because SEC teams are good. <-- newsflash
But why have other Big Ten teams - almost all of them, actually - been more successful against SEC teams in bowl games than Ohio State has been? In a lot of cases, Ohio State had its sights set on better bowls and landed in a consolation game, complements of Michigan. But there are many other reasons and precious few excuses as to why the Buckeyes have stunk in these games.
Rearview mirrors are handy in cases like this: A bowl-by-bowl analysis for the attention-deficit deficient that is unsatisfied with "because the SEC is better" as an explanation.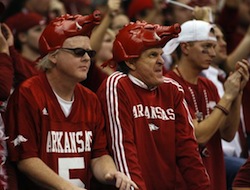 1977 Sugar Bowl: A total mismatch against Alabama. Easily the best SEC team Ohio State has ever played.
1989 Hall of Fame Bowl: Vastly inferior team vs. Auburn. It was the first bowl game for Ohio State in three years.
1993 Citrus Bowl: The euphoria of having not lost to Michigan for the first time in half a decade. Evenly-played game; Buckeyes lost by a touchdown to a Georgia team that missed the SEC championship game by five points.
1995 Citrus Bowl: Evenly-played game; the four-loss Buckeyes lost to a national championship-caliber 11-1 Alabama team by a touchdown.
1996 Citrus Bowl: Buckeyes choked away a national title shot and a Rose Bowl trip; lost to Tennessee in a classic consolation bowl letdown by six points in a game the Vols played with illegal cleats in a rainstorm. <-- not a conspiracy (this was the first bowl matchup with an SEC team that Ohio State was favored to win)
2001: Outback Bowl: Ohio State fired John Cooper after the loss to South Carolina. One bad team beating another bad team: Your modern bowl system at work.
2002: Outback Bowl: A bad (7-5) Ohio State team lost to a bad South Carolina team. A repeat from the prior year's Outback Bowl in every possible fashion.
2007 BCS Championship Game: The confluence of hubris, game planning and disrespected/talented opponentry. Florida in a slaughter. (this was the second and last bowl matchup with an SEC team that Ohio State was favored to win)
2008 BCS Championship Game: Ohio State finished its season ranked 7th, then watched all six teams ranked above lose. One monumentally bad quarter did the Buckeyes in against a vastly superior LSU team. Had the Buckeyes not ascended into the BCS title game they would have met a much crueler fate against USC in the Rose Bowl.
2011 Sugar Bowl*: Ohio State ran circles* around an Arkansas team whose receivers could not catch anything and then switched into its classic Tresselian Prevent Offense™ mode for a heart-attack victory*.
There are a lot of variables that went into that 0-9* record. A lot of them seem to apply to this 2012 Gator Bowl matchup with Florida. (see: 2001 & 2002 Outback Bowls) #foreshadowing
Narrative #5: Ohio State's Bowl Ban and Punishment: Not enough, or not nearly enough?
This topic is sure to infect the banter of ESPN's weaklings being relegated to Jacksonville. It will include uninformed opinions, that comparison to USC that makes absolutely no sense and most importantly - complete ignorance as to why Ohio State received a bowl ban.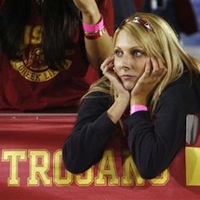 The brunt of Ohio State's punishment was borne out of its second Notice of Allegations, which involved players receiving being overpaid for no-show jobs and getting cash payouts for attending a charity dinner, complements of a known booster whom the university did little to discourage from being involved in the football team.
Serious? Very. But far less sexy than covering up a petty cash scandal that involved discounted tattoos, and without the requisite boogeyman needed to construct an ongoing tragidrama for the 24-hour news cycle.
The receipt of a second NOA, within the window of already being a repeat offender is why Ohio State received a bowl ban on top of its already significant self-punishment.
You may or may not know the details of what happened, what the charges were, what was real and what was completely fabricated. Here's a pro tip for your own sanity: Nobody cares about the truth, least of all the network broadcasting the Gator Bowl. Right, Trojan fans?
BONUS Narrative #6: Tatgate: The worst scandal in college sports history, or just in the past 50 years?
No college scandal in NCAA history has garnered more programming time, discussion or resources than what ESPN has devoted to covering Ohio State's self-inflicted off-the-field challenges in 2011. If programming time is a function of importance, then it should be impossible to avoid the topic.
It's not the worst. It isn't even the worst this year that doesn't involve Nevin Shapiro or Jerry Sandusky.
Troy Smith getting a cash handshake from Robert Q. Baker resulted in a two-hour character assassination piece on the Ohio State athletic department disguised as the second half of the 2004 Alamo Bowl. Tatgate provides a lot more material with which the broadcast booth can work.
Be prepared - especially if this matchup of bad teams produces a bad game - for a quaint little revisitation of the scandal that refused to die. "Message fatigue" does not exist at ESPN. Right, Tim Tebow? (note: you will both hear his name and see his face during the Gator Bowl, guaranteed)
BONUS Narrative #7: How much of Ohio State's success over the past decade was because of Tressel's cheating?
Ha, just kidding. This narrative is almost exclusively Michigan fan-and-blogger centric; a classic coping mechanism for what had to be unimaginable futility throughout the dec - wait, no, the 1990s definitely ring a bell.
Dismissing its 1-9* record against Tressel teams on account of real or assumed cheating is not unlike Buckeye fans crediting all of Michigan's football success historically to having poached native Ohioans. Um...right?
Regardless, have a great bowl week. The next time we're prepping for an Ohio State bowl game it should be the dawn of 2014. If you think that's depressing, just wait until you see Ohio State and Florida on the field together next Monday.