The rich history of Ohio State athletics is filled with memorable years, but perhaps no year has been more tumultuous, victorious, catastrophic and memorable than 2011. For Eleven Warriors, 2011 was a transformational year: In January 11W was merely a popular Buckeye blog; by December it had become a destination site with monthly visits well into the millions.
This is part one of an 11-part series reviewing 2011, as experienced by 11W readers and writers.
---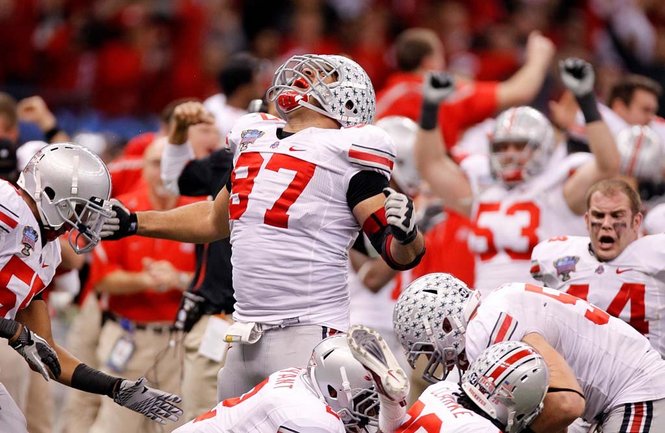 The 2011 sports year was long expected to be triumphant for the two teams that garner the most attention at Ohio State: Football and men's basketball. Our king and queen, respectively.
The studs of the incoming class of 2008, hailed as the "Brew Crew" for talented center and recruiting maven Mike Brewster would be heading to its third consecutive BCS bowl - which it would win - and come back for their senior years loaded for a title run.
A few weeks earlier, it was learned that several key players, including Mike Adams, Terrelle Pryor, Boom Herron and DeVier Posey should have been ineligible for the 2010 season as a result of improper transactions they had made with Ed Rife, a convicted felon who operated a tattoo parlor in Columbus.
As you well know, they sold their possessions to Rife in exchange for discounted tattoos and cash. The Big Ten and NCAA commuted their five-game suspensions to the start of the 2011 season in order to allow their participation in the Sugar Bowl (largely believed to be at the behest of the Sugar Bowl itself).
The Buckeyes, with the cloud of "Tatgate" hanging over their heads, went into New Orleans and punched the SEC's Arkansas Razorbacks in their snouts, doing whatever they wanted to on both sides of the ball.
Ohio State jumped out to a 28-7 lead and then, in predictable Tresselball fashion, completely slammed on the brakes. The problem was there was over a half of football left to play when the Buckeyes clammed up, and Arkansas proceeded to go on a 19-3 run. They held the ball with just seconds remaining inside of the red zone following a blocked Ohio State punt, poised to score a game-ending, game-winning touchdown only down five.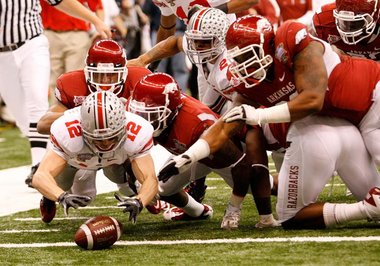 Fortunately, Solomon Thomas - one of the Tatgate culprits playing in his final game until October - stepped in front of a Ryan Mallett pass and ended the Razorbacks' chances. Final score: Ohio State 31, Arkansas 26.
Pryor, with 336 total yards, was named the game's MVP, though outgoing senior Cameron Heyward - who terrorized the Arkansas offense all night - could have just as easily been awarded the prize.
He took the stage at the Superdome to accept the prize, hobbled from a foot injury that occurred late in the game, and apologized to the Ohio State fans on behalf of the Tatgate players. At the time, it seemed like adequate closure to an unwanted distraction.
Ohio State had won the Big Ten, again, as well as another BCS bowl game; this time over an SEC West team that had been considered to be second only to eventual BCS title winner Auburn. And 2011 appeared to be downright 1998-ish in terms of how loaded the roster would be.
The close of another football season allowed Buckeye fans to turn their full attention to the men's basketball team, which would end January a perfect 22-0 with three victories in the month against ranked teams including one of the blowout variety against Purdue.
Amazing at it might sound in hindsight, January of 2011 was as close to a perfect month for Buckeye fans as is possible. It could only go downhill from here. And it would.
On Thursday the 13th while it was auditing and reviewing Jim Tressel's university emails as part of an internal investigation, Ohio State's legal department discovered correspondence between Tressel and Columbus attorney Christopher Cicero. It demonstrated knowledge of Tatgate prior to December. Way prior.
Three days later on January 16th, OSU Legal questioned Tressel, and that was the day he admitted that he admitted having communication with Cicero.
Then on February 8, less than a week after signing arguably his strongest recruiting class to date, Tressel would admit to both Ohio State and NCAA officials that he had committed an NCAA violation by not reporting what he had known about Tatgate. We wouldn't learn of that admission until March.
But at the time, January was bliss. The SEC monkey had been euthanized, the basketball team was undefeated and aside from that inconvenient group of commuted suspensions coming in eight months, everything seemed great in Buckeyeland.
january's most popular skull sessions
january's most popular 11W stories
1/19: Herbie the Impaler by Ramzy, who took exception to Kirk Herbstreit dropping the Buckeyes three spots in his final ballot for beating Arkansas, among other on-air transgressions. Excerpt:
Outside of that fringe element of Buckeye extremists, nobody expects Herbstreit to be an Ohio State homer-slash-mole implanted within the bowels of ESPN. Nor is he expected to be a smug antagonist like Mark May; Chris Spielman and Robert Smith both manage to bring value and relevant insight to their work without devolving into Ohio State fight song lyrics or outright bias.

Herbstreit's favorability decline has far less to do with his curious prejudice as much as it has to do with his atrophied ability to be a capable steward of college football broadcasting. The world does not need any more Dick Vitales. One is already too many.
1/27: A Look at Star Power in Columbus by Jason, breaking down the historical star rankings of Ohio State's incoming recruiting classes one week ahead of signing day:
Compared to other FBS schools, OSU recruits have a better chance of making an All-American team. Five-star recruits have a 1 in 3 chance of becoming an All-American under Tressel, compared to a 1 in 13 chance for the national set. Likewise, four-stars at OSU have 1 in 24 odds of being named All-American while their counterparts from around the country have 1 in 53 odds. Where this is most pronounced, is the work Tressel has been able to do with three stars. Thanks to guys like Laurinaitis and Jenkins, Buckeye three-stars have 1 in 10 odds of being All-Americans compared to just 1 in 172 odds when including every school in the country.
1/6: Five Things: Arkansas by Chris, who constructed the first-ever Five Things following a postseason victory over an SEC team in history, and unbeknownst to anyone at the time, the final Five Things following a Jim Tressel-coached postseason game:
Bottom line, I heart Jim Tressel as much as the biggest Vest lover out there but even with the expected 2nd half Tresselball, he was still in full enigma mode to me. I dunno. The game just had a Twilight Zone feel to it at times but in the end, Tressel delivered a win with the usual class, grace and respect that the detractors were once again determined to overlook.
1/4: Sugar Bowl Preview: #6 Ohio State vs. #8 Arkansas by Jason, who nailed the game plans, the personnel, the victor - really everything for both teams except for Arkansas' dropsies, Ohio State's punting DERP late and Herbstreit's inclination to drop the Buckeyes three spots as a penalty for beating the SEC's second best team:
In interviews this week, Jim Tressel admitted to feeling happy when Ryan Mallett left Michigan for Arkasnas and not because he thought the quarterback would have a better career playing for the offensive-minded Bobby Petrino. Now, he's "being punished for that terrible thought" as Mallett represents the best signal caller OSU will face in over two years. At 6-6, he has the height to see over defensive lines and does so to distribute the ball to a talented corps of receivers, and the nation's best tight end.
January's buckshots, gray boxes of doom & miscellany
Coming tomorrow: Remembering February. Men's basketball was on top of the world, the football team signed a loaded class - 2011 was looking terrific!