Well, well, well... It's Michigan week. Misewell get this party started. *rips open FourLoko with teeth* It's been a mere ~11,986,560 seconds since Michigan beat "Ohio" at football. *sips the intoxicating sewer water*
Honestly, I don't remember anything about that life. Where was I when Michigan last beat Ohio State? What was I doing? I wish I knew the answers to these questions. Sadly, I don't remember a world without high definition television or the BlackBerry. (I was a victim of Y2K Technology Inquisition, you see.)
I am, however, fully behind Brady Hoke's drive to rebrand Ohio State simply as "Ohio." I love it for two reasons. One, it makes me laugh to envision Brady Hoke, sweating profusely in a sauna, consciously deciding he is only going to call the flagship institution of higher learning in the state "Ohio." (We're in your coach's brainwaves, Michigan! [They are unironically made of bacon grease.]) Secondly, Ohio State, come to think, does have the State of Ohio on its back. As Kyle Rowland pointed out, Ohio State's endzone used to read "Ohio" in the Rose Bowl back in the 1980's. I like it. I'm going to ride with it.
Going into this season, I predicted Ohio State would go 11-1, win the Big Ten Championship and the Rose Bowl. Clearly I know things. That said, there is no doubt in my mind that Ohio State isn't bringing anything back from the barrenness to the north but a gold-plated W. Ohio State has Michigan right where they want them: as the unproven overdog.  (The Wolverines opened as 7.5 point favorites.) Their fans have real hope this year... real expectations... which means their tears will be extra salty and tastier than recent harvests.
I remember in 2009 -- after a weekend of being brutalized by such witticisms as "F--- you, guy!" and having my sexual orientation questioned -- how silent Michigan "fans" were as an "O-H-I-O" chant rolled around the Big House. They were a broken, defeated people. If Michigan people were capable of having souls, I may have felt sorry for them. Unfortunately, they chose their path of damnation a long time ago.
I have questions, Michigan "fans." What will you do if, in the 3rd quarter with Michigan up 24-13, the clouds part... and from the east... rides Urban Meyer the Champion of Light on his white stallion? What will you do if Meyer then opens up Earth's crusts and casts your sinfully obese coach into black depths and leads the Buckeyes to a comeback victory?
To the Big Ten, I want you to remember this: your hatership on Jim Tressel and overall mediocrity brought this holy union about. Lastly, to William Muschamp: Urban's "deteriorating"" health? Urban could probably outcoach this current crop of Big Ten coaches if he were a patient in the the terminal cancer-wing of Ohio State's world class medical center.  *chugs remaining FourLoko*
Woooo! (FourLoko can really get the juices flowing, huh? One down, three hundred and four to go! It's Michigan week, baby!) While I could ramble about Michigan and Urban Meyer all day, we need to get through this quickly. You see, like every blogger, I live in my mother's basement. Unfortunately, I am not  the rich kind of blogger -- I don't have my own computer -- I use my mom's computer when she's asleep. As it stands, I have fifteen minutes before she gets up, takes her computer and kicks me out onto the streets until she's off work. ("BUT I HAVE RUMORS TO MONGER, MOTHER!!!!" I will scream as she drags me up the stairs by my ear; but such is life as a heroin junkie. (My people and I lag in the possession of the civil rights which protect other minority groups.)
SOMEBODY WAKE GENE SMITH AND TELL HIM OF THIS. 6-5 Miami (FL) -- in attempt to avoid the NCAA's hammer -- has announced it will ban itself from bowl games this year. Gene Smith should rip this page right out of Miami's book. A hajj to the Gator Bowl must be sacrificed for the future of the program.
Despite all the gnashing of dinosaur teeth, it would appear the only thing derailing the Meyer-to-OSU train is a multi-year bowl ban. I'm sure Gene Smith is hoping to insulate his job's security with Meyer's coattails. Seeing as it directly benefits Gene Smith's job security, I fully expect this move to be made in the aftermath of hanging an L on Michigan's jacket. Then again, I'm just a humble farmboy from the heroin fields of Marion with $3,000-a-week heroin hobby. I also sleep on a dog's mattress in the boiler room of my mom's basement. ((*goes upstairs to grab another FourLoko from the fridge, gets back, realizes it's mayonnaise. grabs a used spoon out of the empty Taco Bell bag/trashcan on the ground, eats mayonnaise out of the jar. ~~~MMMMM, DELICIOUS~~~*))
THE SEC IS STILL THE BLOCKWATCHER. Consistent with this season's theme of escalating scandals, the BCS has returned to relevancy. The SEC West has three teams in the top three in the BCS and AP Top 25. And no, that's not a typo. If LSU were to beat Arkansas, then lose to Georgia in the SEC title game, there could possibly be an LSU-Alabama rematch for the national title game with neither participant being a conference champion. (Georgia would get the right to shred Michigan State[?] or Wisconsin[?] in the Sugar Bowl... which would probably ignite the End of Times.)
I just can't wait until these ridiculous exhibition games are scraped in favor of a playoff. And damnit, I want a 20-team playoff system too. What would you rather watch: the TaxSlayer.Com Bowl or Wisconsin at Alabama? Could you imagine getting somebody like LSU in the Horeshoe for a Final Four game? I wonder what SEC speed would be like on a fifteen degree December day in Columbus? The NCAA's worst nightmare is ESPN and the new super conferences cutting them and their BCS cronies out of the gravy train with their own organization and play-offs. Personally, I think it will be some sort of justice.
Lastly: them Grizzlies is coming for chainz in this year's FCS banger.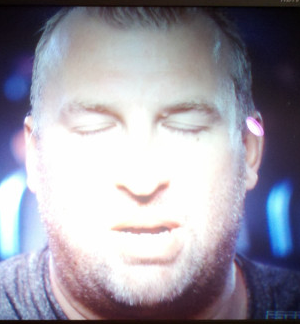 AN ESPN ANALYST RETURNING TO COACHING? Mike Bellotti, now with ESPN but formerly coach of the Oregon Ducks, could be taking over at Arizona, according to TucsonCitizen.com. Also according to their report, Bellotti has plans to bring current Pac-12 assistants to his staff.
ARKANSAS TE UKEMAN FOUND DEAD OVERNIGHT. In tragic news out of Fayetteville, Arkansas, via ArkansasNews.com: 19-year old redshirt freshman tight-end Garrett Ukeman was found dead overnight in his dorm room. The cause of death is unknown. Ukeman's high school coach, David Estes, had this to say about his former player's death:
"This is devastating to our community. Garrett was an absolute joy to be around and our hearts and prayers go out to his family and all those who knew him."
LOUDER: AUTZEN STADIUM OR OHIO STADIUM? What better way to find the answer to this question than ask a 3rd party who has heard both stadiums in their prime?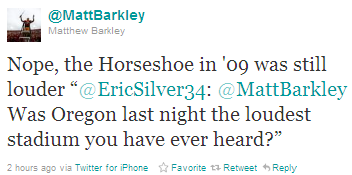 Although, I must say Nike's pre-game videos are a lot better for Oregon than they are for Ohio State.
WEAPONS OF MASS DESTRUCTION. Twilight made $72,000,000 on FRIDAY... How Los Angeles is dealing with feral cats... The Red Army: Forever Loyal to their King... The unorthodox, unreturnable punts of LSU's Brad Wing... Introducing: Drone Journalism... 50,000 wild boars which invaded Mexico from the United States have been marked for death... The science behind pepper spray... The 100 greatest quotes from The Wire... Fiends, unite!! Krokodil has made its way to Ohio... Japan's best-known and most successful owarai agency is Yoshimoto Kogyo (吉本興業)...