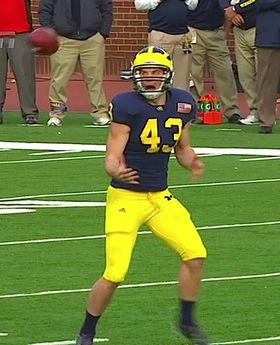 | | | | | | |
| --- | --- | --- | --- | --- | --- |
| | 7 | 17 | 0 | 10 | 34 |
| | 16 | 7 | 7 | 10 | 40 |
A season's worth of injuries on the defensive side of the ball once again caught up to the Buckeyes as Michigan quarterback Denard Robinson accounted for 336 total yards and five touchdowns leading the Wolverines to a 40-34 victory in Ann Arbor, ending Ohio State's winning streak in the series at seven*.
In what's expected to be his final game as the offensive coordinator in Columbus, Jim Bollman had his offense slinging early and often. After receiving the opening kickoff, quarterback Braxton Miller used his arm and his legs to quickly move the ball to the Buckeye 46, where on first down, he found a wide-open Corey Brown on a post for a 54-yard touchdown to put Ohio State up 7-0 just a little over two minutes into the game.
The Buckeye defense quickly forced a three-and-out and took over at their own 21, but Miller was sacked on 3rd-and-8, leading to an 11-yard loss and a punt. Taking over at the Ohio State 47, Michigan wasted little time answering as Robinson took a keeper 41 yards down the left sideline to tie the game. It would be the first of many times that Robinson would make a Buckeye defender look silly on the afternoon with linebacker Etienne Sabino victimized on this occasion. Compounding matters was an edge blitz from corner Bradley Roby, leaving nobody to stop Robinson once he got to the corner.
On their next offensive series, the Buckeyes took over at their own 20 but went backward in spectacular fashion. After Miller overthrew Brown on a post that could have gone for six, Zach Boren was called for a phantom hold on second down, setting up a 2nd at 20 from the Ohio State 10. Guard Jack Mewhort was promptly whistled for a false start, and then Miller was dropped for a loss of two, setting up a 3rd-and-27 from OSU's three yard line. Typically, this would mean a run up the middle from Boom Herron, but since Bollman was feeling it, he dialed up another post and Miller once again overthrew Posey on what could have been big yards. However, tackle Mike Adams was whistled for holding in the end zone on the play, resulting in a safety and the Wolverines would get the ball back, leading 9-7.
Taking over at their own 48, Michigan would quickly move to the Ohio State 26 thanks to timely runs and throw by Robinson. On 2nd-and-7, the quarterback found an open Junior Hemingway for a 26-yard touchdown (on an overthrown pass that was intended for tight end Kevin Koger) and the Wolverines had seized the game and momentum, leading 16-7 with 3:02 remaining in the first quarter.
A little shell-shocked, Bollman handed the ball to Boom on the first two plays of the next series, earning six yards. Miller would overthrow 6-8 Reid Fragel on third down, leading to another punt, but Michigan wasn't much better as a John Simon sack of Robinson on third down led to the end of the 1st quarter.
The Buckeyes would answer by stringing a drive together on their next possession. Starting at their own 30, Miller and Herron combined for 42 yards on seven carries before things stalled at the Michigan 28. A 45-yard field goal from Drew Basil would cut the Michigan lead to six, however, and linebacker Ryan Shazier would force a Robinson fumble on Michigan's next series giving the Buckeyes the ball again in great field position at the Wolverine 31.
Back-to-back runs out of Miller and Herron moved the chains before Braxton worked his magic on 1st-and-10 from the 19, slicing the Wolverine defense for a touchdown to put the Buckeyes back ahead 17-16 with 7:51 to go in the first half.
Michigan would answer with Robinson putting the finishing touches on an 80-yard drive to score from six out and hand the Wolverines the lead again. Running back Fitzgerald Toussaint had the key play on the possession with a 46-yard scamper on the fourth play of the drive to move the ball into the red zone.
Passing
|   | Cmp/Att | Pct | Yds | TD | Int | Rat |
| --- | --- | --- | --- | --- | --- | --- |
| Braxton Miller | 14/26 | 53.8 | 236 | 2 | 1 | 147.8 |
Rushing
|   | Att | Yds | Avg | Lng | TD | Fum |
| --- | --- | --- | --- | --- | --- | --- |
| Braxton Miller | 17 | 96 | 5.6 | 24 | 1 | 0 |
| Dan Herron | 15 | 36 | 2.4 | 7 | 1 | 0 |
Receiving
|   | Rec | Yds | Avg | Lng | TD | Fum |
| --- | --- | --- | --- | --- | --- | --- |
| Corey Brown | 2 | 76 | 38.0 | 54 | 1 | 0 |
| DeVier Posey | 2 | 52 | 26.0 | 43 | 1 | 0 |
| Jake Stoneburner | 1 | 36 | 36.0 | 36 | 0 | 0 |
| Jordan Hall | 4 | 32 | 8.0 | 16 | 0 | 0 |
| Reid Fragel | 1 | 20 | 20.0 | 20 | 0 | 0 |
| Dan Herron | 1 | 6 | 6.0 | 6 | 0 | 0 |
| Devin Smith | 1 | 6 | 6.0 | 6 | 0 | 0 |
| Zach Boren | 1 | 2 | 2.0 | 2 | 0 | 0 |
Getting the ball back at their own 34, the Buckeyes weren't quite done with scoring in the first half. Three Miller completions to three different receivers (Posey, Herron and Hall) moved the ball to Michigan's 43 where the Wolverines took a timeout with 1:28 to go in the first half. I'm not quite sure what was discussed during that timeout because Miller found Posey on a 43-yard post for a touchdown on the very next play. OSU was back in front, leading 24-23 with just 1:21 remaining in the half.
After the ensuing kickoff, Michigan would run the clock out and the two teams went to the locker room after having combined for 47 first half points. The 24 points were a season high for the Buckeyes, while the 23 points from Michigan was the second most that they had scored this year.
Brady Hoke's crew would respond immediately to start the second half, with Robinson and Toussaint alternating carries to move the ball to OSU's 45. Robinson would then find Koger on a 26-yard reception and the Wolverines were in business at the Ohio State 19. Two plays later, Robinson was sacked and coughed the ball up, but Odoms was on the scene to keep possession for Michigan. On the next play, after scanning the field for what seemed like an eternity, thanks to the Buckeyes rushing just three on 3rd-and-11, Robinson rewarded Odoms, finding him uncovered over the middle and watching him escape through four Buckeye defenders to put Michigan back on top 30-24.
Miller and the Buckeyes moved the ball well enough on their next drive, but a negative first down play ultimately led to a 4th-and-6 at the Michigan 36. Channeling Jim Tressel, Fickell elected to punt -- again from the Michigan 36 -- with the ball going out of bounds at the UM 9 yard line.
After the Wolverines picked up a couple of first downs, the Ohio State defense held, forcing a punt on 4th-and-3 from the Michigan 49. Wolverine punter Will Hagerup botched a decent snap with the ball squirting through his hands and was unable to get a kick off before Tyler Moeller brought him down at his own 32. Trailing by six with a little over a minute to go in the third quarter, OSU was back in business.
After a four yard run from Boom, Miller kept the ball on second down and escaped defenders on his way to a 23-yard scamper down the sideline to the five yard line, setting up a first and goal for OSU. Greg Mattison's defense held, however, and the Buckeyes were held to a 21-yard Drew Basil field goal, cutting the lead to three, 30-27.
Powered by Robinson and Toussaint, the Wolverines would again put another long drive together -- this one helped by a 15-yard face mask penalty on Shazier -- before the Buckeyes stiffened inside their own 10. Facing a 3rd-and-one at the four, Michigan offensive coordinator Al Borges dialed-up a nifty play action pass to tight end Koger, who was wide open in the right corner of the end zone. Just like that, Michigan was up two scores, 37-27, with a little over eight minutes remaining in the game.
There was no quit in the Buckeyes (BOOM, CLICHE'D) as Miller strung together completions of 36 (Stoneburner), 16 (Hall) and 20 yards (Fragel) to move quickly to the Wolverine four yard line. Boom Herron finished the drive on the next play, punching it in and cutting the lead to three, 37-34. Ohio State needed a quick score and they got one, getting six points in just 83 seconds.
With seven minutes remaining and needing a stop, Michigan embarked on a 10-play drive, chewing up a lot of what was left on the clock against an exhausted, banged-up Buckeye defense. With a first-and-goal from the Ohio State four yard line, things looked to be over for the good guys, especially when Toussaint gained four yards on second down to reverse the loss of one Robinson had suffered on first down. On 3rd-and-goal from the one, Robinson kept it on a keeper for six, effectively ending the game. But, wait! Michigan was whistled for a holding call on the play -- their first and only on 50 rushing attempts for the day -- and the officials tacked on a 15-yard personal foul for a late hit against a Buckeye defender. Just like that, a game-icing touchdown had become a 3rd-and-goal from the Ohio State 26. Robinson would throw incomplete on third down, setting up a huge 43-yard field goal attempt, but Wolverine kicker Brendan Gibbons converted to push the lead to 40-34 with 1:59 remaining.
Needing a touchdown to pull out the win, Ohio State's final drive began at their own 20. After an incomplete pass on first down, Miller rushed for four yards on second down and then, curiously, Ohio State took their final timeout of the game. On third down, Miller overthrew Posey on a post on what surely would have been six, setting up a 4th-and-6 from the OSU 24. Miller would keep it on fourth down, taking a hit while extending the ball to pick up the first down, but that's when things turned sour. Miller was sacked by Ryan Van Bergen on 1st down for a loss of two yards on first down before finding Devin Smith for six yards and setting up a 3rd-and-6.
And then, out of time outs, Miller spiked the ball.
Miller would go on to say that the call came from the sideline, while Fickell said it was Miller's decision. Regardless, if one play could sum up the 2011 season, that was it. Miller was intercepted on the following play, sealing the win for the Wolverines and leading to 100,000 key-rattlers storming the field.
We knew the streak wouldn't live forever, but it's still painful to see it end. Even a speech from Jim Tressel prior to the team leaving Columbus wasn't enough to get the job done. This team dealt with too much, both in the form of injuries and off-the-field stuff, but they fought until the end. You can't take that away from them.
And oh boy, next year...