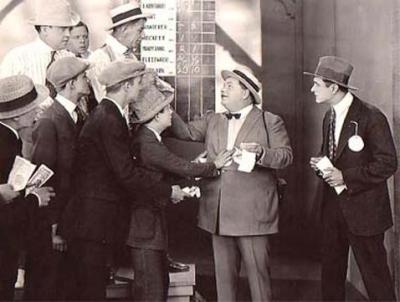 "It's not about the actual game," my friend once told me, "it's about knowing who Vegas wants you to pick." As a man who knows nothing about the inner-workings of point spreads or how to actually gamble, it was a statement which rang true to me, especially after last week.

For example, take Pittsburgh (+3) at home last week against (at the time) #16 South Florida. Vegas knew Pitt were going to dump USF. They bated idiots like me into thinking, "Woah, nelly! USF only (-3) at Pitt? LOLOLOLOLOL. THANKS FOR THE CASH."

As I watched USF disintegrate before my eyes, I knew Vegas was going to make a move on my stash. Fortunately, I was able to ward off disaster.

Not that any of this matters because the luck surrounding my picks will probably continue their descent back to Earth this week. But hey, atleast President Warren G. Harding stopped by with another chapter of his odyssey; so let's get to this weekend's slate, which has some intriguing match-ups.

**Note: After it was brought to my attention last week, I'll be listing the spread after the team I think is going to cover this week to avoid any confusion.**

LAST WEEK: 6-4
SEASON: 29-12
NATIONAL GAMES
California at #9 Oregon (-24) - Thursday 9:00 EST - ESPN
Both these teams are coming off a bye, with Oregon hoping to avoid the trap they almost stepped into last year in Berkley and California having dropped its last eight games against Pac-12 opponents. After getting corralled by Les Miles & his defense (which may be made up of mutants), Oregon unleashed a scorched-earth policy against their next three opponents. (Score: 181-58). The newest model off Jeff Tedford's Solid College Quarterback Manufacturing Line appears to be Zach Maynard, a transfer from Buffalo, who threw for 350 yards and a touchdown in a loss to Washington two weeks ago. Would you want to wager on a kid who doesn't have his own Wikipedia page (and once wore this kind of hairstyle) coming into a place like Autzen for the first time? Yeah, I didn't think so. Unless California smuggles Oregon some of their legendary weed, I don't think the Ducks will have a problem later tonight.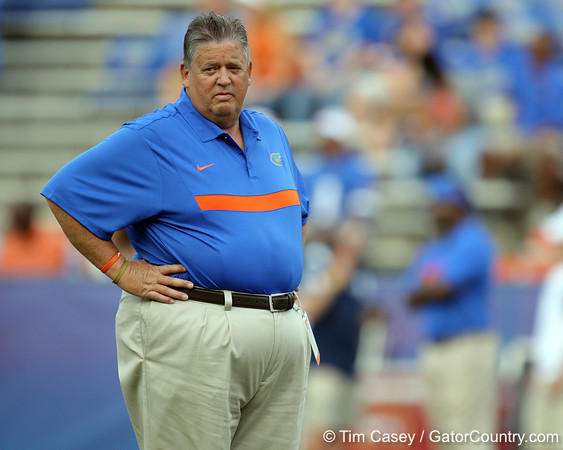 #5 Boise State (-20.5) at Fresno State - Friday 8:00 EST - ESPN
So, remember how Fresno State used to be the thorn-in-the-side of the big boys, the team whom all the big boys were scared to play? And now Boise came along and stole their whole David-against-Goliath routine? There probably won't be any mention of that in the lead-up to this Friday night game, as Boise continues its exotic regular season dance to convince people it's worthy of playing for all the Tostitos. This is also a perfect example of Vegas almost daring you to take Pat Hill (+20.5). Don't fall for it. Kellen Moore is a robot. Boise, whose national respect will sadly be tied to Mark Richt's interpretation of the Hidenberg disaster, needs all the points they can to impress the BCS rainmakers. This will be a rout.
#3 Oklahoma (-10) vs. #11 Texas - 12:00 EST - ABC
Do I like going against the blood-line of a boss like Brad McCoy? No, because the man sired the quarterback of the Cleveland Browns. Many people wondered how Case McCoy, Brad's second born, would do on the road against UCLA in what would be his first career start. (As if Case McCoy hadn't been a spark once-upon-a-time in a young Brad McCoy's eye). Case led the Longhorns through a ho-hum scrubbing of the Bruins. (It was such a commanding performance it caused Garret Gilbert, who filled in for Case's brother in the national title game in 2010, to transfer). I wouldn't be surprised if Case has three touchdowns by the 3rd quarter as cameras continue to cut between a bewildered Bob Stoops and a smirking Brad McCoy.  So why am I going against the potent loins of Brad McCoy? After typing all of that, I'm not sure. I've seen a little bit of Texas this year, and they just seem to be teetering on the abyss of a repeat of their 7-loss 2010 campaign. Their defense has lost a little bit of swagger, which is understandable anytime you lose a colossus of swag like Will Muschamp. BYU almost clipped Texas in week two, and I think Bob Stoops looks to land a decisive blow against his long-time nemesis. (Last year a debacle at home against UCLA sent a 3-0 Texas team tumbling). Stoops clearly has no problem running up the score, and his ego will lead him to chase points so he can lock down his team's right to lose to either Alabama or LSU in January.
#17 Florida at #1 LSU (-14) - 3:30 EST - CBS
Mr. Miles, now, I know I have never presided over an efficient machine of destruction like your LSU Tigers, so take this with a boulder of salt, but... please don't ever play Jarrett Lee again. Was there ever a doubt all of his third-and-seven passes against Kentucky weren't going to end up in the hands of his receivers? I know, I know... Jordan Jefferson beat somebody up and you have to appease moralizing sports writers by pretending to care; but please, you of all people should recognize this isn't a church league. Jarrett Lee is a hindrance to your machine, Les. Now, as for the game, I'm always interested in betting on a team which just got pulverized by Alabama. If that team is on the road at a place like LSU? Even better. Florida isn't good even good with John Brantley; imagine how they'll look with one of the three guys who couldn't supplant him leading the charge? Tyrann Mathieu may cripple one of them. I wonder what kind of genius Charlie Weis' Super Bowl rings will cook up? Probably a bunch of plays to get the ball in the hands of Jeff Demps and Chris Rainey, who again, are reallllly fast. But, did you see earlier this year, when LSU slowly bottled up Oregon and ended up owning them? This game is going to be a repeat of that one, except Florida isn't nearly as talented as Oregon is.
Miami (FL) (+7.5) at #21 Virginia Tech - 3:30 EST - ABC (Regional)
Last week, I went back and forth on Virginia Tech (-7) about six or seven times in the course of coming to a decision. Ultimately, I made the right call and pushed my chips into Clemson's corner. This week, I almost leapt out of my chair when I saw Virginia Tech (-7.5), coming off a loss, at home against Miami. Then, I remembered last week's game between Pitt and Notre Dame and the lessons I learned. I've now switched my pick to Miami for no other reason than I know Vegas wants me to be salivating at the sight of Virginia Tech (-7.5) at home and coming off a loss. NOT THIS WEEK VEGAS, NOT THIS WEEK. Hopefully Logan Thomas can replicate any dumb picks thrown by Jacory Harris. This is my hope.
Georgia (-1) at Tennessee - 7:00 EST - ESPN2
Awwwww hell, the little brothers, who are always talking smack about athletics while wearing their big brothers' varsity jackets, are playing a game to decide who the toughest little brother is! I like it. Why would I pick a Mark Richt team after comparing his team to the Hiddenberg disaster? Because Mark Richt is fighting for his job, as he probably will be every week for the rest of the season, and I'll ride with that, but just this week. After starting in an 0-2 hole, the Bulldogs have won three straight (against Coastal Carolina and both branches of Mississippi's state school system), and I think they carry the momentum into a big win for their embattled coach. (Of course, the wheels will come off next week against Vanderbilt, but that's a discussion for a later time). Tennessee has looked spry at times this year, especially against a pretty decent Cincinnati team. Tyler Bray has amassed a 10:2/TD:INT ratio while field-marshaling the nation's 11th best pass offense; but he's going against a Georgia defense which has only allowed 150 yards passing per game this year. What sealed Georgia (+1) for me though, was reading that Mark Richt has been blaring Tennessee's anthem, "Rocky Top" during this week's practices. Have you heard that awful song? I'd be willing to kill somebody if I was subjected to even one uninterrupted rendition of it.
#15 Auburn (+10)  at #10 Arkansas, 7:00 EST - ESPN
Bobby Petrino escaped what appeared-to-be a hiding last week with a miraculous mark in the win column. I think his well of good fortune runs dry this week, though. I like this Auburn team. Their only blemish came on the road against a now proven-to-be legit Clemson team. Last week, they showed grit in pulling out a win in Columbia, South Carolina. Auburn's defense finally flexed some muscle in the victory, holding Marcus Lattimore to 66 yards and frustrating Stephen Garcia into throwing two picks. (Steve Spurrier benched Garcia this week). Auburn's quarterback Barrett Trotter had some growing pains, but he was able to come up when his team needed him the most--he threw a touchdown pass with about a minute and a half left in the game. This is an Auburn team which has put up quality minutes in very hostile territories, so I will gladly take the points and hope their defense is up for a repeat performance of last week.
WARREN G. HARDING'S $10,000 PRESIDENTIAL power PARLAY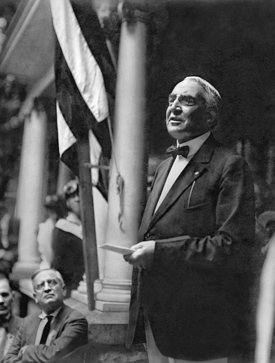 The 29th (and greatest) U.S. President, Warren G. Harding, was a renowned gambler, golfer, and lover of life. As such, his words are brought to you here through the medieval art of necromancy. Seeing as President Harding ushered us into economic success unheard of in human history (before being tragically assassinated by his jealous wife--which tanked the economy), his words here might as well come to your doorstep in the form of etched stone tablets. (All views and opinions presented here should be considered only those of Warren G. Harding himself, obvii).
LAST WEEK: -$100,000
THE SEASON'S HONEY POT: +$1,157.02
Pray tell, mortal men, how exactly do y'all go about peacefully co-habitating with the lesser sex? Try as I might, I just can't seem to come to find equilibrium in my marriage.

Sure, I only married to smite an old rival of mine, but good Lord almighty, not even the joy I get from reveling in the fact I fornicated with and married (in that order) ol' Amos Kling's daughter seems to be worth it anymore.

You would think--after her husband traveled the globe, abused every possible mind-altering drug and banged every woman within forty miles of the equator--a wife would be pleased to see her King return home after his two-year absence. You would think, which is the first mistake you make when dealing with this fickle breed.

I got off the plane in Marion, Ohio, just in time to see a bogus pass-interference call spur Kentucky's pathetic offense into a drive which culiminated in a spread-covering, garbage-time touchdown. (Actually, LOL--there I go again, trying to sound populist like I'm running for office again--which I'm not saying I'm not running for office. What I am trying to say is, my jet obviously has television. I saw the entire game. That doesn't change the fact the fix was on for Kentucky. No doubt in my mind. As a Marionaire though, I must respect the hustle. So, I tip my cap to whatever small cabal of power-brokers it was who orchestrated the heist. Y'all undoubtedly cashed out quite handsomely on Kentucky (+29.5). My only regret is that I didn't cash out with you).

Newayz, I walked in the door expecting a mere two things: 1) to see my loyal, lifelong companion, Laddie Boy. And 2) to have some disappointingly bland sexual intercourse with my wife, lasting no more than 10 minutes. And maybe, if the stars align just right, a hot meal somewhere in between those two. In the end, I am a man of simple tastes.

Instead, this hag ambushes me off the rip, talking all this jive about how she heard I lost $100,000 "on the Stock Market." (Marion's wing of TMZ is unbelievably good at their muck-raking). Maybe I did piss away a few thousand dollars last week, but is this any way to treat a man who paid six sacks of gold coins for the house in which you now dwell in for free? It really makes me wonder what kind of other injustices are occurring in the world.

So, no longer wanting to cool my heels in the house I paid for, I went to where any man with a set of testicles goes to have himself a drink in the City of Kings: The OK Cafe. Now, most folks think this is a one-story establishment. Little do they know, upstairs is where the true party rages. Up there, behind two burly black men and some velvet rope, you'll find, among other things, a  hand-crafted 40-foot bar of solid oak, a Japanese coy-fish pond (complete with a coral reef), a disco ball made entirely out of African blood diamonds, a cocaine buffet, and numerous topless go-go dancers on roller-skates. On this particular Saturday, the upstairs room was filled with tobacco, opium, marijuana and hasish smoke. This meant one thing: high stakes poker had erupted.

My inspection would yield a table of  poker sharks: Joseph Stalin, Pope John Paul II, Pol Pot, Cesar Chavez, Stuart Appleby, Malcolm-X, and an esteemed colleague of mine: 13th U.S. President Millard Fillmore. Though, as I sat down at the table, I couldn't help but think of what my old friend, Socrates, had once quilled: "What, indeed, is a shark to a goblin?" I chuckled to myself as I exchanged pleasantries with the luminaries sitting at the table around me. Joseph Stalin, flanked by two voluptuous girls smoking Black and Milds, appeared to be the chip leader.

After fifteen rum-and-cokes, three packs of Newports, and more than a few generous helpings at the aforementioned buffet, I was up a quick $200,000. After taking a nice dent out of the Pope's Pedophile Priest Defense Slush Fund by catching trip-2's on the river, I settled up with the house and stepped outside to call a cab. (Yes, not even I will drunk drive my war chariot, pulled by horses of fire, in the City of Kings. The Cops are simply too crooked in this city, and quite frankly, I ain't all about that jail-house lifestyle). 

But, I never got in that cab, my friends. Outside, just as I had lit up a Newport, I was hit in the back of my skull with a jar of mayonnaise and rendered unconscious. From what I have gathered since, I was then hog-tied and stuffed in the back of a 1986 El Camino, which promptly peeled out of the parking lot before my associates could react.

When I regained consciousness, I instantly realized I was naked and strapped to a table by belts. In the distance, I heard a train. Knowing what I know about train times and routes in Marion, I was able to discern I was more-than-likely somewhere on the west side of Marion, presumably in one of its many heroin dens. The question was, who was stupid enough to pull something like this?

Somewhere from the pits of the drug-den, organ music erupted. My blood curdled as I recognized the tune. My situation was much more grave than I had previously believed. I was in a den of The Marion Hooded Rats Society, the most feared stable of femme fatales the world has ever known. Remember Brett Michaels' Rock of Love? He chose himself a Marion hoodrat. Three months later he had an aneurysm. The world has never known a greater mind-flayer. Trust me, gentlemen, Papa Harding would much rather you dance with a black widow.

I soon was watching a circle of cloaked wraiths appear around me. They came, seemingly out of the mists, all bearing their own candle. After the circle was complete around me, one of the hooded rats, whom I presumed to be their leader, stepped forward and threw back her hood. Unsurprisingly, it was my wife. The rest  of the hoodrats, emboldened by their leader, followed suit. Though I was a little distracted by the serrated dirk my wife was brandishing, I could see many of the phantoms were Marion hoodrats who had tasted past harvests of the Presidential Tree, so to speak.

"Warren. Gamaliel. Harding. Do you know why you're here?"

My wife's blade was now pressing into my exposed scrotum. I can't say I wasn't aroused.

"You have been sentenced to death for your blatant disregard for the humanity of our hooded sisters. Your blatant philandering, lying, manipulating, cheating and taking... it all ends here, Warren. It ends tonight, on this table where petty heroin users shoot up. The fiends which populate these catacombs will probably be a lot kinder to your corpse than you were to some of my sisters."

She paused as she looked me over, seeing what kind of winces her blade could draw from me.

"... But before I cast you into the gutters, Warren, I'm going to make you watch me sever your testicles. Theeeeeen," she drug the blade up from my testicles to above my ribcage before continuing, "I am going to cut your heart out and feed it to you." To reinforce her point, she looked into me with her soulless gaze, much as she had done during those three times over the course of our marriage where I got her drunk on spirits and we had sex.

The hoodrats began their sacrificial hymns.

As fortune would have it, The Marion Hooded Rats Society had erred, as people have been known to do from time to time, by misunderstimating my intelligence. Little did they know--I had read the Dead Sea Scrolls. I knew, while their might and vengeance was legendary, they, like all warriors, had their Achilles heel. The Marion Hooded Rats' Achilles heel was unironically placed in their minds.  They were allergic to facts. (You'd get a more stable reaction if you dumped 30,000 gallons of gas on a forest fire than you would if you were to slap a hoodrat across the face with the cold steel that is fact).

Since they probably expected me to plead for my life like a common nancy, they did not bind my mouth. I found this to be rather ironic, considering Marion hoodrats are obviously aware of the power which can be conveyed through the oral orifice.

Still, I let those rats have their fun. Hell, I even got swept up in the rising chants and bloodlust. I let ol' Florence slice open my scrotum a little bit because I had grown somewhat aroused by the idea. (Had I seen this freaky side from her in the sack, this all might have been avoided).

The hoodrats began filing past, extinguishing their candle wherever-they-so-chose on my naked body and taking turns sampling the blood from my fileted scrotum. However, I soon grew bored with this childish foreplay. As the hoodrats sucked the last drops of my blood from their fingertips, I erupted in laughter.

"Laughter, Warren? Are you starting to accept the charade that is your pathetic life ends tonight?" Florence was wiping her blade clean on the forest that is my thigh hair. Her words themselves sounded drunk on her perceived position of power.

I lifted my head up as far as the restraints around my neck would let me. This would be the last time I ever saw my wife. I wanted to make sure she got a good look at the god who sent her into the darkest slums of Hell. I wanted her to never forget my face as the flames of Satan himself danced around her.

"Popsicles," I said.

The chanting stopped. Florence cocked her head at me. "Oh, honey," she cooed. "Has the bleeding made you delirious?" She reached into my opened scrotum and began playing with my swollen testicles. "Don't worry. This will all be over soon."

"Popsicles," I hissed through the searing pain, "were invented by an 11-year-old named Frank Emmerson."

I noticed every hoodrat in the room convulse as if they had been hit with a lightning bolt thrown by Zeus. It was here I decided to take my vengeance on these wretched beasts.

"'Velociraptor' is Latin for 'swift thief!'" I yelled, making sure every hoodrat within a 2 mile radius heard my decree. Some hoodrats fell to the ground clutching their chests.

"It took you stupid humans 13 years to figure out sliced bread!"

The organ music was soon over-ridden by screams of agony. They were almost at their breaking point.

"Dueling is legal in Paraguay as long as both parties are blood donors!"

That was the money shot. My wife, who was writhing on the ground in agony, erupted in flames. Every hooded rat there saw their leader coil into a ball of flames below me. Her shrieks grew fainter as the fire burned the life out of her. I, in exchange, cackled like a boy overlording over his Christmas day loot.

By this time, I was fully erect. Since my penis resembles a small anaconda when fully unsheathed, I was able to command it to undo the belts which bound me to the table. I stood up and looked at this allegedly mighty horde, which had been reduced to rubble at my feet. I smirked.

"Warren, please. I beg of you--in the name of our son---show us mercy," came a cry. I recognized that voice. Her name was Tina Bixby. She took my virginity in my parent's parlor back in 1882. She had a cute face, and if memory serves, a nice rack, but the gravy train which she had biologically been attached to wasn't leaving the station on this day. As for the child, I couldn't place a name to a face. (Besides, even if there was some sorry bastard out there who belonged to me, money had most assuredly been exchanged in the past in return for her silence). She, like the rest of her conspirators, would be shown no mercy.

I wanted the future generations of hoodrats' souls to quake at the mere mention of my name. I unleashed the loudest roar I could muster, "I AM THE GREATEST U.S. PRESIDENT OF ALL TIME--OF ALL TIME!!!!!!!!!!!!!!!!!!"

Soon, what had been a circle of hooded rats intent on watching my execution was nothing more than a circle of smoldering ash.

I went to the closet, retrieved my sports jacket, and found my pack of Newports. I then knelt down and rubbed the filter-end in the ashes of my wife. I lit the laced cigarette and plotted my next move.

After the ceremonial victory-Newport, I went to the hoodrats' pantry. There, I found shelves filled with jars of two staples of the Marion hoodrat diet: mayonnaise and extra crunchy JIF peanut butter. I emptied two mayonnaise bottles and fashioned myself some Marionaire Cocktails. I then burned the heroin-riddled cathouse to the ground. It still seemed like a fate far too kind.

So, you know, it was just your run-of-the-mill multiple homicide on The City's west side. There was, obviously, a dash of arson added for a bit of theatre. The cops, of course, have no suspects and witnesses aren't talking. (As goes life in the City of Kings).

I'm stashed away at a safe-house arranged by my man Harry Daugherty until this heat blows over. If worse comes to worst, I'll just have to set some schlub up to take the fall on this one. But, don't cry for me, Argentina, (or anybody else, for that matter), for I have a harem of non-English speaking women to keep me busy during this week. I will be back on these streets before you know it.

Does catching heat from the Fuzz and The Marion Hooded Rats Society, compounded with last week's flushing of $100,000 down the toilet, mean I'm taking the week off? I'd make a smart ass comment here, but if you had the testicular fortitude to make it this far in the journey, then my razor-sharp wit would be better used on other targets. Now, I realize, we're putting down the initial $10,0000 we put down in week one, but that's exactly why we won't lose this weekend.

Investment in this week's $10,000 Presidential Power Parlay, according to W.A. Titsworth, my Secretary of Collegiate Football Wagering, will yield a profit of a clean $250,000. My brain-trust and I have produced this for the streets: Auburn (+10), LSU  (-14), Illinois (-14), Michigan (-7.5), and Oklahoma (-10).

If you have any doubts, feel free to look up their opponents. And if those doubts still are not alleviated, then feel free to gaze into the stone-cold eyes of the man who chiseled these words into this stone tablet.

And so it was written! And so it will be done, my friends!  May our enemies be put to the flames of justice this week, much like that hoodrat nest.

We will prevail.

P.S. Don't forget to pour a 40 oz. bottle of malt liquor onto a curb tonight for Ol' Dude who got sewn up with 148 kilos of cocaine in Maumee.
b1g games
Minnesota (+10) at Purdue - 12:00 EST - ESPN
From the same conference which brought last week's slug-fest between Penn State and Indiana comes this week's version: Minnesota at Purdue! My love of Minnesota Coach Jerry Kill has been well documented, but his squad was downright embarrassed last week in Ann Arbor. Purdue comes in looking no-less the juggernaut after being knocked (but still covering!) against Notre Dame. I can almost hear Paul Finebaum teetering on his seat with mock glee in anticipation for this game. While Purdue only mustered four pitiful field goals against Notre Dame, shouldn't Minnesota be able to move the chains against the 64th ranked defense of Purdue? (Wait, what? Minnesota's offense is ranked three spots above the dynamic offensive attack of Ohio State's?  Well then, they just might be able to).  While I couldn't pull the trigger last week, this pick should be written thusly: "Jerry Kill Not Getting Whooped Twice in a Row (+10)". 
#19 Illinois (-14) at Indiana - 2:30 EST - Big Ten Network
Ron Zook led the Illinois Fightin' Ron Zooks to 5-0 last week, but not before his team had laid waste to any chance of covering. This certainly reeks of a Ron Zook Trap-Door Game, which we all know is a guillotine that patiently awaits the football team from Champaign, Illinois. Still, what is there to like about Indiana? Their defense gives up about 200 yards a game on the ground and Illinois averages about the same. If the Fightin' Ron Zooks can run, doesn't that open up everything for Nathan Scheelhaase? (While his stats are impressive thus far--I still can't say I'm sold on him, even though he owned Dan Persa last week. This is probably just due to the fact he's been under Ron Zook's tutelage for three years now). While I won't be surprised when Zook pulls this out of his ass after Indiana muddles the game for four quarters, I hope, for the sake of the Big Ten, Illinois can win this game by two touchdowns.
Iowa (+4) at Penn State - 3:30 EST - ABC (Regional)
Penn State, LOL. I figured you guys didn't have the heart to cover against Indiana. Miraculously, Penn State's defense has hauled the carcass of Joe Paterno to the top of a 4-1 record. I'm sure the expected narrative of this game will be Penn State's defense clamping down on Iowa and and Penn State winning a close one. If either of these offenses can muster 14+ points, they will probably win this game. I guess I'll take the team with the tandem of Matt McGloin and Rob Bolden not playing quarterback for them. (Also helps that Iowa is quarterbacked by James Vandenberg, who has been key in the Hawkeyes' 3-1 start). You gotta think Kirk Ferentz, who is HILARIOUSLY STILL GETTING LINKED TO THE NFL, will have Iowa's defense in order after their bye this past week? Penn State might win, but they won't cover.
#12 Michigan (-7) at Northwestern - 7:00 EST - Big Ten Network
Congratulations, Brady Hoke. After running up the score on a team whose coach was coming of a series of strokes, you now have my undivided attention. The Hoke era gets more hilarious by the day. After his defense shut out Minnesota last week, Brady Hoke said, "We're still far from being a Michigan defense." See how he's like, not satisfied with a shut-out? THAT'S A MICHIGAN MAN RIGHT THERE. BRADY HOKE GETS IT. My only regret, Brady, is that Jim Tressel isn't around anymore to break your hubris over the mound of your broken body. Still, all that said, I think Michigan rolls to another easy win. Why? Simple, really: Denard Robinson is going to be the best athlete on that field by a long mile. Any time a team has an athletic talent which dwarfs anything the competition can offer, I'm going to ride with that team. (I call this the "Manchild Randy Moss vs. Montana" theory). While Dan Pera did some things last week--he's not going to equal the 400 yards of offense Denard will throw Northwestern's way on Saturday. This week will prove what kind of revival on defense ol' Brady Hoke is leading up there in Michigan. This game will be over by the fourth quarter.