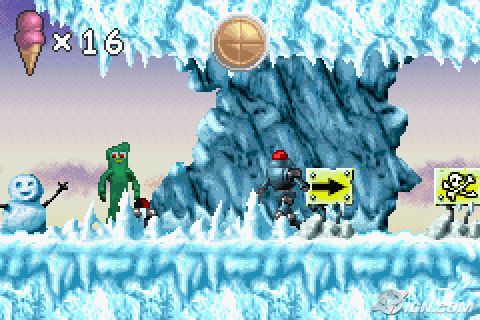 There's always that group of people which have to take everything so seriously. You know, I've always wanted to play paintball. Mainly, because it'd be fun to shoot my friends and cause them pain. Still--can't do that--cause you'll eventually run into dudes who think they're paramilitary troopers. Can't play poker either, because everybody thinks they're a character in Rounders. Can't play fantasy football because there are people who actually read about fantasy football--which makes them Bill Belichick. (Whatever, just give me the best Browns player on the board). Can't play cornhole--well, who the hell would want to play cornhole? (*cough*crunkedwhiteppl*cough*).
Then you have Vegas "Sharps"... people who research a bunch of things and act like they're high rollers on Twitter. Where is the fun in that? What ever happened to just throwing your chips in the corner and letting your dog do work? That way, when you win, you know you are a true Son of Fortune. I'm starting to see what politicians mean when they talk about the moral decay in this country.
How long will this train of guess work and dumb luck continue? Only Warren G. Harding can answer that. (Thankfully he wasn't imprisoned on multiple homicide and arson charges stemming from an incident on Marion's west side last Sunday morning). But I'll be damned if I start putting any actual thought into these picks in a vain attempt to protect my record. "Facts and Research" as Seneca once put, "have obstructed many a party."
So, let us move to this weekend's slate. The faster we get through the national games, the faster we can all get to Warren G. Harding's latest travels. I swear, the bards and troubadours will sing these ballads for many centuries to come. I'm also thinking about liquidating my meager possessions and putting it on this week's $10,000 Presidential Power Parlay. Who, like me, works too hard and is ready for a vacation? (And, also like me, you only need to fill one of those requirements. I'll leave this article here and let you discern if it's the latter or the former).
LAST WEEK: 8-3
SEASON: 37-15
NATIONAL GAMES
Toledo (-7.5) at Bowling Green - 12:00 EST - ESPN Gameplan / ESPN3
"Watch man steal cigarettes over BP clerk's body." Yeah, I don't think I want to gamble against Toledo. The Battle of the Drug Corridor that is I-75  will feature two teams which are 3-3. Everybody knows about the respectable L's on Toledo's jacket, but Bowling Green has only lost to @Wyoming, West Virginia, and a (very respectable) Western Michigan team. But, only one team in this "rivalry" has the Cleveland Browns' future slot receiver. (Eric Page, pictured below). Page got the Eagles for 111 yards and TD the last time these two teams met (and probably thought he shoulda got 'em for two c-notes and three tugs). Unless Bowling Green has a necromancer whose leveled enough to possess the power to resurrect Urban Meyer's and Omar Jacobs' Eagles careers, I think Bowling Green gets put to the blade this weekend. (And I swear, my disdain for Bowling Green has nothing to do with the fact they didn't accept my 1.1 GPA coming out of high school). BTW, it's a joke this game isn't the last game of the season for these teams. (/patfordelecturevoice)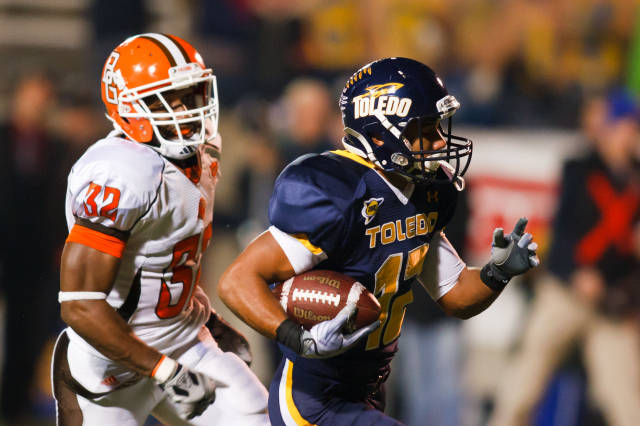 #20 Baylor (+9.5) vs. #21 Texas A&M - 12:05 EST - FX
"Robert Griffin III" ... sounds like an English king. If I were medival Englishman, I totally would have went to war for King Robert Griffin III. I'm still not sure Texas A&M is aware the games don't end at half-time. Plus, when that collapse happens again (and it will)--don't you want to be the side with 9.5 points? I mean, if Tyler freakin' Wilson can throw for 500 yards and two touchdowns against Texas A&M, then KING ROBERT GRIFFIN III WILL LEAD US TO THE GLORY.
#1 LSU (-16) at Tennessee - 3:35 EST - CBS
My friends have been telling me I'm more of an LSU Tiger fan than I am a Buckeye fan these days. I don't know, maybe they're right. I listen to Les Miles' "Play for Victory" speech about six times a day. I may have ordered a "Honey Badger Don't Give a Shit" t-shirt. (But, in my defense, I have always had a soft-spot for the badger ever since reading Brian Jacques' entire Redwall series). And naturally, I'm laughing at LSU (-16). Tennessee just got handled by a mediocre Georgia team last week. LSU and Alabama are light-years ahead of any team right now. (Sorry, Oklahoma, still not impressed). As long as Jarrett Lee don't wile out, I don't see how Tennessee will stay in a game which they won't be able to move a yard. Georgia's defense locked them down. LSU's defense is a lot like Georgia's defense, except they're genetically mutated. The Les Mile War-wagon continues  its collision course with Nick Saban, the King of Gnomes.
#6 Oklahoma State (-8) at Texas - 3:35 EST - ABC/ESPN (Regional)
Who are these people betting on Texas? I don't even think half of their fans would take this spread. Does Mack Brown even seem like he wants to coach anymore? Also, Oklahoma State dropped seventy points against Kanas last week. I suppose Texas is a little better than Kansas--but it looked like there were 11 clones of me out there trying to wrap-up Oklahoma ball-carriers last week. Unless they get pumped with steroids this week, I don't think that's something which can be repaired in seven days. Besides, Texas will lock-up once their fans start letting off flares and calling for Mack Brown's immediate firing by the second quarter when they're down three touchdowns. (Mike Gundy cometh, Bob Stoops).
#5 Boise State (-32) at Colorado State - 6:00 EST - MTN
This is a Boise team which just whipped Fresno State by 50. Vegas can't make a spread big enough for the Broncos of Boise State. Colorado State, on the other hand, is pitiful. They have the 94th ranked defense in the country. Do you feel comfortable taking The 94th Best Defense in the Country (+32) against The Robotic Arm of Kellen Moore? Yeah, neither did I. Boise might cover this by half-time.
Florida (-2) at Auburn, 7:05 EST - ESPN
What the hell was I thinking last week--seriously? I picked a team with a guy named "Barrett Trotter" at the helm of its ship. I may have even typed I'd grown to liked him. (This may cause me to finally kick my budding heroin habit). I don't even know who their backup QB--and I don't even want to know his name--because he threw one of the worst interceptions I've ever seen in my life--AND MY TEAM HAS JOE BAUSERMAN WITHIN SIXTY FEET OF ITS QUARTERBACK DEPTH CHART!!!!!!!!! (Also, #shoutout to Gene Chizik, for tucking his tail between his legs and going home. Why is it, Gene, Indian's Kyle Wilson, down 21 with a minute and a half in the 4th quarter, is challenging calls and trying to score spread-affecting touchdowns? And you--THE DEFENDING CHAMPS--just take your ass-whooping and go home? I HATE YOU). Because of all this, I am riding with the Florida Gators this week. Did you see where Chris Rainey said he thought Florida was better than both Alabama and LSU? Well, bad newz for you, Auburn. While 'Bama and LSU had the athletes to contain Chris Rainey and Jeff Demps... Auburn certainly does not. If you can stop Florida from running, they aren't very good. Auburn can't stop Florida from running. Plus, ain't no way Will Muschamp is getting his ass taxed three weeks in a row. BURN IN FLAMES, AUBURN.
Georgia at Vanderbilt (+10) - 7:05 EST - Fox Sports South / ESPN 3
And so, our hero, Mark Richt, walked into the saloon with spurs jangling, intent on making his last stand. All I've been seeing about Vanderbilt is how good of a coach James Franklin is going to be. After a bye-week, and Georgia lulled back into a sense they're a good football team, I am more than comfortable getting 10 points at home. Besides, who amongst us hasn't read crazy stories about what kind of ruckus "Vanderbilt Stadium" can bring? Though don't quote me, I'm pretty sure Young Buck went to Vanderbilt. FOR YOUNG BUCK, JAMES FRANKLIN, FOR YOUNG BUCK.
#3 Oklahoma (-32.5) at Kansas - 9:20 EST - ESPN2
I think this Tweet sums it up nicely: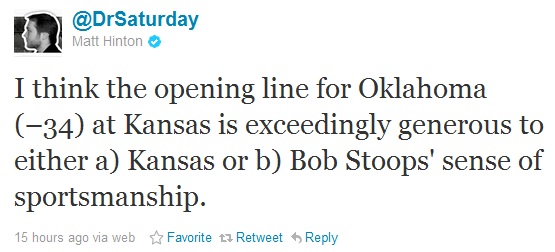 #18 Arizona State (+16) at #9 Oregon - 10:20 EST - ESPN
LeMichael James wants to play. Chip Kelly is being coy. If LeMichael James takes one snap, then I want a federal investigation into the Nike-Oregon cabal immediately. I respect Kenjon Barner's and De'Anthony Thomas' ability to tote the magic diamond, but I don't respect Oregon's pass defense nor their "bend but don't break" philosophy. If you bend something enough, it will break. This is simply the law of physics. Arizona State dismantled a good Utah team in Utah last week. I don't know if any of you have ever been to Utah--but if you can go there, reside for 72 hours, and win yourself a football game... well, I'm willing to take your squad and the 16 points which come with it. Will I throw my TV controller when Kenjon Barner is ice skating down the sidelines in the 4th quarter for his third touchdown of the game as Dennis Erickson looks befuddled on the sidelines? Probably.
WARREN G. HARDING'S $10,000 PRESIDENTIAL power PARLAY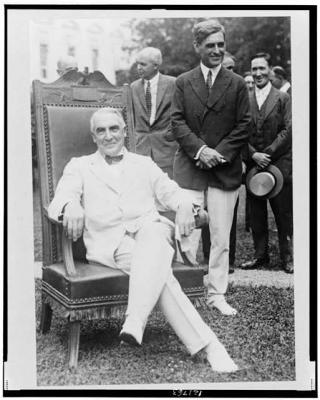 The 29th (and greatest) U.S. President, Warren G. Harding, was a renowned gambler, golfer, and lover of life. As such, his words are brought to you here through the medieval art of necromancy. Seeing as President Harding ushered us into economic success unheard of in human history (before being tragically assassinated by his jealous wife--which tanked the economy), his words here might as well come to your doorstep in the form of etched stone tablets. (All views and opinions presented here should be considered only those of Warren G. Harding himself, obvii).
LAST WEEK: -$10,000
THE SEASON'S HONEY POT: -$8,842.98
There are times I weep for the future of this country. (As much as a man with no tear ducts can weep). If you can't send a gang of Marion hoodrats to the 13th Circle of Hell before burning down their enclave with a some Marionaire Cocktails.... then what the hell can you do in this country? Are we not in the land of the free anymore? George Washington is no doubt rolling over on his pile of cocaine right now.

So yeah, my man Harry Daughtery hooked me up with a safe-house after last week's slobber-knocker.  I figured I'd be tied down for about three days, while the cops pretended to care about the death of people who don't have souls. Besides, I had a nice cache of federally controlled substances and a trove of non-English speaking women to bide my time with.

My harem and I spent the afternoon drinking Dom Pérignon as we explored the deepest chasms of our sexual fantasies and watched last week's $10,000 Presidential Power Parlay unfold. It was a nice, casual Saturday for once in my life.

Or so I thought.

About the time Barrett Trotter's Cavernous Vagina under-threw his WIDE OPEN receiver by about 20 yards on a flea-flicker--thus costing Auburn (+10) a crucial touchdown--I knew those scrubs weren't going to cover. Auburn (+10) was the only misstep in last week's $10,000 Presidential Power Parlay.

So, there I was, sitting naked on my couch with my iPad 5, searching the internet for "Barrett Trotter's Raggedy Girlfriend" and "Gene Chizik's Plump Mother" while the gears of revenge began to grind in my mind. Just then my TracPhone rang. It was a girl listed in my phone as "Dat Fire Becky". Fire Becky and I went back a ways; she had harvested a few barrels worth of Presidential DNA in her day. I also kept her around because she had instilled so much Presidential DNA in her, she had risen into the upper echelons of the Federal Bureau of Investigation.

"Ol' Becky," I said, "I normally don't get calls from you until after 3 AM. To what do I owe this occasion?"

"Warren,"--I heard a deep sigh before she went on--"what is this about a mass murder in Marion? Something with arson too? And a cult?"

"I mean, you know the haterz, Becky. That's what they do. They hate. It's all a gross misunderstanding, baby. Honest."

"Well, there's a SWAT team surrounding your house right now."

I immediately threw my phone against the wall, shattering it. I stood up, zipped up my trousers, and told the two girls on their knees to "vamanos". I then went to my closet and grabbed my AK-47 and duffel bag of unmarked hundreds.

Here's something even Osama bin Laden didn't realize: No safe-house is complete without an escape tunnel, for a situation much like this. I went into the living room and went to the bookcase. On the third shelf, I found Sun Tzu's The Art of War. I tugged on it. The bookcase, along with the circular platform it was on, revolved until I was staring down a hand-dug tunnel forged by migrant workers many centuries ago. A few yards in, there was a blind monk, sitting on a large pillow and in a trance-like state, much like he had always been. Next to him was my trusty steed, Tornado.

The monk stood up and bowed.

"Hujambo, Rafiki Ezekeial." I said.

"Sijambo, Bwana Harding. Habari ghani?"

"Ehhhh... nzuri, nzuri." I said, as the monk finished loading Twister's saddle.

Behind me, I heard a battering ram breaking my door down. Seconds later, I heard the all-to-familiar sound of a flash-bang grenade going off and girls shrieking in Spanish, Portuguese, and Russian.

As I mounted my faithful steed, I sighed. The cops in Marion were such an inconvenience. (Do you know the smuggling fees I had to pay to get those women into the States in the first place? You will pay that price in bags of your own blood, Marion Police Department).

"Maisha marefu, Bwana Harding! Afya! Vifijo!" Ezekial yelled as my horse reached his full speed of 325 mph.

For the next three days, I road down the tunnel. I gave all my water and rations to my horse, so I was forced to live off of the meat of rats I trapped and my own urine. Once I came to a wall of boulders impeding my passage, I knew I had reached my destination. It took me six hours to move those massive rocks out of the way, but I knew my freedom was on the other side.

I then stepped onto the white sands of Acapulco, Mexico. It's quite remarkable what a tropical breeze can do for a man's constitution. After a two mile ride, I was sauntering into the Quinta Real.

The suited man behind the counter saw me coming and smiled, "Ah, Señor Pennybags, it's nice to see you again. The Presidential Suite for you, I must assume?"

"Hola, Ernesto, and indeed." I clunked $50,000 on the table. "I'll probably be staying through the weekend."

"Shall I send you some company, señor?"

"No, no, Ernesto, none of that right now. I need some sleep."

"Understandable," he said. "But, would you be interested in poker tonight?"

I nodded.

He handed me a card.

"Emporio de Regio: Lomas del Mar 35, Acapulco" it read. I looked back at Ernesto.

"Go to the back of the building. You'll see a sign. "Employees Only" it will say. Knock three times, wait. When a guy answers, tell him you have Pepe's banana shipment."

"Gracias, Ernesto."

"Good luck, Señor Pennybags."

... After a quick nap, I showered and shaved (with a bowie knife, unlike half of you pussies with your electrical "razors"). I thought about ringing Ernesto for some company, but dat money was calling my name. I then walked down the street to this "Emporio de Regio". After telling a rock of a Mexican man I had Pepe's bananas, I was soon being led down a spiral staircase into the basement of the bar.

"How much?" Said a stern looking Mexican bartender with a fierce mustache.

"I'm good for $100,000, hombre." I threw my duffel bag onto the bar. The bartender unzipped the bag, looked into it--and seemingly satisfied--asked me what I would be drinking.

"Lady Bligh and Coke, if you could." I said.

The bartender reached under the bar and produced a glass. He threw some ice in it and filled the entire cup with Lady Bligh. Then, also from beneath the bar, he produced an impressive satchel of cocaine. He ripped the bag open with his teeth and emptied its contents into the glass.

He slid the drink down the bar to me. I salute-nodded him.

I had never had this interpretation of a Lady Bligh and Coke, but as I took a sip, I came to realize I was going to like the Emporio de Regio.

The poker table, obvii, was filled with Mexicans. They appeared to be passing around a joint of cannabis. (When in Mexico...)

As the Rum and Cokes began to flow like a waterfall, I began to stack currency to the point I was soon the chip leader. After a few more hours, it was me against one remaining Mexican, who, as best I could tell, was named "Uribe".

After hitting ol' Uribe with a death knell through a pair of pocket 8's, I stood up to cash out on the evening. I extended a hand to the fuming Mexican, not because I care about sportsmanship, but because I enjoy subordinating lesser poker players.

He didn't accept. He kept looking at he board, as if I had won by magic.

"You're a cheater, ese," he snarled. There was some murmuring from those remaining.

"What did you say?"

He spit on the table. "Cheater."

I looked him in the eyes as I began un-buttoning my shirt.

"Do you know where I'm from, ol' Dude?"

Silence.

"I'm from a quaint little drug city known as Marion, Ohio. You've probably never heard of it; but, on my block, amigo, we have a way of going about settling when a man calls another man a cheater." I took off my shirt and placed it on the bar. I then strolled over to the poker table, looked Uribe in the eyes and threw the table to the the side. There was now nothing between us. While I lacked no faith in my own abilities, I knew Uribe was going to be a tougher customer. I would remember this W for a long time.

"You want to settle this, Uribe? Then we shall settle this like honorable men."

I knelt down and took my bowie knife out of its ankle sheath. I then drove it into the wooden floor between us and stepped back a couple of paces. Uribe was muttering something in Spanish while handing his jewelry to one of his pages. I think somebody began to take bets.

I raised my fists, "One of us is leaving in a body bag, ol' Dude, and I got a hankerin' it ain't bout to be me."

[The fact you're reading this should tell who ended up in the body bag].

... I declined his pleas for mercy. Instead, I ripped the heart out of his butchered torso and held it up for the room to see. But as the blood rage began to secede... I suddenly realized the quandary I was in. I examined some of the tattoos on Uribe's neck.

This man was a cartel boss. If I knew my Mexican cartel tattoos, ol' Uribe belonged to Los Zetas.

While still clutching the heart of the Mexican,  I turned to the room.

"Gentlemen, I do not know know what you all were to this man, but I'm smart enough to realize I'm holding the heart of a boss hogg outlaw."

Silence.

"I'm sure some of you are thinking of resulting to violence here. Let it be known: that would be the fool's play, gentlemen. Whatever guns or weaponry you can lay your hands on, my syndicate can put hands on on much bigger ones. Your entire family tree--from its deepest roots to its twigs--would be wiped from the history of earth."

Still, silence. They knew the weight my words carried.

"I am not, however, a man of base instinct. Now, I have reason to believe there is a very large cocaine reservoir under this bar behind me. I'm sure there's enough connections within this room to fence this cocaine for a lot of profit rather quickly. As such, I'll give you guys 90% of it, to divide however you see fit. All that I ask is 10%. You guys can also keep all of the cash. All that I ask in return is for my original $100,000 and maybe an extra $3,000 for a new set of trousers. Blood, as you all are aware, isn't a good look."

Silence.

I set the heart of Uribe on the bar and picked up my sports jacket and shirt. I went behind the bar, washed my hands, grabbed my cocaine and cash, and I put them into my duffel bag. I lit new a Newport and surveyed the room for the last time. The Mexicans still had not moved.

"Adios, amigos," I said as I walked out of the door.

The next day in Opción de Guerrero, I read about an unfortunate fire at the famed Emporio de Regio.

So here I sit, my friends. I have about two pounds of some cartel cocaine in my fridge and a fully stocked bar. I just rang Ernesto--there will be soon be three women knocking on my door. Two of them will be red-heads and the other one will be a small oriental broad.

Oh, shit. The $10,000 Presidential Power Parlay! I almost forgot. (Forgive me, there is hardly any blood flowing through my brain right now). Look, we took some L's these last few weeks--but that will make the elixir of victory we drink (from the skulls of our enemies) taste that much sweeter. If you're having trouble accruing the needed cash-funds--well, your daughter probably isn't going to college anyway. (And if she does, don't worry, I'll be sure to tip her accordingly in the Champagne Room).

Besides, let's just say, I pulled some strings during my time in the City of Kings. Let us also say, this plan involves a Chechen warlord who might know a little something about the families of some of these referees. Sounds like a pretty straight forward hustle, no?

According to W.A. Titsworth, my Secretary of Collegiate Football Wagering, investment in this week's $10,000 Presidential Power Parlay will yield you a tax-free stack of cash to the tune of $100,000. This week's ticket: LSU (-16), Alabama (-25.5), Boise State (-32), Oklahoma State (-8).

Newayz, I think I just heard a knock at the door. Ernesto never fails to disappoint.

And in the end, my people, I will not fail you. 

May peace be with you, my friends. Until next time.
B1G Games
Purdue at Penn State (-12)  - 12:00 EST - Big Ten Network
Penn State is 5-1 and isn't ranked. LOL. Somewhere out there, it's an unemployed steel-worker in western Pennsylvania banging his frothy stein against the bar and saying "OUR GOD DAMNED DEFENSE ISN'T GETTING ENOUGH CREDIT." Ok, I'll admit, their defense is pretty good. Rob Bolden has appeared to have figured out a system of completing passes by winging them off referees and other players. And aren't Penn State due for some good luck on offense? I mean, they scored an one whole touchdown last week. Also, I love how all the PSU fans are getting all worked over Urban Meyer. 1) As if PSU could go $ for $ with Les Wexner and his warchest. 2) As if Joe Paterno isn't going to ride this 11-2 season into  "one last year." Sadly Purdue, I typed all of that and am still picking against you. The Big Ten is AWESOME this year.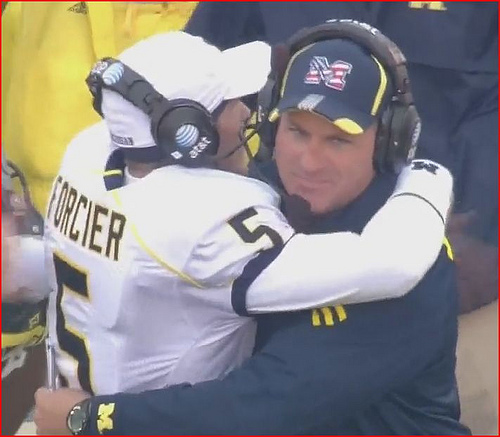 Indiana at #4 Wisconsin (-40) - 12:05 EST - ESPN2
Psh, good try Vegas. There is no spread which you could give me where I wouldn't choose Wisconsin. I watched the entire Indiana/Illinois game last week. The announcers were lauding Indiana for their effort, "which had been a concern in past weeks." Yeah, I'm sure the 21 point beat-down they got really boosted morale. Bret Bielma met his wife at a casino--he clearly doesn't care what other people think. Wisconsin's Sugar Bowl dumping at the hands of the loser of LSU/Alabama can't get here soon enough.
#10 Michigan (-1) at #23 Michigan State - 12:05 EST - ESPN
As I wondered if Denard Ronbinson's master-hacker ex-girlfriend was going to cost Michigan the game against Northwestern, Brady Hoke came along and made his usual second half adjustments. Michigan State, for whatever reason, isn't very good. Ohio State had half their plays go for zero or negative yards against them, and Michigan State only beat them by three points. This game may start close--but I'm telling you--Michigan isn't going to get out-coached this year. Brady Hoke wipes the floor with Dantonio and re-establishes "Michigan football".
Northwestern (+6) at Iowa - 7:00 EST - Big Ten Network
How does Kirk Ferentz still have an aura of reverence around his name in coaching circles? Just mediocrity, year, after year, after year. If Matt McGloin and Rob Bolden can engineer a touchdown drive, then I'd have to think Pera Strong can throw at least four of them. With the Big Ten network looking like it was produced by a middle school news team, there may be six viewers of this game outside the fanbases of the teams.