Top o' the morning, lads and lasses. It's Wednesday of a bye week, and I hope you've found something productive to do with your time.
On Saturday, I came to the horrifying realization that I will spend the next two weekends in the same state as Bret Bielema. As a result, I've been busy upgrading to a rape horn and creating "Don't accept a drink from this man" PSAs.
Honestly, I wouldn't be surprised if he showed up at Drink Too, Brutus next Friday night, and I'm just trying to take precautions.  
Thanks to the win against the Illini, I've had the free time to do so. If Ohio State had lost, my focus this week would have been finding a way to make the Eternal Sunshine of the Spotless Mind procedure a reality. 
MIDWEST STAYCATION. Despite coming off their first B1G win, Matt Markey for the Toledo Blade points out that it's a (real) good time for the football team's bye week. That victory gives the team a little confidence boost as they prepare for their toughest opponent this season.
Though Jim Heacock and Jake Stoneburner admitted that the Buckeyes needed the win, Fickell did not want it to be given more importance than it warrants because the team should be concerned about improving:
"We've got to focus on getting better fundamentally, and making sure we understand it's about work. ... So we're going to go out there today, start working at it, and make sure they understand this isn't a bye or rest week, this is a week for us to get better at what we do fundamentally as well as getting a little bit of rest, too."
One player that embodies that mentality is John Simon. According to Big Hank, Simon is "not a normal guy", but he is a guy you want as a teammate. Mike Adams credits battling against him in practice for getting him game ready. 
GOING SPIRAL. Only those of you with eyes may have noticed that some of Braxton Miller's passes have been, well...I'm not saying they're ducky, but I am saying they've lip-synched to Otis Redding in a record store1.
When he met with reporters yesterday, Fickell stated his belief that the issue centers around the freshman QB getting more experience and becoming more comfortable in game situations. He's proven he can throw spirals, whether in high school, practice, or certain instances like the TD pass to Stoneburner vs. the Illni. Now, he needs to do it on a consistent basis.
One way to help Miller improve his skills is to concentrate more on the short passing game, and Fickell admitted as much. What he left unsaid is that first, those plays have to be called. It was also implied, albeit not confirmed either way, that Kenny Guiton has finally overtaken Bauserman as the number two quarterback2. 
As for other updates, Fickell didn't seem too worried about Carlos Hyde and T.Y. Williams venting about playing time on Twitter, because it shows their competitive nature. Still, players are advised to be careful about how they handle themselves in the public eye, and social media is a part of that. 
On the defensive side, Travis Howard's ankle that he twisted near the end of Saturday's game appears to be fine. Rod Smith, who worked a little with the linebackers and got involved on kickoff coverage, will probably continue to do both that and his usual running back duties, which for now, is mostly on the scout team.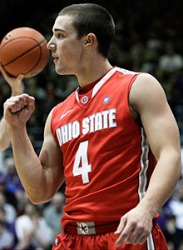 THE MAGNIFICIENT THREE. With basketball season approaching, sports writers are starting to put together previews. BTN's Brent Yarina picked Ohio State to win the conference and ranked Jared Sullinger(1), Aaron Craft(5), and William Buford(6) on his preseason Top 10 B1G Player list. 
The USA Today took a closer look at the three returning stars, and then made me vomit a little with its accompanying photo, which happens to be one of Sullinger being guarded by Josh Harrellson. Sully owned up to breaking a friend's door after the Kentucky loss3, but it has served as motivation to his offseason weight loss and workouts. 
Buford, still blaming his subpar shooting performance for the early ouster from the tournament, is ready to make up for it. He is 672 points shy of tying Dennis Hopson for the most points in Ohio State history, and the senior confessed to wanting to break the record. 
Craft will try to help him out, dishing the ball like he's ridiculously good at doing. Here's a behind the scenes video of him at media day, talking about Buford growing into more of a leadership role, how there are many different lineup possibilities, his approval of their new kicks, and his love of country music. Between that last point and his tenacious D, all Craft needs is a consistent three-point shot and he's got the white BB player stereotype trifecta.  
As assistant coach Dave Dickerson said, all three will be responsible for being leaders, because outside of their experience, this will be a young team.
HOOP DE VILLE. Jeff Goodman watched the basketball team practice on Monday, and he offered a few preseason thoughts, including the players he thinks could take over for the graduated Diebler, Lighty, and Lauderdale.
While it's not expected that anyone can match Diebler's insane 50.2% three-point shooting, we know that Deshaun Thomas can and will shoot the ball. Whether he can score with any regularity may be essential to the team's success.
Goodman was pleasantly surprised by Lenzelle Smith and believes he has the Jack-of-all-trades repertoire to become a Lighty-esque glue guy. Smith could have the inside track on the fifth spot in the starting rotation.
Evan Ravenel, eligible to play after sitting out last season as a transfer from Boston College, will get some of Dallas Lauderdale's defensive-heavy minutes. Freshman Amir Williams, depending on how quickly he picks up the game, could also be in the mix.
Considering the players Thad Matta has coached in his career, it's a bit alarming for him to refer to freshman Sam Thompson as "the most athletic player I've ever coached". If true, it wouldn't be shocking for him to earn playing time. As for point guard Shannon Scott, almost everyone anticipates to see him and Craft on the court at the same time, though it will most likely involve the latter moving to the 2. 
BIG STAGE, BIG TEN. All eyes will be on Saturday night's matchup between Michigan State and Wisconsin, the two teams on top of their respective divisions in the conference.
For Michigan State, a win will give them more respect on the national level and a great chance at making a trip to Indy in early December. It's likely that they'll be without DE William Gholston, whose actions against Michigan are being investigated4. Just because we've all wanted to punch a Wolverine doesn't mean he won't be suspended.
For Wisconsin, what's at stake is not only staying leaders of the Leaders, but also, an undefeated season and the opportunity for revenge against the only team to hand them a regular season loss last year. Even though TCU beat them in the Rose Bowl, for many of the Badgers, losing to MSU is the one that lingers.
 LINK FLOYD. How Iowa pulled off their card stunt... This will go over well: Bob Knight, recruiting violation?... I hope We Bought a Zoo is a happier movie than this... Devin Gardner gets the Yakety Sax treatment... A Lionel Richie tea set... What if Tio Salamanca had his own Twitter account? What if he had one that revolved around his love for TV?... Sound effects guy from Police Academy covering Led Zeppelin... Most helpful road sign ever?
1 Molly Ringwald really pushed for Robert Downey Jr. to get that role, and if he had, the original ending of the movie, where Andie ends up with Duckie instead of Blane, probably would have stayed. Oops, 25-year-old spoiler alert. 
2 It's possible that the only way we'll know for sure is if the #2 enters the game, and unless Ohio State is way ahead in the fourth quarter, I don't care to find out. 
3 We all handled that in our own way. I sob-sang the saddest version of "Party in the U.S.A." you will ever hear to my cancer-stricken dog. 
4 Oh noes, a link to ESPN's Big Ten blog. I hope if you click that, ESPN doesn't become our new overlords, but if that happens, well then I, for one, welcome them.