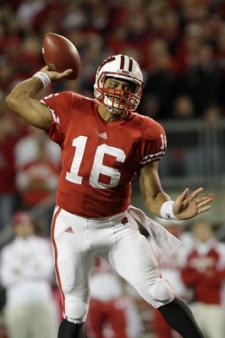 At some point, far in the past, mankind evolved from the primordial ooze that seeped up from the bowels of the earth, and then diverged into two seperate and very distinct groups; the Bros, strongest and high fivest of men, and everyone else, weaker and less inclined to send greetings via hand gestures.
Bret Bielema is a Bro. Note the large, unwieldy cranium. The now awkward and somewhat inappropriate leg tattoo. The maddening ability to field a team capable of beating Ohio State on a semi-regular basis. All of this adds up to an individual that is an incredibly irritating and constant reminder that he is the true pinnacle of human evolution; someone capable of coaching while also unironically enjoying the ever-evolving musical stylings of Kid Rock.
For a while, I was able to take great pleasure that our stoic and somewhat dweebish head coach was able to befuddle King Bro Bielema more often than not, going 3-1 against his eternal nemesis.  However, with his passing on to NCAA violator's hell and the replay booth in Lucas Oil Stadium, Ohio State needed to find their own Bros, and find them they did. With their "yeah I bathe with Axe deodorant spray so what" swagger, Fickell and Vrabel represent a generation I like to call Bro 2.0, a new and dangerous development in Bro biology (brology?).
What I'm saying is, Ohio State can try to continue this Bro arms race if it so chooses. But as a wise man once said, "A Bro for a Bro leaves the whole world Bro."
Opponent
Last year, Wisconsin was a terrific team that featured a gigantic offensive line, terrific running backs, and a serviceable quarterback, all of which led to a BCS team that seemed to be just one missing element away from striking it big. Enter Russell Wilson, who has transformed the Badgers from a national title contender also-ran into a... national title contender also-ran. Still, he's the best QB in the Big Ten, combining mobility (212 yards rushing at 6.6 YPC) and accuracy (73.2 completion percentage) to a crazy degree. He's thrown for at least two touchdowns in every game save one, and that was the 59-7 blowout against Indiana.
With that said, Wisconsin is still a run first team. Montee Ball and James White are both brutal and punishing runners; interchangeable parts in an offense designed to wear down their opponent until they become dazed enough for Russell Wilson to pick apart their weak and lifeless corpses. Ball has 768 yards and is averaging 6.1 yards per carry and White has gone for 458 and 5.7 yards per carry. These guys are inside rushers par excellence, and Simon, Hankins and company are going to have to play their best games of the year against an impossibly huge Badger offensive line and big mean RBs.
Those of you hoping for Wisconsin's defense to suddenly stop being angry and pain inducing due to the losses of J.J. Watt and Jay Valai are going to be disappointed. The Badger defense still ranks in the top ten in the country, being especially adept at defending against the pass. Part of this is due to Wisconsin playing a lot of pretty poor passing teams so far this year, but on the other hand who cares because guess what ladies and gentlemen, Ohio State has literally the 5th worst passing attack in the FBS (ahead of two service academies and a couple of schools I think are inventions of Tolkien).
Louis Nzegwu is probably the best player on the defensive line; he's filled in Watt's shoes very nicely, and already has 5 sacks on the year. The defensive line as a whole has accounted for 18 sacks so far, and will probably be spending a not insignificant amount of time harassing Braxton Miller. They can be run on to an extent, but hoping for the 121 yards a game that they give up per game to turn the tide is probably a wee bit optimistic. The rest of the defense is solid but nondescript; the secondary is tough and the linebackers, led by Chris Borland (he of 10 tackles for loss) play their vanilla formations pretty well.
Finally, what's interesting about Wisconsin's special teams is that they've only attempted 7 field goals this season, making 4, with none over 40 yards. I want to be optimistic about this, but in my heart of hearts I know this is just because Bielema considers the kicking game to be "girly crap" and can lean on Wisconsin's pretty great offense to get points of the touchdown variety more often than not.
Buckeye Breakdown
People have been saying it all week: Ohio State can't beat Wisconsin without passing the footed ball through the air, mostly comprised of nitrogen, and then have it settle into the awaiting arms of wide receivers/tight ends, who are mostly comprised of water. Well, maybe not in those exact same words, but the general idea is that it's been repeated ad nauseam in a variety of different ways and it is absolutely 100% true. What concerns me is that I'm still not sure who the hell Miller is going to throw to; sure, Stoneburner is supposed to be the de facto safety net, but he hasn't found ways to get open consistently. My bet is on Philly Brown being the main guy, but ultimately it won't matter if Miller wasn't able to use the Bye week to bone up on his understanding of blitz packages.
It also won't matter if Boom Herron can't get consistent yards, but this I'm actually far less concerned about. I've fully bought into this guy. If OSU has any shot of pulling off the upset, he'll have to play up to his full potential, and I think he will. Seriously, I completely understand why some people are way more optimistic about this game than they should be; the offensive line in full road grader mode coupled with Boom running downhill for the majority of the game is really fun to watch. It may not be enough though.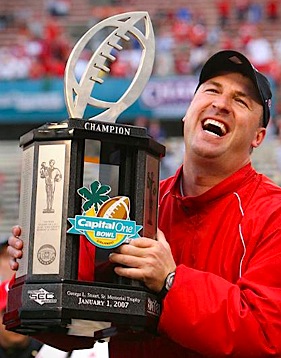 Getting Dominic Clarke back will be nice, especially if he brings the same bulldog mentality in defending guys like Nick Toon and Jared Abbrederis as he does shooting at people with a BB gun on top of the Marketplace. Travis Howard is still listed as the starter, but because Ohio State is going to stay more in the 4-3 this week, it'll be interesting to see what kind of personnel packages actually end up seeing playing time.
This is especially true for the linebackers. Sabino, Klein, and Sweat will be seeing a lot of playing time, as probably will Shazier (that's a pun). I think Ball and White will have at least limited success against the defensive line, meaning that the units to keep an eye on are the linebackers, especially in coverage, and the safeties, especially in run support. Both units are going to have to figure out how to multitask to negate the inherent advantages that Wilson, Ball, and White bring to the table.
The kicking game continues to be terrific. Drew Basil is now 8 for 10 on the year, and Ben Buchanan continues to try to redeem the family name since James almost ruined it by dropping his punts like flies inside the 20. Both of these guys cannot afford to have an off game at any point for the rest of the season.
Prediction
On paper, this doesn't end pretty for Ohio State. Russell Wilson is a legit Heisman contender for a reason; Michigan State, easily a top 5 defense this year, harassed and harried Wilson into two picks, but also gave up over 220 yards and two passing TDs to him. Montee Ball and James White are both excellent backs who can probably win the game by themselves if need be, and the defensive line will probably be trying their hardest to improve on last week's game against Sparty. The Badgers should be more than content to run right at Ohio State, and if they have any kind of success, it's game over.
Intangibles, though! Night game! Pro Combat Unis! Eat Too! Uhhhh positive remarks on Twitter!
Will the upset happen? No, probably not. But there's a chance.
Corey and Jeremy shared King Cool Guy status last week, which could cause a lengthy and bloody fight for the head of state in ElevenWarristan, so hopefully this week we get a little more definitive and a little more sad when we collectively call for a score of...
Ohio State 18, Wisconsin 25