Good mornin', Sunshine... and Happy Monday!
Your eyes, and your calendar, are not failing you. I have, in fact, swapped spots with DJ this week. I thought I'd give my best effort to relieve any of you of your case of the Mondays, and I'm sure this allowed DJ to get into some shenanigans with Warren G. Harding as well. Maybe he'll tell you all about it on Friday morning... if you ask nicely, of course.
HOLY MOLY! For those of you that weren't able to watch the Wisconsin vs Michigan State game Saturday night, all I can say is... you missed out. Those of you who did watch, until the very end, were simply reminded as to why college football is, without a doubt, the greatest thing on earth.
Once MSU woke up in the 2nd quarter, the game was an amazing rollercoaster right on the gridiron. I'm convinced any frathouses partaking in any one of a variety of Brent Musberger drinking games are still recovering.
Wisconsin's loss puts the Buckeyes back in control of their own destiny for the B1G Leaders Division. The Ohio State players, of course, seemed glued to their TVs and some took to Twitter to express their thoughts following the game:
Jake Stoneburner: "Dear world. We are back."
Michael Brewster: "New life... #resurrection" and "All in"
Nate Oliver: "Kirk Cousins is now the new Doug Flutie!!"
Etienne Sabino: "Wow" and "#gobucks!!"
Reid Fragel: "Well, our season is back. Let's go."
Personally, I find a pissed off Bucky to be quite intimidating, as he already looks like he has rabies. However, it's nice that the loss gives the team a bit more incentive for Saturday's game, and finally some film on something that worked against the Badgers.
OH NO, OU! As if to tell college football fans everywhere that the fun wasn't over just yet, Texas Tech pulled a big upset in Norman over the 3rd ranked Oklahoma Sooners, snapping OU's 39-game home winning streak. By early third quarter, the Red Raiders had a 31-7 lead over the Sooners, who began to fight their way back to a 31-24 score by the beginning of the fourth quarter. Oklahoma kept fighting throughout the final quarter of the game, but a critical missed FG by Michael Hunnicutt proved too difficult to overcome. They had a final shot, down 41-38 with 1:10 left, after a TD grab by Jaz Reynolds, but couldn't recover the onside kick. Within a couple hours, the college football world witnessed the deaths of Russell Wilson's Heisman hopes and Oklahoma's run for the national championship.
Speaking of national championships... is anyone picking a team other than the winner of the LSU Bama game to win it all? I've said it for a couple years now, and will continue to do so until anyone proves otherwise, I am never picking anyone BUT an SEC team to win the national championship. I simply can not believe that it can be done, until I see it. As much as I wish we (the field) were, we are not worthy.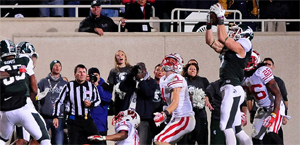 MOVING ON TO PLAYERS WHO ARE ALLOWED TO GET PAID... Sunday's NFL games provided some great story lines as well. So what did you miss if you spent the whole day working on that honey-do list? Well, honey... here are just a few bullet points for you:
The Raiders apparently traded in two first round picks for three second half picks. As if to commemorate Al Davis, the Raiders tried really hard to prove that, at least for now, the trade of two first round draft picks for Carson Palmer probably wasn't the brightest move. After Boller threw three picks in the first half, Palmer took over in the second and followed suit, throwing three of his own. Each had one of their picks returned for a TD. Pryor saw a tiny bit of playing time, but unfortunately when he entered the game as a slot receiver, went into motion, lined up behind the center and called for the snap, he was awarded a false start penalty. I guess penalties really have followed him to the NFL. The Chiefs beat the Raiders, 28-0.
Tim Tebow may, in fact, be the son of God. I'm not quite sure you can say a team that hasn't won a game all year was "stunned" by a 4th quarter meltdown and overtime loss, but, ummm... ok, ESPN. Frankly, I'd be stunned if the Dolphins beat anybody this year. That said, whether you can't help but love Tim Tebow, or just love to hate him, he completely reinforced your attitude towards him on Sunday in a way that only Tim Tebow could. With 5:23 left to go in the fourth quarter, Tebow and the Broncos got the ball at their own 20 yard line. Not only did Tebow drive them down the field to get it to 15-7, but once the Broncos recovered the onside kick, Tebow did again. And... scored the two point conversion to send the game to OT, where the Broncos finally won 18-15. Is he walking on water next week?
The Colts are bad. Really bad. The Colts gave up their seventh game of the season last night, losing to the New Orleans Saints 62-7. Sean Payton was spotted during the 2nd half up in the booth, due to his injury, pulling a Mark Sanchez and eating a hot dog. I don't think anyone could've blamed him at that point.
EAT AND DRINK, TOO BRUTUS. In case you missed it, the official details for both Drink Too, Brutus and Eat Too, Brutus are finally up! As an additional surprise to perk you up on this lovely Monday... details to a post-game party are included as well. We're looking forward to seeing you Friday and/or Saturday, if you're able to join, and raising some money for the Stefanie Spielman Fund for Breast Cancer Research. Cheers and GO BUCKS!
THE CURE FOR YOUR CASE OF THE MONDAYS. Perhaps, perception is reality... LeBron loves you... Everybody loves a good brawl... And, a good celebration... I'm not sure what this means, but okay.