#Shoutout to the people booing in Ohio Stadium on Saturday. I can only imagine, after the comical futility you've witnessed over the last decade, what it was like to endure a game where your team lost by three points. (And came this close to recovering the onside kick).
After a summer in which the national media gleefully took turns assassinating the character of the program, I'm sure the the booing in a sanctuary like Ohio Stadium sent a very clear message to the players.
You people deserve better. You woke up early on a Saturday! You put on a t-shirt! You drove over three hours in a heated SUV! You then stood around for another three hours and ate processed meat and drank alcohol! You also paid a high price for season tickets! Who are these amateurs (lol) to let you down in such a manner?
Booing your own team--all jokes aside--is probably the most constructive and thoughtful route a fan can take, especially when they do so at the first sign of turbulence. The coaches and players--who put hours of sweat and work in a week--probably aren't aware of their sub-par performance. Even if they are, it's not like the game is about anybody besides you or the entertainment you're drawing from it.
So, People Booing Ohio State in Ohio Stadium, I tip my cap to you. You represent the classiest and most intellectual wing of the Ohio State fan base, and I'm glad you guys are making yourselves heard on national television. The booing makes every sack on third down that much more fun and enjoyable for everybody involved.
I'd also like to thank the NCAA and Yahoo! Sports making Saturday possible. To the NCAA: thanks for setting up this entire sham of a system, as well as propagating the illusion of "amateurism" (which exists only for the purpose of a tax break). And you, Yahoo!, the NCAA's voluntary compliance department, for using that facade of a rule-book to topple Jim Tressel and Terrelle Pryor and garnering a bunch of internet clicks in the process. Please don't think I forgot about any of you during Saturday's game while I was reading tweets with the words "Joe Bauserman" and "spark" in the same sentence.
(Don't start counting your 63rd national title just yet, 'Bama fans; they're coming for you next).
A "COACH" THINKS OHIO STATE HAS THE 25TH BEST FOOTBALL TEAM IN THE COUNTRY. I know a lot of coaches delegate the actual voting to some low-level staffer, but I want the name of the person who voted for Ohio State as #25 in the latest edition of the coaches poll. Luke Fickell doesn't have a vote, so it wasn't him. Of course, this is the same group which voted 4-1 South Carolina nine slots highter than 4-1 Auburn, so I shouldn't be surprised.
CHRISTIAN BRYANT IS MAD.  At his Tuesday press conference, Luke Fickell used the word "fiery" when describing Bryant. The fiery side of Bryant apparently showed itself to BuckeyeGrove's Kyle Rowland in the aftermath of Saturday's game:
The defense fought all game. We can't do anything else. The offense is on scholarship too. Make a couple plays.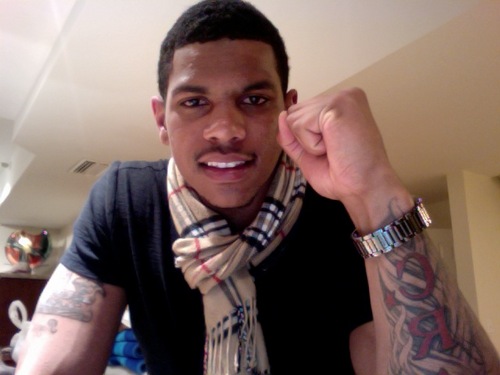 TERRELLE PRYOR IS ON THE COVER OF THIS MONTH'S COLUMBIA JOURNALISM REVIEW. No, I did not make that sentence up--it's true. The cover story is entitled "The Scandal Beat". Does the press' obsession with rule-breaking get in the way of real reform of college sports? I'm sure it's quite obvious where I stand on the matter, but if you happen to disagree (or even if you don't), I'd ask you to read that article. Daniel Libit does a much better job of presenting our case than I ever could.
ANDREW LUCK REALLY IS THE NEXT PEYTON MANNING. Stanford's waxing of UCLA probably didn't surprise a lot of people. However, during the game, Stanford unleashed "several dazzling pages of its playbook" with Andrew Luck calling his own plays at the line of scrimmage. Craig Krenzel once said that in the NFL, quarterbacking isn't so much the ability to get the ball where it needs to be as it is just knowing where the ball needs to go in the first place. I'm sure tape like this moves Luck's #1 overall selection in April's NFL draft from the 98th to 99th percentile of certainty.
THE MANIFEST DESTINY THAT IS SEC EXPANSION WILL CONTINUE. So, remember when Mike Slive said the SEC was done expanding? Well, that was like, so five days ago. Dave Hart, Tennessee's Athletic Director, said the SEC isn't done expanding and will have a "number of frank discussions" after the year. Buried in the story was this little gem:
"You can't be reactive in this business, and that's what it is," he said. "I know sometimes people are offended by the term `business,' but there is a business aspect to intercollegiate athletics that you have to be cognizant of and be ready to position yourself as well as you possibly can."

Hart has a point. The SEC distributed a record $18.3 million to each of its 12 schools earlier this year.
INTERNET THINGS. Why Facebook works for all and Twitter only for some... Russian software company says its app can crack BlackBerry's security... Arrested Development is coming back to TV for one more season before the movie...Eren Derdiyok had a sick bicycle-kick goal for Bundesliga side Leverkusen... Beckley Mason lights David Stern on fire (unfortunately, not literally)... In NYC? This interactive map shows you where you can watch your favorite college team... The Twitter King returns... Chalky White was a G last night, but he ain't no Omar Little...