50 years ago today, the Ohio State Buckeyes played the Illinois Fighting Illini and beat them 44-0. I'm just going to go ahead and take that as a sign, and you're welcome to do so as well. Not so much because there's really any significant correlation between the players that Woody coached to victory that day and the current roster, but because I'll take what I can get at this point. 
I need something, anything, to give me hope. I'm not just saying this because we're sitting at .500 and I'm ready to throw in the towel, but really it's because... WHEN CAN WE CATCH A FREAKIN' BREAK?! On, or off, the field. I need proof of life here. Tresselball necessitated Valium. Walrusball requires Prozac. 
If any of you C'bus locals are willing to jump in Mirror Lake tonight to awaken the spirit of Woody Hayes and the 1961 team for me, I owe you a drink at Eat Too, Brutus. And... you'll get a special shout out in next Friday's Skull Session.
Now that my therapy session is up, on to what you came for...
 LET'S TALK OFFENSE. QB Coach Nick Siciliano talked to the media on Wednesday, and Luke Fickell did the same Thursday. Both covered a lot of topics regarding offense and QBs, and seeing as how I'm sure that side of the ball has been a source of pain for many of you on several Saturdays now, here's a little wrap up of what went down in those conversations. 
Siciliano took some of the heat for QB play, saying that while he doesn't think they've ever sent a kid out there unprepared, QB performance can always fall back on him, good or bad. When asked if they miss Jim Tressel in the offensive coaching room, he mentioned it's always a hit when you're no longer able to bounce things off of someone who has been around the game for 40 years, but that Bollman called 97% of the plays in the past years and Tressel chimed in on 3%. (Timeout. 97%?! Despite former OSU walk-on Scott Sika's Twitter confirmation of this, I find it incredibly hard to believe that Tressel only provided a 3% improvement to the "playcalling" we're seeing this season! I don't even know how this is possible, considering we entered October without Bollman even knowing what a screen pass is.)
Siciliano was also asked several questions regarding how ideal it is that Braxton Miller is still a true freshman, stating that they were hoping Miller could learn behind Pryor for a year, and his venturing into the starting role obviously came sooner than expected. Ideally, he said, you would have a QB not start until year three or four in the program, much like Troy Smith. (Timeout. Just for kicks, and nothing else, according to my calculations, Siciliano was younger when Troy Smith first came to OSU than Joe Bauserman is now. Can we hire someone with, ummm... experience?)
Now, what you've all been waiting for. Both Siciliano and Fickell have stated that Braxton is doing fine physically and that he's been doing well in practice. He doesn't seem to be limited at all by the right ankle injury he sustained in Lincoln. While Luke did make it clear that Kenny Guiton has been seeing many more reps in practice this week, neither of them really cared to reveal who the backup QB will be this Saturday, claiming they'd like Illinois to have to prepare for both Bauserman and Guiton. (Timeout. Having Illinois waste their time trying to figure out how to get their defense in the stands ready to pick off Bauserbombs, just in case, might be the most genius thing this offensive coaching staff has cooked up all season!)
(And that, Coach Fickell, is how you call timeouts.)
Lastly, on Boom Herron, Fickell seemed hesitant to reveal too much with the tailback situation as well. He refused to really name one guy as the #1, saying that each has their own strengths and set of plays. He added that who plays when and how much will be largely dependent on what's needed for any given week. Here's to Herron replicating his performance against the Illini last year, tomorrow!
SIR MIX A LOT WOULD BE SO PROUD. The Ohio State men's and women's basketball teams had their annual media days Thursday, posing for photos and talking to, you guessed it, the media. My favorite tidbit from the festivities? Sullinger pointed out that despite losing 20 pounds and 4.6 body fat since last year, he hasn't lost his butt. Making reference to what an asset (no pun intended) it's been to his game, he added, "I'd never lose my best friend." 
Bravo, Jared! "You can do side bends or sit-ups, but please don't lose that butt!"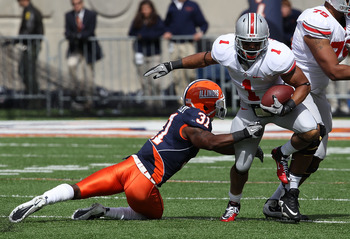 DEAR SEC, PLEASE SHOW US THE WAY. I'm not quite sure how the south routinely manages to either get away, or get off easy, with what at least appear to me to be violations of NCAA rules, but they do. The NCAA released a statement this week stating that they have concluded their investigation of Cam Newton and the Auburn football program, and no major rules violations were found.
So, despite having a player that likely made more money than Maurice Clarett is getting paid now, Auburn is in the clear. I'm pretty sure that I don't need to list all the suspensions OSU has faced this year in order for you to understand the contrast, and the ridiculousness of the NCAA, so I'll refrain from pouring salt in our own wounds. Either way... Southeastern Conference... HOW DO YOU DO IT?! I'm not even mad, I'm impressed!
LBJ FOR THE NFL. This whole lockout deal is really killing LeBron's whole "Look at me! Look at me!" gimmick. Or, so it was, until he decided to "flirt" with the idea of playing football again. By flirt, I mean the way some 17 year old tease flirts with some hopeless dud in order to get what she wants. And believe me, LeBron wants the same thing all high school girls want... attention.
This gripping romance started with James tweeting John Clayton of ESPN, asking about the deadline for teams to sign free agents. Keeping up with this high-school theme, Pete Carroll watched this unfold and was completely unable to contain his urge to join in on this attention whoring fun. He and James exchanged several tweets, in which Pete asked LBJ if he's aware of the League's rookie minimum (LBJ replied that it's more than he's making now) and what kind of player he sees himself as (of course, LBJ sees himself as a touchdown maker). 
That was all just foreplay, things have just started heating up. Carroll then tweeted back that LBJ should head to "The U" and Carroll would set up a workout for him to catch a few balls and then followed it up with this picture. The sports world went nuts, and I'm sure Pete and LeBron are enjoying every last bit of the attention. 
In case any of you were hoping for a Buckeye reference in this segment, Chris Spielman said yesterday that LeBron is the "greatest athlete [he's] ever seen," as well as "the mentally weakest person" he's ever seen, when asked about the idea of LeBron playing in the NFL.
Hint to LeBron: if you just show up to "The U" with some disadvantaged kids and a camera crew that Pete can capitalize on, I'm pretty confident you'll sell him on your "skills."
Warning to LeBron: they do play four full quarters in the NFL, so good luck with that.
 FRIDAY FUNDAY. They spell real gud in the south... Some are pretty good at football, too... To learn more about the Honey Badger, click here... LSUfreek, for your laughing pleasure... First look at the Ohio State custom Nike Lebron 9's... I wouldn't be able to live with myself if some of you missed this... Best site ever?