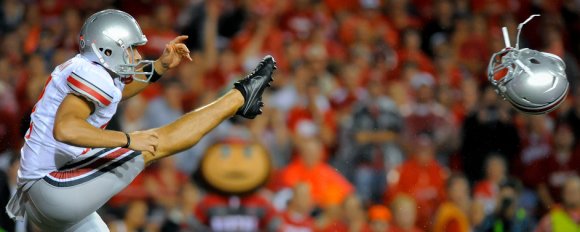 Staring at the keyboard doesn't seem to be helping much so let's all hold hands and try to get through today's episode of Five Things. 
Up 21 points with 23 minutes to play. Twenty-one. Even then I was definitely still worried a collapse was at least possible. Then it happened. And it sucked. And now we go to Champaign for more pain next week especially if Miller can't return from an injury that helped doom Ohio State's golden chance at an upset last night in Lincoln. 
Seriously, when was the last time you truly hated college football? 1999? Well, there's a new sheriff in town and his name is 2011. 
This week in fickell follies
I should think about making this a weekly segment going forward. 
Guess I'll start with another nine penalties for 75 yards. Throw in about 30 missed tackles and this has to be one of the most undisciplined teams in OSU history. Fickell's group struggles mightily with these basic fundamentals. 
The collapse was aided big time by both of these continual issues. Nursing a 27-20 lead, Bryant completely whiffed on a tackle in space as he refused to breakdown his pursuit and keep his head up. That play was the anti-fundamental blueprint. Instead, he flailed past Burkhead who then raced 30 yards to tie the game at 27 with under eight minutes to play. 
After Bauserman responded by launching a ridiculously underthrown ball for an interception giving Nebrasky the ball at their own 22, penalties crutched the four play, 78 yard game winning drive. On 1st and 10, Sabino stopped Burkhead for a five yard loss but JT Moore was offside, nullifying the TFL. 
CJ Barnett then stepped up, grabbing the facemask of Taylor Martinez at the end of what was already an 18 yard gain. Two plays, two penalties, 38 yards of real estate. Three plays later Burkhead found the endzone on a 17 yard sprint to crush your soul. Those two assisted drives accounted for 14 of the 28 unanswered on Fickell and Heacock's defense. 
The defensive collapse, according to Tyler Moeller, was helped by the Bullets being completely "outschemed" in the 2nd half. Wow. Another week, another player taking a shot at the coaching staff. 
Finally, I wasn't a fan of Fickell opting to punt instead of attempting a 49 yard field goal as the Buckeyes held the 27-20 lead early in the 4th quarter. Bauserman had actually helped OSU move the ball with a 13 yard pass to Philly complementing 16 yards on the ground from Hyde. I would've had to at least try for points there, knowing it'd be a miracle if Baus could ever get them even remotely close t scoring position again. It's a debatable call for sure. Punting does make some sense but I personally would've had to try for points, rain or not. 
Jim Trollman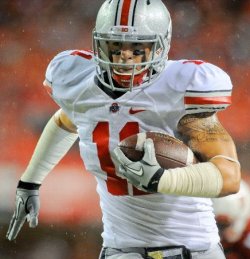 This dude just loves to play with your emotions. He did add a few new wrinkles this week but ultimately they were far outnumbered by the newly added wrinkles to your furrowed brow. 
Shocking absolutely nobody, Bollman's troop started off the contest with a delay of game penalty. Let that soak in for a second. Of course, that got you thinking you were about to witness a new low in offensive football but Bollman decided to tease you for 2.5 quarters first. 
I honestly thought he did a good job in the first half of mixing up calls and adding some new and effective plays to the game plan. We saw a couple misdirection plays, a draw or two that gained some yards and the throwback TE screen to Stoney for a 32 yard TD and a 10-3 lead nearly caused me to pass out. A perfectly designed and executed play?! 
Fast forward to Miller getting hurt with OSU still up two touchdowns with about 20 minutes left in the game. What the hell was that? We'll talk about Baus in a minute but what on earth was Bollman trying to accomplish? 
With the worst QB in the history of Ohio State football under center - AND A 2 TD LEAD - Bollman proceeded to abandon the run game so he could feature the arm of Baus? That's basically what happened as OSU closed the game throwing passes on 10 of 18 plays. Even worse, it sure it felt like the majority of the routes called were too deep for Bauserman's inaccurate arm to even have a chance. Where's the screen plays to either the RB or WR? How about a crossing route underneath? Something other than a 15 yard out. 
Seriously, how can it be justified that this guy be allowed to even finish the season? I know that's crazy talk in reality but when you consider the increasing likelihood Vrabel will commit felonious assault at halftime of an upcoming game thus bringing even more bad press on the program, don't you at least have to consider it? 
We are flat out bringing a knife to gunfight in the weekly OC vs. DC coaching matchup. Unreal. 
caution: Flying objects may enter the stands
So, I hear OSU is reprinting all tickets to include a Flying Objects disclaimer that will stave off any lawsuits from errant Bauserbombs striking unwitting fans in the stands. 
Overthrow Joe completed 1/10 passes with an interception. His quarterback rating was 0.90. That's ZERO POINT NINE ZERO. You get .8 just for not putting on your jersey backwards. 
He's now 12/40 in his last four games. Hold please. That's 30%. 
The Buckeyes were up 27-13 upon his Bubonic Bauserman's arrival. His first pass was a throw-away on 3rd and 7. Ahh, the symbolism. 
And how about that 3rd and 8 throw on his 3rd series, a 3 and out that setup Nebraska's tying TD? That was quite possibly the worst pass I've seen since I exited the womb which was before the Bellsari era. That ball was literally 20 yards over the receiver's head. 
If Miller can't play next week, what do you do? I know everyone is clamoring for Guiton/Graham but the reality is that the end result will likely be the same, it'll just look a little different. That said, I still think you HAVE to try someone different. There's no question in my mind that I'd just as soon let Jordan Hall play QB before Baus. 
One last note on this ill-conceived Thing. A few of us were talking on Twitter about the Posey situation and whether or not he'd be the first Buckeye to feel a chorus of boos on Senior Day. We were wrong in saying he would, at least if they announce the players alphabetically. 
the silver blanks
Look on the bright side, it would be a total waste if the Bullets were a standout group in a year when the offense is so bad that if you hand selected your all-time OSU defensive team, it still wouldn't be good enough to get this team 10 wins. 
As I touched on earlier, when's the last time you heard a Bullet openly state the defense was outschemed? 
It was astounding to see a group that held Nebraska to 34 yards rushing in the 1st half (1.8 ypc) could be continuously gashed in the 2nd half. They did surrender 10/13 passing but only for 80 yards as they allowed the dink/dunk stuff and consistently brought down the receiver with little YAC allowed. They even started the 2nd half with consecutive 3 and outs before disintegrating right before our eyes. 
I give them a pass for allowing T-Mart's 18 yard TD run cutting the lead to 27-13 since Braxton gave the ball to the Huskers at the OSU 24. You have to expect points will be surrendered in that situation. What happened after that however is a completely different story. 
With Miller injured on the ensuing series, the defense trotted back on the field with the ball at the Nebraska 20. Martinez helped OSU as he fumbled on 1st down putting his team in a 2nd and 17 hole at their own 13 yard line. Nebraska's next six plays went for 8, 12, 14, 13, 4 and 36 yards, all in about two minutes as Martinez's 36 yard strike to Quincy Enunwa brought the Husker's to within a TD at 27-20. 
Bryant was especially awful on the drive getting burnt deep on the post as Howard offered little help with no chuck at the line of scrimmage. Orhian Johnson's soft coverage over the middle on 3rd and 9 kept the drive alive as did Sabino taking an awful pursuit route on T-Mart's short gain before the TD pass. 
Again as I touched on earlier, Bryant again killed the cause two possessions later with the poor tackling effort in space on Burkhead in the right flat leading to the game tying TD. 
The Bullets gave up 144 rushing yards in the 4th quarter. Wonder when that happened last? In the 2nd half, they gave up 229 on the ground at a clip of 7.15 per carry. 
To end this one on a positive, I thought Big Hank battled all night and Roby still looks like he's gonna be a great player at Ohio State. Dominic Clarke got to play some too.
the silver lining
I haven't seen an official word on Braxton as of this writing but his injury didn't look overly serious. Even if by some chance he can't play this week, at least his development this season won't likely be stunted due to this particular issue. 
I thought the kid looked pretty good. The fumble was a tough pill to swallow as the defender basically just took the all away from him but otherwise he showed some growth in response to last week's poor effort against Sparty. 
With Miller under center, the Buckeyes had built a 21 point lead in the game's first 37 minutes. The kid was 5/8 passing for 95 yards with another 91 yards rushing on 10 carries. 
He was solid right from the start as he stepped up in the pocket and hit Philly for 19 yards on 2nd and 12 and eight plays later he coverted a 3rd and 10 as he scrambled for 12 yards helping OSU to a quick 3-0 lead. 
On the next possession, he engineered a seven play, 80 yard TD drive converting two separate 3rd downs with his feet. The first was a nifty nine yard scamper on 3rd and 1, the second a 3rd and 7 run up the gut for 24 yards. On the next snap he found Stoney on the throwback TE screen for a 10-0 lead. Good stuff from the kid on the road. 
He didn't get many chances the rest of the half as Hyde reeled off a 63 yard TD run on the first play of the next OSU possession, Hall was featured on three straight runs on a 3 and out the next time out, then another 3 and out with two Hyde runs and a botched snap after that. 
After Orhian Johnson picked off Martinez at the Nebraska 47 with :15 left in the half, Miller got loose with another craft run, this time a 29 yarder, moving the ball to the Husker 18 allowing Basil's 35 yard FG to give the Buckeyes a 20-6 lead at the break. 
Miller was also solid on the first drive of the 2nd half, a seven play, 47 yard TD march, capped by Hyde's one yard run. Following in incomplete pass overthrown for Fields, Miller moved the chains on 3rd and 9 with a nice 27 yard toss to Philly setting up 1st and goal at the seven. 
With the 2011 season in need of euthanization, it's all about individual player growth the rest of the way and Miller showed some poise backing up his Sparty performance with a decent showing on the road against the #14 ranked team in the land. It looked like a building block to me. That's all we have at this point.