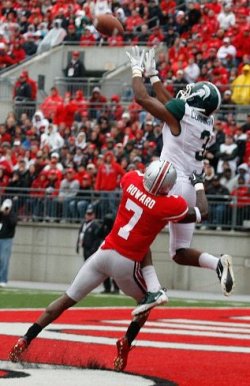 Holy smokes this a bad football team from top to bottom. 
Undisciplined, overwhelmed on offense, lacking a bonafide leader at the controls, and yet to fully grip reality that the young kids should be playing no matter what because the only thing to play for is next year, this team is growing increasingly painful to watch. 
Incredibly, an Ohio State football team has me virtually apathetic. As such, I almost feel compelled to apologize for an abbreviated edition of Five Things but I'm pretty sure you won't mind. 
None of us can feign shock over what has unfolded. That shock is saved for digesting how the final score was only 10-7 against a horribly mediocre Michigan State team. Avoid reality if you must but I thank the god of midwestern football that we aren't facing an SEC schedule going forward. Even with that regionalized gift, there are undoubtedly more embarassing losses to come. 
With that bit of good news out of the way, let's get moving...
HOWARD wr resort and island
For those of you hoping Travis Howard was just suffering from a bit of rust, you might want to put that idea to pasture. 
I like Howard. I really do. Despite the missteps for which he's been punished, he seems like a pretty good guy, on Twitter at least. That said, dude is beyond struggling to live up to the Howard Island moniker. In reality, there's typically an island between he and the receiver behind him. 
B.J. Cunningham is no slouch but he flat out embarassed Howard out there yesterday. There were more than a handful of epic fail plays leaving me scratching my head, trying to figure out why Dominic Clarke doesn't deserve a closer look. 
In the 2nd half alone, Howard whiffed on at least three tackles and on a couple others, his tackling technique was to jump on the back of the receiver who proceeded to drag him for five yards. 
In coverage, besides giving up the 33 yard TD catch to Cunningham in the 1st quarter, he was completely fried on a 52 yard gainer by Cunningham late in the 3rd quarter. Still technically in the game trailing 7-0 with the defense lining up to defend a 3rd and 7 at the Sparty 31, Howard let Cunningham get behind him again and showed little recovery ability as Cunningham raced to the Buckeye 17 yard line. It's worth noting the drive still ended up in zero points as Barnett made a sick play intercepting a ball tipped by Bradley Roby but Howard Island? Plz. 
Two possessions later, Howard received a gift as Cunningham got behind him again on 3rd and 10 from the MSU 44 but Cousins couldn't connect. For the day, Cunningham racked up nine grabs for 154 yards and a score, most of it on Howard. Not pretty. Again. 
the audition continues to go south
Nobody's arguing Fickell wasn't dealt a bad hand. He obviously took over amidst terrible circumstances. 
It's also obvious that he is nowhere near ready to be a head coach at a major program. That's not intended as a slight by any stretch. Any position coach or coordinator is best served by cutting their teeth as a head coach in the relative obscurity provided by MAC programs and the like. The pressure is far less intense and the number of eyes able to spot inexperienced decisions and actions shrinks by the millions. 
Going with the blind faith mentality, I coaxed myself into believing Fickell could thrive as OSU's head coach. I guess that still could be true but not unless he gets a second chance at the helm many years down the road after undergoing major seasoning somewhere else.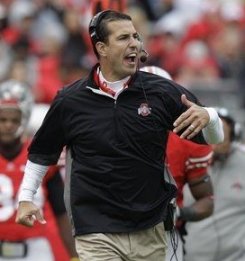 Just like last week, the team again showed wild lack of discipline, cranking out nine penalties for 82 yards. Just like last week, I'll state this falls on the head coach. A lack of discipline can't be another negative factor to contend with especially when a team has zero offensive confidence. Nine penalties, 12 first downs. Kill me now. 
Beyond the penalities, Fickell also put on another horrendous display of clock management at the end of the first half. 
On 2nd and 9 with at their own 38 with about :39 left, Bollman/Fickell dialed up a Hyde run for 13 yards. That took the clock to about :34. Clearly without any plan despite the fact the ball was now at the MSU 49, Fickell inexplicably let another five seconds run off the clock before calling a timeout at the :29 mark. Following a four yard screen to Hyde, Miller was sacked on 2nd and 6 from the Sparty 45 yard line. 
With a timeout left, Fickell let the clock run out without attempting a hail mary in a game in which he trailed just 7-0. The ball was on the Sparty side of the field. How on earth do you not at least line up in shotgun and attempt to throw the ball into the endzone? 
I'm over the Fickell tryout. The day he and Bollman are no longer decision makers in OSU football will be the day the program takes a step in the right direction. I hate to type that about Fickell but I don't know how it can be argued. I know I don't hear Gene Smith arguing it. He's been a ghost. No way is that an accident. 
bollman and the line
The offensive line got its ass kicked. 
There were plenty of one on one matchups in which a lineman simply failed to win his battle. Mewhort and Linsley looked to have awful days and Brewster might have played his worst game in three years. And let's not even talk about the havoc caused by Gholston. That dude flat out owned the line of scrimmage. Now, that's not to say there weren't plenty of times where the line never had a chance because there were more rushers than blockers. I'd also venture to guess the RB's didn't have their best day in pass pro. 
Bollman played right into Sparty's hands failing to dial up any screens to punish them for their over-agression up front. And is there a misdirection/counter in the playbook at all? I feel like we ran at least one draw  before the tail end of the game with solid success. 
Nine sacks. Nine. That's a tough pill to swallow. Though my eyes are watery, let's call it allergies, I think the math showed OSU rushed 39 times for 35 yards though we know nine of those "carries" were sacks resuliting in -64 yards. Minus the sacks, that still means the Bucks ran 30 times for 99 yards. Not good enough. 
And I just want to publicly thank Bollman and Fickell for putting in Baus at the end of the game. I mean, it makes total sense to me to put in the guy with concrete shoes when the MSU defensive line is staging a jailbreak on every play. Totally makes sense. Great move. You should both treat yourselves to Applebees. Okay. I'm rambling. Moving on. 
bradley roby is my dude
Because I have little else to be happy about and lord knows I've been woefully wrong on the vast majority of my predictions over the years, I just want to call out that I was trumpeting Bradley Roby as a future playmaker since Johnny and I saw him at the jersey scrimmage and various practices last year. I struggled to understand how he could redshirt because he looked like he could at least be a factor on special teams back then. He just always seemed to be around the ball. 
Yesterday, Roby was the only DB I saw that stuck to Cunningham with any regularity. Overall, the kid made two sensational plays on balls in the air and managed four tackles including one for a seven yard loss. 
Roby displayed excellent ball skills tipping a pass in the endzone which Barnett neatly grabbed for a touchback. No doubt it was a fantastic play by Barnett but it was set up by Roby's deflection. 
Three possessions later, with Sparty facing 3rd and 4 from the OSU 39 leading 10-0, Roby picked off a Cousins pass at the OSU 20 giving the Buckeyes at least a glimmer of hope with 4:24 left in the game. 
The bottom line is the kid makes plays. He appears, by far, to be the best pure cover guy on the team and as the season has progressed, he's shown a decent ability to provide run support and he's doing it as a redshirt freshman. To me, he's the bright spot on an otherwise ordinary defense by OSU standards. 
welcome back boom, posey and adams
I'm pretty sure it won't make as big a difference as I thought it would a month ago but it will be damn good to have Boom, Posey and Adams back in the lineup. 
Clearly, Adams and Posey are the most needed from a skill perspective. With Hall and Hyde doing a respectable job, Boom's skill level isn't as much of a necessity though I do think he can be a guy that helps Brewster in the leadership department. Though harder to quantify, there's no denying the offense is starved for such traits. 
It will be interesting to see how Boom's return impacts Hall/Hyde. My gut says Hall will still get the same amount of touches but Hyde could be reduced to more of a short yardage guy. 
Up front, Norwell has probably proven he's one of the five best linemen so with Adams set to reclaim left tackle, I'm curious to see what Bollman does. I could see Norwell sliding over to replace Mewhort or Linsley. It might be more of a stretch but I wouldn't be disappointed if Norwell slid all the way over to right tackle in place of F.S. J.B. Shugarts. 
I originally figured Posey's return would be gigantic due to the lack of experienced talent at wideout. With Devin Smith having emerged on some level, at least we now have a solid 1-2 punch. The problem is we still have a true freshman QB that is terrified of throwing an interception. Posey can help if he can get enough separation to be wide open enough for Miller to not be afraid to throw. That also assumes Posey's getting enough reps in practice to build a comfort level with his quarterback. 
Wow. Writing all this sure has me excited for the trip to Lincoln next week.