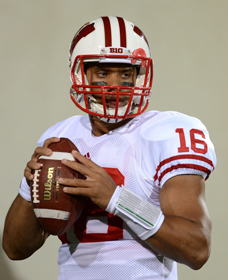 With Michigan State throwing an unexpected life-line to the Ohio State Buckeyes' division and conference hopes, Luke Fickell took to the podium in the Alumni Lounge of Ohio State's Fawcett Center today to answer the assembled media's questions. Ohio State is coming off its best game of the season, a 17-7 win over (then) #16 Illinois two weeks ago in Champaign.
Wisconsin saw their furious second-half rally fall short last weekend in East Lansing, as Keith Nichol hauled in Kirk Cousins' 44 yard Hail Mary chuck on the last play of regulation. The loss sent the Badgers tumbling in the polls to #15, a ranking they will bring into the Horseshoe this Saturday. 
This weekend's game (where Ohio State will be wearing Nike's latest abomination) will be key for both teams' division hopes. Wisconsin is now looking up to Penn State, while Ohio State is behind everybody in the division except lowly Indiana.
So, what did Ol' Fick have to say this week?
... The Jaamal Berry situation is "on-going," but Fickell said "we represent something bigger then ourselves," and "nothing goes unseen." Ohio State is "looking into it" and "taking it very seriously."
... Fickell was about "forty-five minutes to an hour into sleep" when Kirk Cousins uncorked his Hail Mary pass. "It was an unbelievable play," Fickell said, who has seen replays.
... There is no expectation of Wisconsin coming in "down" after their gut-punch of a loss. Fickell noted it doesn't matter if you lose on the last play or get rolled by 21+, a "loss is a loss."
... Dominic Clarke is "back with us, the program, and the team. He'll be back in the fold."
... Fickell says 18-22 year-olds were more excited about Wisconsin's loss than the coaches were. Fickell noted it was still about taking care of their own business first.
... The coaching staff feels they're seeing "a lot of growth" with Braxton, but Fickell added, "until it shows up on Saturday, it doesn't matter."
... Fickell says he hasn't been involved with too many freshmen quarterbacks, so it's hard for him to compare Braxton to others. Still, Braxton has done a "very good job" and "he's learned every week."
... Russell Wilson, a fifth-year senior, was lauded by Fickell for "being able to blend into the team." He can "scramble and make plays when he needs to." He's also a "good fit for their system."
... To rattle Wilson, Ohio State must be able to get to Russell Wilson, through sacks, rushes, or hits.
... There was no countdown to the Wisconsin game this year. He also noted this isn't about "revenge" or "redemption." Though, he did note, "nobody forgets how that loss felt." When asked if Michigan was still the #1 target, Fickell parried with coach-speak. However, when asked if he knew how many days until Michigan game, Fickell smiled and said, "34." (The illustrious Jeff Svoboda pointed out there's only 32 days remaining).
... Fickell said they're trying to figure out ways to get the best eleven players on the field, although the gamut of talent at running back can hamper that.
... Fickell notes Saturday will be "emotional," and he hopes the crowd is ready.
... For the 100th time this season, Fickell deflected a question regarding his chances of retaining the job (this one centering on the possibility if Ohio State were to get hot).
... When asked if anybody has told him what must be done in order for him to retain his job, Fickell went to the wife-well once again: "My wife tells me what I need to do all the time."
... "A bye-week doesn't bring everybody back to 100%" Fickell said, who also noted he doesn't care for them.
... "With [Wisconsin] it starts up front with them," Fickell said in regards to Wisconsin's "consistent" rushing attack.
... Fickell says the linebacker corps has gotten "better and better." Fickell says we'll probably see more of three-linebacker sets than we have in past weeks, due to having to respond to what Wisconsin is putting out there.
... Fickell says "we haven't been given any insight" into when NCAA could bring sanctions down on their program. "We can't waste energy on things we can't control."
... Ohio State's defense started slow last year in Madison, but Fickell says "it's still about being sound," this time around. "They don't try to surprise you."
... Night games are "more of a difficult thing to sit around and wait." Fickell said he'd prefer all games at noon so he could "get up and go."
... When the prospect of paying players was breached, Fickell said "you're asking me about things I don't know much about."
... When asked about the toughness of balancing recruiting/a game-week of this magnitude, Fickell admitted it's tough, but sometimes it's not a bad thing to "take your mind off some things."
... Eddie George, a teammate of Fickell's, "is probably, to [him], one of the best stories at Ohio State." He noted how things didn't start right for him, but he became the hardest working person on the team. Fickell says he talks to his team about the moral of the story a lot.
... Fickell says "there's an opinion on everything," in regards to Nike's Pro Combat uniforms. He also noted he didn't like it at first, but called it "a good thing" to have around the program. "The guys enjoy it."
... Kenny Guitton "gets a lot of reps, he'll get more of the two reps than Joe [Bauserman], but we still have the ability to play Joe."
... Punter Ben Buchanan was lauded by Fickell.
... Fickell says "they got a lot of work done" over the bye-week. He's not concerned with "a loss of momentum" after coming off the team's best win of the season.