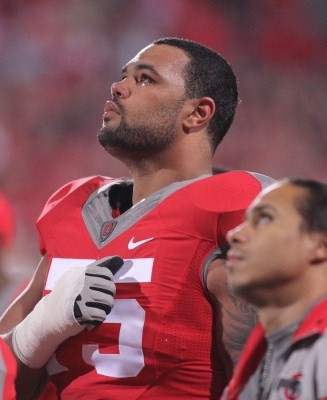 Halloween practically demands a ghost story, so here's one about the infamous haunted house of Columbus: That stadium by the river on Woody Hayes Drive - a street named for a famous ghost - which houses millions of spirits.
Generations of fans and athletes who have filed in and out on memorable and forgettable fall Saturdays, along with students who lived in the stadium when it was a dormitory have never actually left the premises.
They're all still there. They can't leave; they're stuck inside forever.
Some of those ghosts have epitaphs prominently on display, like HARLEY (the ghost of Ohio Stadium's figurative builder) and CASSADY, along with others, including GRIFFIN whose much older version was seen during halftime on Saturday night along side the aged - but not really - representation of GEORGE at midfield.
I was also there on Saturday to witness one of the better college football games you will ever see in your life. The ghost of my much-younger self, sitting across the field with my father in B-Deck seats that no longer exist due to stadium renovation, was there as well.
The field was completely littered in spirits of the past, as it always is: When Ryan Shazier darted through several blockers and took the ball off of the Wisconsin punter's foot early in the third quarter, he did so right at the same cursed spot where Eddie George had fumbled against Illinois as a college freshman.
Similarly, when Devin Smith grabbed Braxton Miller's heave with only a few seconds remaining, he snatched the ball near and in the same fashion as Brian Robiskie catching Troy Smith's game-changer against Penn State five years ago.
The only element missing to complete the link from the past to the present was the muddy field from that day which is no longer possible due to the four year-old turf; itself a ghost of the artificial grass that served as the field in the 1970s and 80s.
Once the Badgers had been subjugated and the fog lifted from the euphoria of winning in such improbable and dramatic fashion, another ghostly feeling began to creep in that was not unlike the one that followed Robiskie's catch: This team might not lose another game.
Of course, the most prominent ghost of Ohio Stadium in 2011 had been that of Jim Tressel, whose physical absence from the sideline has produced the most conspicuous apparition of the season.
With only 78 seconds left and a three-point deficit, that happy place where Tressel would annually disappoint us with ten-win gold pants seasons that ended in the fanciest bowl games seemed too distant to be real. A fourth loss was about a minute away. All in a single season. Before November.
But something unexpected happened when Smith and Miller sent the stadium into a deafening delirium: Tressel's ghost faded, just a bit. Suddenly, longing for the past and pouting about all that has happened in 2011 was no longer prudent, because the present now seemed worthy of a full, emotional investment.
That touchdown was the ultimate we're back, baby! moment.
As the Ohio State sideline poured out onto the field in joyous hysterics, everything - the Wisconsin Badgers notwithstanding - exploded. A reupholstered genesis was established for Ohio State football in 2011, and this Wisconsin victory became its new starting point.
Between waiting for an NCAA verdict that probably should have arrived sometime last week were it not for the Bobby DiGeronimo investigation and the on-field disappointments, the program has been completely tangled in doom and anticipation of the dreadful unknown.
Terrelle Pryor and Tressel had checked out months ago, but their ghosts did not leave - and we refused to allow them. A 4-3 record in what was supposed to be a national title run will do that to the psyche, and it has for over half a season.
Those three losses could not have happened with them present. That's what we'll always tell ourselves.
For those few moments following the game though, there was no more waiting, speculation or commiserating. The souls of the departed all just flittered away, and not just because of Miller-to-Smith, which will be relived for years as a junior version of Krenzel-to-Jenkins at Purdue: That touchdown was the capstone on a game where both lines dominated against a program whose lines are rarely pushed around like that.
The pall over Buckeye football had been lifted, if only for an afterparty. Instead of burying Ohio State, the very notion of Ohio State being buried died on Saturday night, and it took one single, miraculous drive in under a minute to make it happen.
The victory also tore the mask off of a program that has continued to meekly claim and masquerade that it hasn't allowed the off-field drama to affect them.
Consider Mike Adams, in victory: When Ohio State played Arkansas in the Sugar Bowl in January, Adams already knew it would be his last game until the Buckeyes played at Nebraska and his five-game suspension was complete.
He was seen aggressively celebrating the Buckeyes' now-vacated win that evening by national TV cameras, which captured him shouting multiple expletives and stomping around midfield at the Louisiana Superdome.
It has only been ten months since that night, yet Adams' demeanor following Saturday's affair was all you needed to see to fully appreciate the psychological battery that this team has taken over what is still an incomplete calendar year.
The affairs of 2011 have aged these Buckeyes by a factor of ten. Since the Sugar Bowl, Adams has lost his coach, sat out for multiple games and helplessly watched his team lose without him.
Following another big stage game that like the Sugar Bowl also featured the Buckeyes squandering a big second-half lead and jeopardizing the outcome before sealing the win in the final seconds, Adams was a completely different person.
Physically he was that same, hulking giant that he has been since his prep days in Dublin, but he was not shouting expletives at midfield following this victory.
Adams was in full tears, somber and quietly elegant. The finality of a senior year that was practically cut in half by way of punishment for exploiting his dubious amateurism appears to have to have become all too real, all too quickly. That angry, victorious Adams has been ghosted as well, and in all likelihood, for good.
Ohio State is suddenly the most dangerous team in the conference. The defense has had its lapses, but they have been extremely few and far between the dominance that its front four - the best in eight seasons - has demonstrated.
Now that the offense has embraced its identity as a run-first, second and third team (admit it, you were waiting for the ghost of Joe Bauserman to fly out from Lincoln in the fourth quarter and brazenly attempt ten passes with a double-digit lead) the anxiety over the lack of a passing game can be tempered.
As long as the Buckeyes don't force what they now realize they're not capable of doing, they should be more successful, and on Saturday they were.
They've been haunted all season, by what they were supposed to have been and what they have squandered. Wisconsin served as a classic watershed moment for the 2011 Buckeyes: They are now fully aware of what they can be and what they cannot.
The former just might be good enough to get to the conference championship game. Think back to the last time you saw both of Wisconsin's lines handled like they were on Saturday night. Ohio State's defensive line - without the benefit of a single holding call - made minced meat of the giant Badger OL all night.
If Ohio State still somehow ends up playing for the title, despite losing its patriarch and having been gutted for much of the season, it will have served notice that it is not quite finished spooking the Big Ten just yet, despite all the handicaps, instability and that damned pall still hanging over the future.
With four games left, it appears that the inevitable changing of the guard in the Big Ten is officially on hold. And the fact that it's still possible as of Halloween with all that has transpired in Columbus? Well, that's just scary.