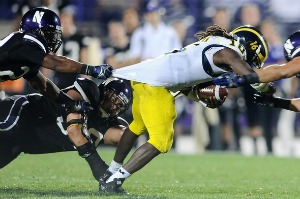 Welcome to Big Ten action, Week 6: Back 2 tha Hood. Did you know there was football yesterday? It's true! Up until about 9:30 at night and then it just stopped and everything was marshmallow puppies and amethyst stars. Michigan State and Wisconsin had byes, but everyone else took the field and played about how you'd expect. 
At noon, Purdue-Minnesota was the only B1G battle, and through my own hubris and naiveté, I subjected myself to it, believing I could handle whatever horror I might witness. Well, it didn't take long until my entire soul was numb. Therefore, I tried to find other ways to occupy my mind. Because of that, and because the friend I'm dogsitting for has much slower internet than I am accustomed to, I started playing around with my Droid Bionic, which must be an SEC phone with its speed.
Help me Rhonda if I have to wait more than five seconds to share my life-changing Tweets with everyone on a football Saturday. Plus, NFL Mobile is included for free, so I watched some clips to remember what happened when real football was manifesting. Since the camera captures really good pictures, I Annie Leibovitz'd my friend's dogs and then texted the shots to her until she finally had to write me, "STOP! I know what my own dogs look like." I was just happy that the phone allowed me to take photos that didn't resemble the point of view of someone with glaucoma, which usually occurs when I'm behind the lens.  
I don't think it's an exaggeration to suggest that the phone saved my life. If I had to look directly at the Purdue-Minnesota game any longer, I probably would have bled out from my eyeballs. As a thank you, I've come up with a special name for this week's most entertaining B1G contest: Verizon Wireless Presents the Big Ten, Big-Tacular Game of the Week1.
Even if another game may technically fit the bill better, it's one that I mercifully did not have to recap, so I'm choosing Michigan vs. Northwestern. Pickings were slim for the honor, but this matchup gets the nod for two reasons. The first is because Michigan continues to win in defiance of all that is holy about football, and while not ideal for us Ohio State fans, it is nonetheless lively. The other is due to the wonders of technology, right DenardX?
MICHIGAN 42, NORTHWESTERN 24
Down 24-14, Michigan owned the second half for a 42-24 win over Northwestern. The Wildcat secondary, torched last week against Illinois, continued its trend of collapsing after taking a lead. Denard Robinson overcame his rancid first half, in which he threw three interceptions among other completed jump balls. After halftime, he connected with Shaft Roy Roundtree for a quick score. The next Michigan possession, he used his legs to move his team down the field, setting up his back-up, Devin Gardner, for a 2-yard TD run.
That gave Michigan the lead for good. Robinson finished the night with four TDs, and as usual, led the team in both rushing (25 carries for 117 yards, 2 TDs) and passing (17/26, 337 yards). Junior Hemingway said a hello to arms and hauled in five catches for a team-high 124 yards.  The Wolverines, who were 14/17 on third-down conversions, only punted once2 in the game and held onto the ball for nearly 38 minutes.
For Northwestern, Dan Persa was accurate, completing 32/44 passes for 331 yards, but he did not record a TD and he was picked off once, right after Michigan took a 28-24 lead. Michael Shaw then ran a 3-yarder into the end zone for UM. The next Wildcat series also ended in a turnover when WR Jeremy Ebert fumbled. Despite totaling 438 yards offense for the game, Northwestern put up a goose egg in the final 30 minutes. Michigan, sitting atop the Legends division, has only give up 21 points in the second half all season3.
Next week, Michigan faces Michigan State for the Great Lakes State bragging rights, which the M Zone is ready for, and Northwestern and Iowa will try to rebound against each other.
Lake The Posts acknowledges that even though "there is no way to hide the disappointment on this one, especially after posting a 10-point hafltime lead that evaporated almost instantly in the third quarter", the bright side is "every one of our remaining games is winnable."
PENN STATE 13, IOWA 6
If any matchup were dubbed the B1G Big Ten-iest Game of the Week4, it would be Penn State's 13-6 victory over Iowa. Field goals were made, the winning team ran the ball best, and it resembled field position chess. For Penn State, it was their first win against that wrestling school since 2007. Though Silas Redd's 142 yards on the ground were key to the win, the Nittany Lion defense was the real story of the afternoon.
Iowa came into the game as the best passing team in the conference and averaging almost 38 points, but QB James Vandenberg was harassed all day. He only connected on 50% of his passes (17/34, 169 yards) and threw two picks and fumbled at a cruical moment.
Down just 6-3 in the fourth quarter, Vandenberg was sacked by LB Gerald Hodges and turned the ball over at midfield. After 10 consecutive runs, Matt McGloin tossed the one TD of the game to his tight end Kevin Haplea. That made up for his earlier miscue when he threw an interception to Hawkeye Micah Hyde in the end zone. Rob Bolden started again for PSU, benefited from a tipped ball off the ref and into the waiting hands of his receiver Mike Zordich, and then wasn't able do much else (3/7, 31 yards). Penn State accounted for nearly 400 yards offense, 230 of which came via the run. 
Big Ten Standings
Legends
Michigan
2-0
6-0
Michigan State
1-0
4-1
Nebraska
1-1
5-1
Iowa
0-1
3-2
Northwestern
0-2
2-3
Minnesota
0-2
1-5
Leaders
Illinois
2-0
6-0
Penn State
2-0
5-1
Wisconsin
1-0
5-0
Purdue
1-0
3-2
Ohio State
0-2
3-3
Indiana
0-2
1-5
BHGP succinctly describes the game, and perhaps the entire day, with one sentence: "Well, that was not a pleasant viewing experience".
ILLINOIS 41, INDIANA 20
After a slow start, Illinois remained perfect on the season, defeating Indiana 41-20. The theoretical title for this contest would be the Big Ten, Big Play Game of the Week. Shane Winn, Glenville native and Hoosier freshman, brought back the opening kickoff for a 99-yard TD.
A short time later, Illinois freshman Donovonn Young fumbled and Mitch Ewald was able to boot one through the uprights to give Indiana a 10-0 lead. However, the Hoosiers could not stop dynamic duo Nathan Scheelhaase and A.J. Jenkins. The sophomore QB and his favorite target hooked up for two long TD passes, one for 77 yards and the other for a mere 67 yards. Scheelhaase also tossed another TD and ran one in as he added 88 yards rushing to his stats.
The Illinois defense got in on the scoring fun when defensive end Whitney Mercilus sacked Dusty Kiel and stripped the ball, which Tavon Wilson picked up and ran in for a 66-yard score. Mercilus, the conference's top sack master, amassed three sacks, four TFLs, and two forced fumbles. Kiel, who started for a hurt Edward Wright-Baker, injured his ankle and had to be replaced by freshman Tre Roberson. The freshman QB rushed for Indiana's only offensive TD of the day.
Up next for the 6-0 Illini is the 3-3 Buckeyes5. A Lion Eye tells fans it's time to make your bowl plans for January. Meanwhile, Indiana is preparing to sacrifice itself at the altar of Bret Bielema.
PURDUE 45, MINNESOTA 17
In a game that is not deserving of a faux moniker, Purdue crushed Minnesota 45-17. Caleb TerBush started at QB for Purdue and played well (14/21, 140 yards, 1 TD). Robert Marve was also under center for a few series, going 4/6 for 15 yards and a score. Akeem Shavers ran and caught a TD while the Boilermakers managed 217 yards rushing and 155 yards passing.
Freshman Max Shortell took the first few snaps at QB for Minnesota, but MarQueis Gray, who sat out last week's humiliation against Michigan with an injury, replaced him. On Gray's first series, he threw a pick 6 as Ricardo Allen scored for Purdue. The Golden Gophers also fumbled the ball twice, both of which were recovered by Ryan Russell, and they only mustered 100 yards on the ground and 113 in the air.
Before hitting a field goal in the second quarter, Minnesota had given up 95 unanswered points to their opponents. How Jerry Kill didn't fake a seizure to get out of there early, I'll never know. They did eke out one highlight, though, when Marcus Jones returned a kickoff for a 92-yard TD.
Boiled Sports claims "Purdue looked faster, strong and better-prepared". Ahh, Minnesota. Often the cure for what ails your football team. 
Next Saturday, Minnesota plays host to Nebraska and Purdue visits Penn State, where Hammer and Rails has the following goal that might sound a little familiar: "we have to mix things up, cause some misdirection, and get the lead on them because I am not confident they can play from behind." 
1 Disclaimer, according to FTC rules and everything: Verizon gave us (me) the phone, but all words and pretend sponsorships are my own. They are unaffiliated with this game of the week nonsense. That's courtesy of my crackpot mind and many episodes watched of The Colbert Report. 
2 Arm punts not included.
3 If you weren't completely dead inside already, I'm assuming you are now.
4 The most Tresselish game that Tressel was never part of, perhaps. 
5 Strike that, reverse it...wait, that's right, isn't it? To the fetal position!