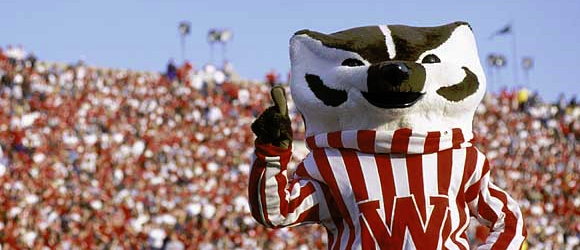 Despite the irreplaceable place that Michigan week will always hold for Ohio State fans, Wisconsin is likely the game you circled on your calendar in the preseason, if you could only circle one. Things have changed a bit since we all started counting down to this matchup. For some, it started immediately after that loss in Madison last year.
Had you told me before the season started that OSU would lose to any of the teams they have, I would've agreed. Had you told me they would lose to all three, I would've been skeptical. Wisconsin, on the other hand, was thrashing opponents week in, week out, up until an instant classic loss to Michigan State last Saturday.
The two collide in Columbus this Saturday, both with something to prove. Ohio State, looking to avenge getting knocked off their top ranking by the Badgers last year, keeps B1G Championship Game hopes alive with a win. Wisconsin looks to take their Sparty frustrations out on the Buckeyes. As Jim Tressel would say, it'll be "a battle."
John Veldhuis of Bucky's 5th Quarter joins me this week on Across the Field, letting us know who to watch for on the Badgers, what to hope for, and what to look out for this Saturday night. Let's get it started...
Wisconsin is coming off of a heartbreaking, instant-classic loss in East Lansing. What are some of the takeaways from that game you'd like to see the team either build on, or improve, this week before heading to the Horseshoe?
First of all, the special teams need to improve on their disastrous second quarter. A blocked field goal and a blocked punt returned for a Spartan touchdown completely took the momentum away from the Badgers, and they can't let those kinds of plays happen on the road like that. The first and fourth quarters had a lot they could build on – we know now that while Paul Chryst likes to use his shiny new toy (Russell Wilson,) Montee Ball is what makes the offense go. It's not that we didn't know that before, it's just easy to forget with Wilson around. Those first two drives were a thing of beauty for any Badger fan, and they were up 14-0 before Michigan State could regroup.
What were your preseason predictions for this team, and how has the loss to MSU affected that, if at all?
My preseason prediction was that they'd go 11-1 in the regular season, and play Michigan State in the title game. I wasn't sure if they'd lose on the road at Michigan State or Ohio State, so my preseason prediction is holding up fine. It's my edited in-season expectations that took the blow. We didn't know Wilson would be that good right away, and it made me (and a lot of other people, too) think this would be the Wisconsin team that finally brought home a national championship. Those thoughts are pretty much gone now, but I think we all remember how crazy the 2007 season was; so stranger things have happened I suppose.
There seems to be two ways a team can come out the week after an unexpected loss. Either deflated, or angrier than ever. Based on what you've heard from the coaching staff and key players, what do you sense the attitude is in Madison about the next task at hand?
I trust Bret Bielema. He and Wilson were a little deflated today in their weekly press conference, but Bielema knows how to keep these guys motivated. From what I've seen (and admittedly it's not much,) the players are responding well. They're mad, sure, but it's not keeping them down. I think they'll come out fired up like they did against Minnesota last year, and we all know what happened there. Two-point conversion-gate, running up the score, etc. Granted, Ohio State is much more talented than the Gophers, but Bielema has been good about getting his team to play well after a loss.
There's been some debate over the timing of Bielema's calling time out last Saturday. Can you tell our readers about it, and what your thoughts are on the debate? Are there any deficiencies with this coaching staff that have frustrated you at all?
Of course. Bielema called his first timeout with 42 seconds left in the fourth quarter after a fumble put the Spartans back on their own 24 yard line for a 2nd and 20. Kirk Cousins completes his next pass for 12 yards, putting the Spartans at 3rd and 8 from their own 36. It's at that point where Bielema calls his second timeout, and stops the clock with 30 seconds left. Bielema explained that he was feeling good about his defense's chances of stopping the Spartans on 3rd and 8, with good reason. The Badgers had forced the Spartans to punt on their last three possessions. Bielema was thinking if he stops the Spartans on third down, they get the ball back and spend their last time out to get the ball back and play for the win. The Badger offense was on a roll at that point, and they didn't need that many more yards to put themselves within field goal range.
Unfortunately for the Badgers, the Spartans picked up 11 yards on third down and the timeout ultimately preserved enough time for Cousins to take one last heave at the endzone. In the end, I wasn't too upset with it. I can't say I would have done it differently. If the Badgers get the stop, and set up the game winning field goal, then I think people would've been saying how brilliant of a move it was. But it didn't work, so here we are.
As far as the coaching staff goes, I think the Badgers have a good one. The defensive coordinators do a pretty good job, but it would be nice to see them play more press coverage on the receivers. Paul Chryst is an offensive mad-genius, and his play calling can be frustrating if it's not working (see: Rose Bowl, 2011,) but I'd rather have him on the staff and be frustrated at times than see another team succeed with him. 
Our readers are likely familiar with Russell Wilson, Montee Ball and Nick Toon. Who are some of the unsung heroes of this team, on both sides of the ball, they should look out for on Saturday?
Keep an eye on Jacob Pedersen, the sophomore tight end. He's Wisconsin's next "big thing" at the position, and usually he's the last guy a defense accounts for, so he finds himself wide open at times and gets a lot of looks in the endzone. He has the second-most receiving touchdowns this year, so teams pay when they overlook him.
On the defensive side, keep an eye on two linebackers: Mike Taylor, who plays on the weak side, and Chris Borland, who plays at the Mike. Either one usually has the most tackles in a game, and the coordinators like to use their athleticism with some blitz packages. Borland in particular had a defensive package designed to display his skills- it's a 3-3-5 that the coaches liked to use in obvious passing situations.
Wisconsin is still clearly one of the better teams in the country, ranking in the top 6 in both scoring offense and defense. What can you tell us about some of their weaknesses you're hoping OSU won't be able to take advantage of?
Well, we saw last week that Wilson is human after all. He was a little rattled after the first interception, and we saw him overlook a wide-open Pedersen at least twice, and it might have been because of his height. (He's generously listed at 5'11".) We've also seen that teams will sell out to stop Ball and James White, and then hope to force Wilson to throw. The thing is, he's made them pay before last weekend. So if OSU sells out to stop the run, and then can rattle Wilson, they'll have found a chink in the Wisconsin offense.
What weaknesses of OSU's, and the way they matchup with Wisconsin's strengths, are you most hoping the Badgers capitalize on this Saturday?
I think the Badgers have an under-rated defense; so exploiting Braxton Miller's inexperience will be key. I actually haven't seen much tape of Miller, and neither have the Badgers, so I imagine they'll focus on stopping the running game first. If they can get Ohio State into some 3rd and longs, I think they'd be comfortable sitting back in a zone and waiting for Miller to misread the coverage. It's how they got to Taylor Martinez, and unless Miller shows he can make the throws that's how I think they'll try and exploit his inexperience.
What are your thoughts and predictions for the game?
I feel weird predicting a win so soon after that heartbreaking game, but I believe Bielema will have the guys ready. They know that they need this game if they want to salvage a great season, so I think the Badgers come fired up and leave Columbus back on the winning track. The Buckeyes have a lot of talent, but you need to have an offense that can keep pace with the Badgers if you want to beat them. Michigan State did, I don't think the Buckeyes do right now.
Any behind the scenes, off-field stories about Wisconsin, you'd like to share? (Anything, other than the story of Bielema courting his fiancee, please. We don't need to hear that one again)
Well, he won't get to play, but linebacker Greg Russo has a great story. He's an Iraq war veteran who came back and walked on with the Badgers. For a while, the NCAA wouldn't let him play (he previously attended college at another Wisconsin state university,) but he decided to stay on the scout team and help the team the best way he could. And just recently, the NCAA wised up and gave him senior eligibility, so I imagine he'll see the field during one of the Badgers' next blowout games. He's a good guy, and I'm glad he'll get a chance to fulfill a dream of his and play in a game for the Badgers.
Signing off!
Special thanks to John for giving us an in-depth look at the Wisconsin Badgers. Read more about Wisconsin from John, and others at Bucky's 5th Quarter by checking out the links below:
Bucky's 5th Quarter on Twitter: @B5Q
John Veldhuis on Twitter: @JohnVeldhuis
GO BUCKS!