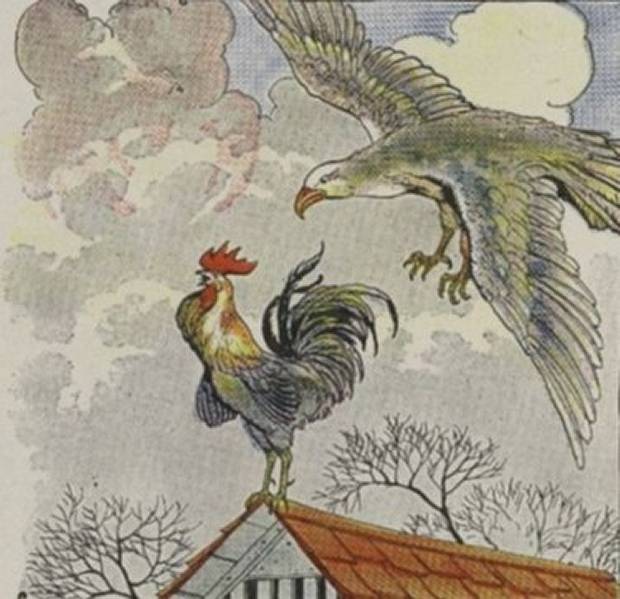 So this is why I don't actually gamble. Every time I go on a little bit of a hot streak, I abruptly have a week where I go 4-3 ATS. My pride is my downfall once again. I just can't help it. Darnell Dockett says his team is going to win... and he used to drive an ambulance with a hot tub in the back? WHERE DO I SIGN UP FOR THIS SWAG-WAGON? The Irish are 0-2? Surely, those cupcakes are going to get their nose punched in by the illustrious Kirk Cousins. And this probably is why Colt McCoy, Peyton Hillis, Greg Little, Montario Hardesty, Ahtyba Rubin, Jabaal Sheard, Evan Moore, Benjamin Watson, Scott Fujita, TJ Ward, and Phil Dawson are all on my fantasy team. (And why my team is currently 0-2).
I thought Michigan State was supposed to be good? I thought Kirk Cousins was supposed to be the Mega Millions Winner's Craig Krenzel? Thankfully, I don't know a bookie, otherwise I would probably be making a call to my local Army recruiter right now over that game. I thought, you know, since Notre Dame basically sent a man to his death, the football gods would smite them into the yearly abyss, which is quickly becoming one of my favorite traditions of the fall. Perhaps this is just a way of rising the Irish cabal up once more before they get kicked in their collective testicles again? It's story-writing like that which I could get behind.
The one man who did not disappoint last weekend was the black sorcerer known as "LESLIE MILES". Through hook and by crook, the necromancer-warlock-druid-shaman-wizard continues to lead his band of marauders throughout America, torching anybody or anything that stands on his path to glory. I know they lost last year to Alabama Auburn--but doesn't it feel like LSU hasn't lost in about three years? I don't care about the consequences--I am riding Les Miles' blood magic all the way to his coronation ceremony, which will, unironically, be right up the road from his lair.
LAST WEEK: 4-3
SEASON: 16-6
NATIONAL GAMES
North Carolina State @ Cincinnati (-6.5), Thursday 8:00 EST - ESPN
Man, one year ago, I would have taken the NC State money line on this game so fast. Now, the talisman of my favorite gambling team from 2011 plays up in Madinson, Wisconsin. The Wolfpack of North Carolina State come to Cincinnati to take on one of the nation's leaders in pass efficiency: Zach Colaris. Unfortunately, they'll do it without some leaders on their defense. Junior linebacker Terrell Manning took a knock to his knee last week against South Alabama last week and had surgery on Monday. They'll also be without senior captain JR Sweezy (just got out of a walking boot this week) or his replacement (Thomas Teal). They're also without DE Art Norman (who was the replacement for injured senior DE Jeff Rieskamp). NC State coaches are scrambling to find players to fill the void. Even though Cincinnati got snuffed by an inept Tennessee team (and even though I hate everything to do with the "city" of Cincinnati), I'll take Cincinnati at home. (And now I'll go take a shower)
Notre Dame at Pittsburgh (+6.5), 12:00 EST Friday - ABC
So, I didn't watch any of the Iowa-Pittsburgh game, but I did notice Iowa was getting taken out behind the woodshed by the Panthers. Later that night, I saw Iowa had come back from a 17-point fourth quarter deficit to win the game? Is Dave Wannstedt still coaching at Pitt? Did Pitt's entire team come down with malaria at halftime? Regardless, I'd like to thank Iowa for at least retaining a shred of dignity for the Big 10, which looked absolutely pitiful last Saturday. A loss like Pitt suffered last week can be idevastating, and on the flip side, the Fightin' Irish appeared to get their Hawaii Bowl-train back on track last week against Michigan State. Can Todd Graham lead his troops to an upset win against the Irish, as he did last year when he was head coach at Tulsa? Maybe, but I still can't get over a collapse like last week's. I think the Irish make it back to 2-2, which will let their fan-base bring back their BCS pipe-dreams once again.
#14 Arkansas at #3 Alabama (-12), 3:30 EST - CBS
Uncle Verne will be rocking the mic in Tuscaloosa for what should be the best game of the weekend. I'm sorry, but as much as it pains me to say it, the SEC is at the height of their powers right now. That said, it's quite impressive that while being in the snake-pit that is the SEC coaching circle, Bobby Petrino stands out as a particularly untrustworthy fellow. With his team up 21-0 against Troy (a game Arkansas went on to win 38-28), Bobby Petrino was seen throwing his headset and Styrofoam cup, as if he were a 12 year old who just lost a video game. Who would want to play for such a tiny, angry little man? Of course, Alabama offers their own tiny, angry coach in Nick Saban, but at least Saban has an aura of professionalism surrounding his abhorrent assholiesm. Troy's defense was able to harangue Arkansas last week--what's going to happen when they face one of the best defenses in the country? I think the Razorback's quarterback, Tyler Wilson, throws a couple dumb picks, Bobby Petrino's head explodes, and 'Bama wins this quite easily. (And by the way, Duron Carter will red-shirt this year. H/T to commenter Matt.)
Oklahoma State #7 at #8 Texas A&M (-4.5), 3:30 EST - ABC/ESPN (Regional)
I love Oklahoma State. I love their coach. I love Justin Blackmon (doubly so when the Browns draft him). This great match-up will be overshadowed by potential conference "re-alingment", but all the pieces are in place to replicate their classic conference opener from last year, when Oklahoma State used a late-game interception to get a last-second field goal for the 35-38 win. While Texas A&M hasn't been playing notable competition, they still have racked up 11 sacks on the year. Something has to give, as Oklahoma State's quarterback, Brandon Weeden, has only been brought down to the ground three times this season. (Texas A&M has yet to surrender a sack). While I hear Kyle Field can get rather rowdy--I like that Oklahoma State has played a schedule with at least some semblance of resistance in it. Texas A&M just reeks of a having a paper ranking. Gimme 'dem Cowboys!
#11 Florida State at #21 Clemson (-2), 3:30 EST - ABC/ESPN (Regional)
Last week, I picked Clemson to beat Auburn. As Clemson went down 14-0, I found myself muttering things like, "Of course. It's the SEC vs. ACC. What the hell was I doing picking Clemson?" But then my man Tajh Boyd got his feet under him and brought Clemson all the way back. The thing about Clemson is, one minute they can look like world-beaters, and the next they can look like beaters. While the Seminoles did get beat--they weren't embarrassed by a very talented and skilled Oklahoma team (a team which will probably end up losing to either Alabama or LSU in January). I still contend the game would have been different had EJ Manuel not been injured in the third quarter, but such is football. (Manuel's status is still up in the air for this week. FSU will also be without receivers Scooter Haggins and Kenny Shaw.) Last week, Clemson had trouble with Auburn, a team which can't effectively throw the ball or play anything resembling defense. **If Manuel plays: then I'll take FSU. If he is withheld, then mark me down for Clemson.**
#2 LSU at #16 West Virginia (+5.5), 8:00 EST, ABC
Right now, it's two bros who are WVU fans who have been slurping on canned Keystone Light in anticipation for this weekend's game. "Can't wait ferr this game, bub," one of them is saying to the other. Little do they know, here in about 72 hours, they'll awake in a puddle of their own urine and vomit. Then one of them will realize one of their sisters was one of the 10,000 virgins that were burned alive in Les Miles' post-game victory pyre. To make matters worse, they're both still in West Virginia. Scared West Virginians may try to burn their couches in order to ward off Les Miles' magic, but wherever they hide, the word of Les Miles will find them. And no, whatever mystical creature that is Dana Holgorsen's hair will not be able to protect Morgantown either.
WARREN G. HARDING'S $10,000 PRESIDENTIAL power PARLAY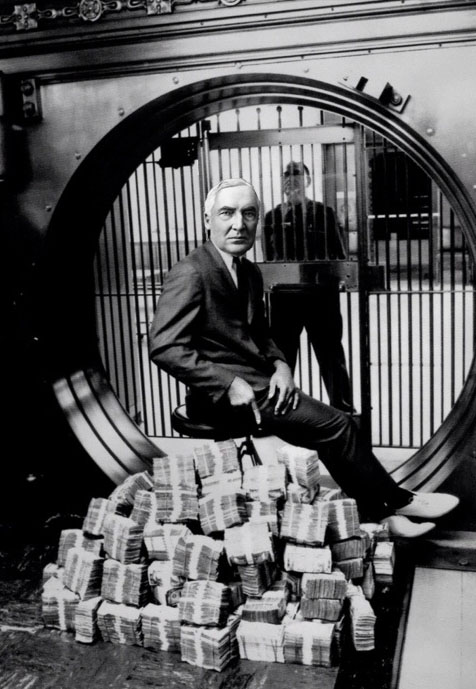 The 29th (and greatest) U.S. President, Warren G. Harding, was a renowned gambler, golfer, and lover of life. As such, his words are brought to you here through the medieval art of necromancy. Seeing as President Harding ushered us into economic success unheard of in human history (before being tragically assassinated by his jealous wife--which tanked the economy), his words here might as well come to your doorstep in the form of etched stone tablets. (All views and opinions presented here should be considered only those of Warren G. Harding himself, obvii).
LAST WEEK: -$10,000
THE SEASON'S HONEY POT: +$111,157.02
This life of mine is a funny one, my flesh-ridden friends. Most people think my life consists of beaches, partying and tricking some poor sap's daughter into taking her clothes off. Although those people would be mostly right, this does not mean I don't dwell on deeper matters of the heart from time to time.

After my excursion to Buenos Aires last week devolved into a three-day twister of Latin women and that Margaret Gorman,  I decided to make my way to Caracas, intent on laying low and recuperating.

It was last Friday, I was leaning into a bucket of Polar Zeroes, feeling the tropical breeze through my beautiful white mane, while a coconut-breasted woman was rubbing her hands through another beautiful mane of mine, which (coincidentally enough) was south of my own equator.  Just as I was thinking about taking ol' girl back to my cabana to get my day started, I noticed a topless black woman sauntering down the beach; her thong-rimmed ass looking like it was filled with pancake batter. I had to have her.

After kicking Original Ol' Girl out of my cabana, I moseyed down to the ocean's edge, ran my hands through the pristine blue waters, then I looked up at the approaching goddess swaying torwards me from the horizon. I raised an eyebrow at her. She was instantly under my vex.

Her name was Esmeralda; and for the next 30 hours, we were literally inseparable. (And no, you grammar fascists, I'm not using "literally" hyperbolically here. We had sex for thirty hours straight. U jelly, grammar fascists?)

Now, I'm allegedly a married a man. I only got married to smite an old rival I had from back home in Marion, Ohio. I married that nagging wench he called a "daughter". (Do I sometimes sit back naked, with a cup of Hennessy in my hand, and laugh about how I have a coat hanging in my closet which is made out of that clown's daughter's pubic hair? You bet your sweet ass I do.) But Esmereleda... she was simply a cut of woman which I had never encountered.  As I lied there, watching her gyrate on me like a gypsy princess in a trance-like state that only my penis can conjure in a woman--I couldn't help but wonder if a woman worth making my Ol' Lady.

Unfortunately, as Esmeralda and I were figuring out our 133rd position of our session (we decided on the Arc de Triomph), I happened to catch the 14-0 score-line of the Ohio State-Miami game. After quickly glancing into the stars, I realized my the $10,000 Presidential Power Parlay was lost to the winds of fortune. (Could I consult the stars every week before the games, thus guaranteeing 100% success? Aye, I could, but where would the rush come from that?)

Having a debonair lifestyle (as well as a colossal cocaine habit) to support, I decided some moves were going to need to be made--tropical sex be damned. One of the perks of having a penis which can put a woman in a borderline-vegatative state is that they don't complain when business moves have to be made during sex.

"Juan. It's Warren. How many tickets to the game can you get me?"

"As many as you want, Jefe" came the voice over the phone.

"Buy as many as you can. Meet me at the docks on the edge of town here in about half an hour. "

I'm sure some of you are naïve enough to believe I was talking about tickets to the Miami-Ohio State game. Instead, Juan was soon meeting me with a 1997 Town and Country Chrysler mini-van filled with bricks of cocaine. Over the week, while you mortals were spending your time sleeping and buying things you can't afford, I was busy assembling myself a submarine, just in case a scenario like this came about.

It took Juan and I about forty minutes to load the submarine. When we had finished loading, Esmeralda asked me where she was going to sit.

"Baby," I said, as I peeled her elegant curls back behind her ear, "this here is a narcotics submarine. There is no place for an exotic princess such as yourself on a ship like this. " (I almost added, "Besides, I can't sell you for as much as I could sell your weight in cocaine," but I'm not that cruel to women post-coitus). I kissed her deeply. She knew this was the last time she in her life would ever be blessed enough to stare upon a God.

Soon, as my submarine began its preparation for its descent, I stood on the hull, staring back at Esmeralda. I thought about turning around for a quick hand job, but time was of the essence. At any other time in my life, I may have let her be the crown jewel in my harem.

After making a pitstop in my old playground known as "Cuba"--Fidel Castro, Che Guevera, and I drank Cristal and played strip poker with seven prostitutes until 9 AM--I was soon handing duffel bags of blow to Rick Ross in exchange for duffel bags of them Ben Franks on some abandoned pier in Miami's warehouse district.

So here I sit, in the bathroom of Miami's famed King of Diamonds. I'm currently pinching off a loaf on a toilet made out of diamonds while putting down mobile wagers on my iPhone8. (GOD BLESS THE 21st CENTURY.) Since you didn't put in any work for the set on the cocaine come-up, I can't cut you in on the profits (not like y'all 'bout that life newayz). So, I hope you saved enough from the first two paydays I handed you guys to get in on this week's move. Investment in this week's $10,000 Presidential Power Parlay will yield you $125,845.23, according to W.A. Titsworth, my Secretary of Collegiate Football Wagering.

Here is this week's street-certified banger for y'all: Oregon State -4, Oregon -15, LSU-6, Eastern Michigan +28.5. That's right, y'all, Warren G. Harding is coming back to feed these streets after week three's happenstance. Slap somebody if they ain't heard.

The one team that handled its business last week was UCLA. I fully expected them to look like a dumpster fire, and they didn't disappoint. I'm staying on that band-wagon this week. Maybe I'll also be able to catch one of Kevin Prince's errant passes while watching from 10,000 miles away. If the UCLA dumpster fire isn't extinguished this week, I will probably ride that trash barge until its captain, Rick Nuheisel, is fired.

I've never met this man... this "Leslie Miles", although I have heard his powers are great. (Just wait for his greatest trick: getting Jordan Jefferson back mid-season.) I once went to West Virginia. Nothing but hill-people there, which is probably why you can go there to get paid by medical companies to test experimental drugs.

Oregon -15 is free money, especially when you realize the little Stoops sister is still coaching the University of Arizona. I also like how Arizona's catchphrase is "BEAR DOWN!" which is something you'd tell a friend about to enter federal prison. Besides, Arizona will soon be condemned as the modern day Gomorah that it has come to be.

Eastern Michigan +28.5 is about as easy as it gets too. You know, when I was deciding which game to put in this week's $10,000 Presidential Power Power Parlay--I couldn't decide which one I wanted in the parlay--Oregon State -4 or E. Michigan +28.5, before I decided to say "F*** it," and include both of them to make up for last week's losses. I don't know why man man Joey Blaze is still in the game right now. I keep calling him, and I'm like, "Yo, Joey Blaze, quit walking around in locker-rooms with naked dudes who are four times younger than you and get down here to Panama (or wherever I am) and hop on this prostitute train." Still, Joey Blaze toils on. I guess some people are worker bees and some are cocaine-party-naked girl bees, amirite? Besides, Joey's team sucks.

Newayz, time to get off this toilet and go get ready for tonight. I guess Rick Ross, Young Jeezy and I are about to get it in. I've got $25,000 broken down into quarters and nickels--I'm ready for these strippers!!

May the great spirits bless us with a bountiful harvest this weekend, my friends.
 
b1g games
San Diego State at #21 Michigan (-10.5) - 12:00 EST, BTN
It's ONE OF THE HOUSES THAT BRADY HOKE BUILT vs. ONE OF THE HOUSES HOKE IS CURRENTLY BUILDING. Unfortunately, Hoke has confirmed my suspicions: he might actually build Michigan back into a somewhat reputable football school. Coincidentally enough, it was Hoke who scheduled this game--while he was head coach for the Aztecs. I was definitely about to pick Michigan in this one, until I read that Hoke told his San Diego State players he would be leaving the team through a text message while they were on semester break. Now? I'm suddenly not so sure. San Diego (3-0) has some talent. And Michigan, well, what will they do once Denard Robinson can't run at will? (Answer: NOT MUCH.) So, whatever, PUT ME DOWN ON THEM AZTECS +10.5. I would also like to see the storyline about the time Brady Hoke engineered the game which led to his downfall at Michigan. Is the world this just? We shall soon find out.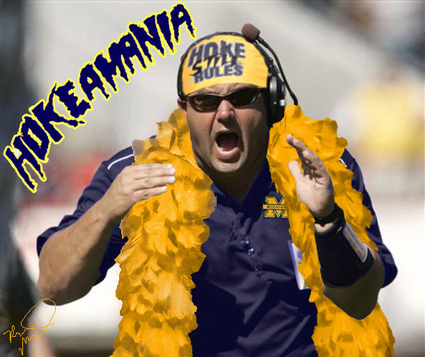 Central Michigan at Michigan State (-22) – 12:00 EST, ESPNU
Going into this year, I said the game that scared me most on Ohio State's schedule was the Michigan State game. I liked their defense. I liked their running game and their athletic receivers. Kirk Cousins was more than capable of managing a game. Then I saw this same team get punked by an 0-2 Notre Dame. I was suddenly less worried; until Ohio State melted down in Miami. Now I have no idea what to think. Thankfully for both teams, this week offers a game against softer opponents, which will need to be used as a chance to improve going into next week's showdown in Columbus. I like Michigan State in this one, especially considering they'll keep the starters' minutes up to make sure everything is running smoothly heading into next week.
Eastern Michigan at Penn State (-28.5) - 12:00 EST, ESPN2
Joe Pa was born in 1926!!!! Is there any wonder Penn State has yet to cover a spread this year against a D-1 team? It's not like Paterno has coached for the last five years anyway, but I think the shambolic nature of his tenure has finally reached a breaking point. Their quarterback play is terrible (and thankfully Temple's was worse last week, otherwise they would have lost to Temple for the first time since Joe Pa was 15 years old). Hell, I don't think PSU can even score 28.5 points, let alone cover a game by that amount. Penn State is PITIFUL. I'd be willing to bet a small sum on this, assuming I had anything more than 13 cents in my bank account right now.
South Dakota at #6 Wisconsin (OFF) - 3:30 EST, BTN
Vegas has apparently learned they can't make a spread big enough against Wisconsin, as they continue their murder's row of out-of-conference scheduling. Doesn't it happen like this every year? Wisconsin blows through it's OOC schedule by a margin of 982-56, and everybody says "MAN WISCONSIN SURE IS FOR REAL THIS YEAR." While I'm a big fan of Russell Wilson, I'm still not sold on Wisconsin's defense, which has about three or four absolute stiffs on it. Still, it's hard not to think Wisconsin isn't the best team in the B1G right now.