Good morning, sports fans. Or, if you're like me, good evening1. I'm bringing you today's Skully from my yacht, where I'm in the middle of a weeklong bacchanalia leading up to Saturday's game, which has been cleverly dubbed "the Ineligibowl". Hilarious, especially because with Hall, Howard and Brown reinstated, seemingly for real this time, Ohio State still has more suspended players than Miami.
Anyway, with the Buckeyes traveling to Coral Gables this weekend, I thought it was only appropriate to celebrate Miami-style. I've already crashed someone else's jet ski, even though the water is getting chilly now. But would that stop a Hurricane? I've visited strip clubs, some with female entertainers, some with male. Both were equally depressing and venereal-diseased. But again, would that stop a Hurricane? I offered abortions to the lady strippers, though they were all set, and with the men, I thought about how Patrick Swayze and Chris Farley were dead and then tried to figure out what Soderbergh's next movie will be like.  
I've also invited hordes of people to party on the floor I rented out of a Holiday Inn Express, which saved me a bit of cash for the prostitutes. I don't actually know how someone would go about finding a hooker2, so I just hired some actresses to wear that Julia Roberts outfit from Pretty Woman and then cranked up the Roxette. Close enough.
If nothing else, this should all be a good test run for Eat Too, Brutus. 
 BIENVENIDOS (BACK) A MIAMI. For ten Buckeyes on the roster, the trip to Florida is a homecoming. Some of them will have friends and family in attendance who normally wouldn't get a chance to watch them play in person. Three of those ten are from Miami and all should see the field. After completing his two-game suspension, Travis Howard is thrilled to be back (and also hates girls who smoke cigarettes). Jaamal Berry, who returned last week with limited playing time due to his hamstring injury, is listed as the #1 kick returner on the depth chart. Etienne Sabino, with eight tackles, three of them for a loss, is coming off a productive game against Toledo. 
Other players from America's Australia include starters Joe Bauserman, Orhian Johnson, Carlos Hyde, and Mike Brewster, who will be serving his second stint as captain. Freshmen Jeremy Cash, Jeff Heuerman, and Ryan Shazier, he of bone-crushing tackles in support of Chris Fields, are the other Floridians on the team. 
DID YOU KNOW THAT OHIO STATE AND MIAMI HAVE NCAA TROUBLE? Both the Buckeyes and Hurricanes have reputation problems, and they know that their respective violations will be discussed, as they already have been, ad nauseam this weekend. This is despite the fact that over 93 percent of the players on the rosters have not faced suspension. It doesn't sit well with guys like Tyler Moeller and Brewster, especially since no matter the outcome of Saturday, there will not be closure with the NCAA:
"Finality would be nice, but I know we're never going to get that," Ohio State's Brewster said. "No one is going to let us off the hook that easy. This team has fought through adversity so much, nothing is going to break us."
Even though they understand what the other is going through, each team will try to channel their frustrations into pummeling the opposing side. A win on the national stage won't make everything better, not with the NCAA breathing down their necks, but it will bring a bit of catharsis to one program.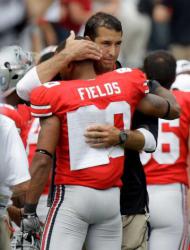 THE CURIOUS CASE OF TRAVIS BENJAMIN. Of the five players returning after a one-game suspension for Miami, WR Travis Benjamin could be the most important to the Hurricanes. He's a threat to score every time he touches the ball, as evidenced by his 79-yard punt return for a TD against Ohio State last year. However, former coach Randy Shannon blamed him for two of Jacory Harris' four interceptions in that game. Benjamin took the criticism hard, and both he and Harris will be looking for redemption on Saturday.
Now a senior and the top receiver on the team, Benjamin brings a certain amount of speed, elusiveness, and experience that Miami was missing in their opener against Maryland. Whether he can survive on Howard Island, or Dominic Clarke Peninsula3, is to be determined.
COACHIN' AIN'T EASY. Using Miami as an example, Chad Conant from the Mansfield News Journal doesn't think Ohio State should make the easy hire for the permanent head coach. He compares Fickell to Larry Coker, who took over for Butch Davis, won a national championship with Davis' recruits, and then turned one of the most successful college football programs into one that had to beg Al Golden to take the HC job.
Conant's argument is that Miami screwed up by declining to search nationally for a new coach, and OSU should learn from it, because the head coach of the Ohio State football team is a position most coaches would take in a heartbeat. And speaking of hearts, candidates mentioned in the article include two men with a history of cardiac problems (Urban Meyer and Mark Dantonio) and one who is a Cornhusker turnover away from having an attack of his own (Bo Pelini).
Nevertheless, he has a valid point, even to those of us who want to see Fickell have as much success as a head coach as he would in the Octagon.  
GETTING PICKED ON, LIKE A BAUS. From the ornithologically named Lancaster Eagle Gazette, Jon Spencer says fans should cool it on the Bauserman bashing.  Citing his chemistry with Jake Stoneburner, the depleted roster he's working with, and his lack of turnovers so far4, Spencer contends that there are a lot of positives being overlooked. Part of that is because of the shiny, headset-free Braxton Miller who, much to everyone's consternation, was DNP'ed for the Toledo game.
Bauserman wasn't perfect, as you may have noticed by the Bauserbombs that sailed to the fans in B Deck. But he wasn't terrible enough to get booed. While that doesn't seem to bother him as he maintains, "I don't worry about that", his teammates are less chill about it. Maybe because they're unpaid 18- to 22-year-olds that people shell out money to watch play football?
YOU CAN ALSO SHELL OUT MONEY TO WATCH UNPAID BB PLAYERS. Starting Monday, you can purchase an 8-game package of tickets for the men's basketball team. There are two different groups, and four games from each group must be selected. The first includes powerhouses such as Jackson State, Texas Pan-American, and USC-Upstate. Those are all real schools, I guess. The second includes match-ups against the likes of Florida, Duke, Michigan, Michigan State, Purdue, and Wisconsin.  
Later on, tickets will be available as a 4-game pack (10/3), group tickets (10/10), non-conference single games (10/24), and B1G single games (12/9). 
CLICK IT UP, BABY. CLICK IT UP. Vote for Evan Spencer... Here's another Texas/Big 12 implosion article if you can stand it... Full House as a Street Fighter video game? Have mercy!... PSA with a twist ending... How Entourage should have ended... We all shine on, right Tony?... The greatest trick the devil ever pulled... Do not mess with this alpaca. 
1 It's six in the morning, but my partygoers are just leaving now. What can I say? They enjoy the gin and juice. 
2 Apparently not at Kroger, which was my first instinct. 
3 Or Roby Isthmus. I could play Mad Libs with the Ohio State roster and geographic terms all day. 
4 Oh look! Some wood, on which I will now knock.