Good morning Buckeye faithful and welcome to your Tuesday Skull Session. I've finally come to realize, the sun is still rising every morning I wake up, and the headache from the hangover of OSU's loss this weekend is starting to fade as well.
There isn't a lot left to say about OSU's loss that hasn't been written already. Whether the words pitiful, lousy, subpar, or just plain ugly come to mind, I've come to terms with what happened on Saturday evening, and I realize that time (and some wins) will heal all wounds.
Patience and experience will only make the Buckeyes a stronger football team going forward, and I'm excited to see how hungry this team is moving up and on after a tough road loss. 
Let's get moving: 
DEPTH PERCEPTION. Ohio State has released its official depth chart going into week four of the season for the game against the Colorado Buffaloes.
After last Saturday's debacle at quarterback, which saw Joe Bauserman complete 2/14 passes for 13 yards and Braxton Miller go 2/4 for 22 yards and an interception, both Bauserman and Miller are still both listed as the number one quarterback with Luke Fickell's favorite "OR" listed between their names.
In my opinion, Bauserman has shown what he can bring to the table, while we still know so little about Miller. It will be interesting to see Fickell's approach to playing both QBs this Saturday, and hopefully he's able to trust Miller enough so the coaching staff can get a better look at him. There's always the chance Fickell is leaving Bauserman as a potential starter to keep his decision a mystery.
After an impressive performance against the Hurricanes, Jordan Hall has moved on from his past philanthropy endeavors to be slated in as the number one running back along with Carlos Hyde. This running back combination can be explosive, with Hyde providing a tough, physical running style to compliment the more finesse style of Hall. Can you say thunder and lightning, anyone?
The return of Hall also means we'll be seeing a lot less of butterfingers enthusiast, Rod Smith, and we likely won't see too much Jaamal Berry either. Berry will handle kickoff returns along with Hall, but has not been used often at tailback and didn't really see action there in the Miami game until Hall left with cramps.
Despite poor play thus far this season, Marcus Hall is still listed as the starter at right guard. Corey Linsley continues to work his way back into the rotation after being suspended for violating team rules earlier this season, but looked excellent in relief of Hall against Miami. If Hall's poor play continues, look for Linsley to get a chance to replace the former Glenville product in the starting line-up.
With  Nathan Williams suffering from a leg injury, J.T. Moore will get another start at the LEO position, with freshman Steve Miller backing him up. Defensive back Travis Howard will also make his second start at cornerback after serving his suspension for receiving improper benefits. Those are really the only things to note on the defensive side of the ball, as those hoping for Orhian Johnson to be outed in favor of Christian Bryant are highly disappointed.
ESPN'S CONTINUED FAITH IN OSU. In a recent B1G conference power ranking by Adam Rittenberg of ESPN, the Buckeyes are listed at number six in the conference behind Wisconsin, Nebraska, Illinois, Michigan, and Michigan State. 
I expect these numbers to change in OSU's favor by the time B1G play opens up against Michigan State on Oct. 1. Yes, Ohio State had a major meltdown against Miami, but this team will get better if the offense can gain some consistency coming out of this week's game against Colorado.
Rittenberg's rankings are pretty reasonable with the way the Buckeyes have played up to this point, but I expect to see OSU ahead of at least Illinois, Michigan and Michigan State later this season. Ohio State has endured much hardship stemming from last December, but this team is much better than sixth in the conference and time will prove that.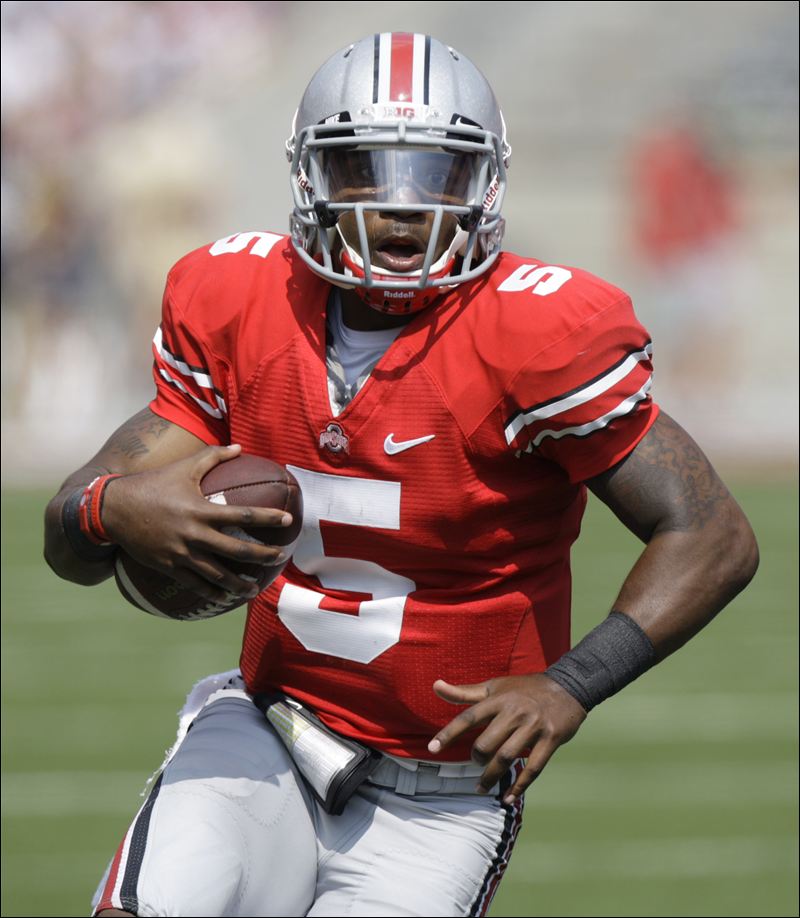 BAUSERMAN BEWARE. An article by Columbus Dispatch reporter Bill Rabinowitz raises some similarities between when Jim Tressel yanked starter Todd Boeckman in 2008 for Terrelle Pryor after the USC loss to OSU's current quarterback situation after the Miami loss.
Rabinowitz does point out that Fickell's quarterback decision should be easier to make than Tressel's was in 2008, as Todd Boeckman lead OSU to the BCS title game against LSU the year before Pryor had come to OSU, whereas Joe Bauserman has never been more than a backup.
I know it's only been three games, but I've seen enough of Bauserman. I think now is the perfect time to showcase Miller's potential. Pryor, love him or hate him, had success at OSU because he was able to get starting experience his freshman year and make plays with his legs when things broke down or he wasn't experienced/talented enough to do it with his arm.
Miller is going to make mistakes, every young player does, but if there was ever a time for him to shake off some of that inexperience the time is now, this season, when OSU desperately needs an offensive spark. OSU not only needs to think about how effective this offense will be this year, if they choose to stick with Bauserman, but also down the line when Miller will become the eventual starter.
And, like Pryor, Braxton has the tools and natural ability to make things happen, even if he's not ready to be an elite passer at the collegiate level just yet.
EVERYONE ELSE IS DOING IT. Conference expansion is what all the cool kids are doing nowadays. Whether it's the ACC, the SEC or the PAC-12, every school is looking to make sure they are not the one left out of this larger than life game of musical chairs.
But what about the Big Ten conference? Should B1G commissioner Jim Delany sit back while all this shifting takes place? If some of the alleged rumors come to fruition, such as Texas and Oklahoma to the Pac-12 or a Big East-Big 12 merger, then Delany should at least flirt with the idea of changing their stance on expansion, which as of now is to remain at 12 teams.
Why should the rest of the college landscape be swallowed whole by super conferences while the B1G remains at 12 teams? The conference has always been a premiere football conference, but how long will this hold true if it doesn't evolve into a super conference?
If the Big Ten does change its mind on expansion, be on the look out for them to pursue Missouri and possibly that tease of a school, Notre Dame, to balance out the conference.
LOS LINKS. Look who else decided to join the vacated wins party... There's always room for more on the NCAA's naughty list... Just how bad was OSU's passing attack last Saturday? Let's just say it involves a blizzard... Your full-league schedule for B1G conference play week one... The St. Louis Rams' Stephen Jackson runs it back.