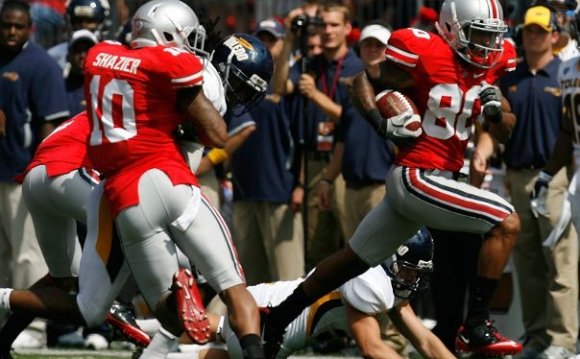 While "ugliest win ever" was admittedly a realtime exaggerated feeling on my part, yesterday's 27-22 tightrope-walking victory over in-state and MAC foe Toledo doesn't look and feel much better after having a night to let it marinate. 
For most, the game cast more doubts about what this year's version of the Buckeyes can accomplish, and for those crazy enough to put too much stock in last week's performance against a truly terrible opponent (see Temple 41, Akron 3) some doubts put to rest have re-emerged. 
Still, the bottom line, especially for this team, is about winning moreso than winning in style as those days look like they'll hibernate for a bit. 
A most deeper bottom line is that I'm watching the "102 Minutes That Changed America" documentary as I write - it's more than putting OSU football in proper perspective for me. 
one loss from (f)anarchy
If there's one thing that became crystal clear for me yesterday, it's that the program and fanbase are one bad loss away from sports anarchy especially if that bad loss comes as Fickell tries to win now but without any eye on the future. 
The fans in the stadium rained boos on Bauserman numerous times. I'm sure part of that was directed as Fickell and staff as it became increasingly clear that Braxton Miller would not see any time in relief of a sometimes flustered and inaccurate Baus that gave up on a couple plays far too quickly. 
I feel for Fickell in this regard because it's easy for the fans to want to see Miller develop yet Fickell has to balance in his gut what formula truly gives him the best chance to win as he feels the pressure of winning enough games to secure a multi-year contract.
Having said that, as a fan it makes sense to think Fickell is best served with getting Miller snaps in a pressure packed game because aside from what could likely be the Akron-Anomaly, Bauserman has shown a ceiling of play that doesn't seemingly translate into being good enough to lead Ohio State to a B1G divisional title (which one are we in again?). Further, though I get the QB position is a slightly different animal, it's tough to watch Miller stand on the sideline as the coaches play a signifcant number of true and redshirt freshmen at various other spots. 
If the same No-Miller strategy unfolds next week (I don't think it will) and OSU loses, Fickell and Gene Smith (how does he still have a job, btw?) better be prepared for a minority - but still sizeable - chunk of the fanbase to turn. I won't be among them, but I'll understand the angst over failing to at least keep one eye on the future as the present shows it's just not good enough. 
attrition Tremors shake foundation of the offense
Nobody wants to listen to excuses but there are some very valid ones when it comes to the shaky state of the offense. The bludgeoned topic of losing Pryor earlier than expected caused a huge gap in QB play as Bauserman saw barely any PT and Miller as a succession plan was in place for 2012, not 2011. The result is Bauserman getting 99% more snaps than any of the coaches ever envisioned once Pryor took the job early in the 2008 season and Miller apparently not being able to earn the trust of Fickell this early in the season. 
I've seen many OSU writers and 11W readers argue that both Bauserman and Miller throw a better ball than Pryor. I won't debate that. Even if they do, it's not by a pronounced enough margin for me to have that strong of any opinion. The real difference, plus or minus, with the current crop of QB's versus TP is what happens on 3rd down.
Pryor was the best down 3rd down player in the history of Ohio State football. Regardless of your feelings about him, I have to believe you agree. Meanwhile, Bauserman is apparently one of the jankiest 3rd down players in OSU history. He's not going t be the one to freelance and  make the clutch play to extend a drive. It just isn't going to happen. Miller will probably show some of that magic down the line but he's definitely not going to do it from the sideline. This difference in playmaking on 3rd down is the most pronounced difference in the 2010 offense versus 2011 and while it may improve, it'll never get to the level Pryor reached. 
On the outside, Posey was set up as the #1 pass catcher with sophs Philly and Fields set to compete with RS/true froshies Reed, Smith and Spencer for the flanker and slot spots, with Stoney as a versatile security blanket.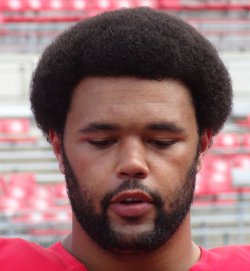 The unexpected loss of Posey means about 20 receptions and 325 yards must be replaced over five games by guys with little to no experience. Now, I will say I've been pleased with how the kids have stepped up, specifically Reed and Smith but it's no small feat replacing your clear cut #1 a season ahead of schedule. And now, with Philly Brown down for a little while, there will be even more pressure on these very green kids to produce. 
Finally, losing Adams meant an already thin and historically underachieving group would be further depleted, and at the most critical left tackle spot.
Norwell has performed admirably in his absence but again, a year ahead of schedule. Once Adams returns, the QB's blindside should be better protected and more holes should open up in the running game as Norwell slides over to replace Mewhort or Hall, who doesn't appear to be an effective option especially when asked to pull. 
Resetting expectations
The annual fan ritual of making predictions on which new players will make a name for themselves after watching the team and reading reports from trusted sources through the spring and fall camp was much wider in scope this year thanks to all the attrition from last year's roster. 
The personnel changes meant the team would be looking for contributors to emerge at nearly every positional grouping. With that, there's also the prognosticating as to which more familiar players will seize larger roles with aplomb. Through two games, we've seen some kids step up but other, some more seasoned players, have failed to live up to billing in what is admittedly a small sample size. 
A quick look at guys who have exceeded expectations:
Devin Smith: The kid is going to be special. He currently leads the team in receiving yards (119), averaging 23.8 yards a catch. He's made some important grabs and is tied with Reed for most receptions by a WR with five. 
Jake Stoneburner: Playing the mytical tight end position, expectations were still high for Stoney and he's been Bauserman's go to guy thus far with a team leading eight receptions and four TD. 
Verlon Reed: The converted QB has stood out since spring ball and is curently tied with Smith for the team lead in receptions by a WR (5) and is 2nd in WR receiving yards with 89. 
Carlos Hyde: He's been far from spectacular thanks largely to some questionable vision that should improve over time but he has been steady behind an o-line facing some pretty crowded defensive boxes and has shown very good hands as a receiver out of the backfield. He currently leads the team averaging 104 all purpose yards per game. With Hall channeling his inner-Pryor off the field, Berry being some mythical star with sketchy hamstrings and Smith failing to hang on the ball, Hyde's contributions have proved vital. 
Dominic Clarke / Bradley Roby: These two have done nice work at corner with Clarke filling in more than admirably for Howard and Roby proving steady so far at the boundary spot. Clarke has been more involved in the action breaking up three passes already. To his credit, Roby is currently 6th on the team in tackles and we haven't seen too many balls thrown in his direction, presumably due to decent coverage. 
Michael Bennett: The true freshman has worked himself into the DL rotation and continues to not only clog the middle but also get pressure on the quarterback. He's going to be a good one. 
Jonathan Hankins: Dude has been a beast. His improved conditioning has him seeing more snaps and he's currently tied for 3rd in tackles including a sack. His effectiveness is measured by more than numbers. 
A quick look at some guys who haven't met expectations:
Tyler Moeller: Where's he been? I know he missed major practice time this year but is it possible he'll never live up to the lofty expectations created by a small sample size? His shortcomings getting off blocks was a key factor in Toledo's success on screen plays and the stats say he's made two tackles in two games, none for a loss. And this from what we thought would be one of the designated blitzers. 
Braxton Miller: Also saddled with unfair expectations, the bottom line is it's very disappointing that he has seen such little playing time through two games. I still think he can be the starter by Nebraska but if he's inactive at Miami, that notion goes out the window. 
Joe Bauserman: Ugh. Lit up a bad defense. Struggled mightily against a better, yet unspectacular one. 
Storm Klein: I'm in the minority here but I thought he'd be a force when on the field. He did have a nice pick yesterday but other than that, he's done very little with three tackles in two games.
"Special" teams
Unreal. That's all I can say about the special teams unit at an elite program that has stunk for far too many years. It hasn't been all bad, but it's been far more Mr. Hyde and not enough Dr. Jekyll. 
Yesterday followed the same tired blueprint. 
JT Moore was most responsible for the punt block setting up Toledo's first touchdown as he didn't get enough shoulder into the outside rusher from his post as the left anchor of the three man back line guarding Buchanan. That just can't happen. And it definitely can't happen against Toledo. 
Buchanan, for his part, had a solid day as he pinned the Rockets inside the 20 a career high three times. He doesn't have a booming leg but he did his job yesterday. 
Chris Fields did his job as and then some taking a punt 69 yards to the house giving OSU a brief 21-15 lead. He showed that north/south mentality I love to see from a punt return man and got a good block from Ryan Shazier, though I'm not sure that block was as necessary as it was awesome to watch. 
Drew Basil and the KO coverage team continue to disappoint. Basil recorded just one touchback. On his next KO, the coverage team failed to maintain their lanes and Eric Page made them pay returning it 42 yards to the Toledo 44 yard line. From there, Fickell gave up trying to kick deep, instead opting for either a pooch or a squib. Crazy. How is it okay that OHIO STATE is forced to squib/pooch kickoffs because they can't figure out, over a period of years, how to succeed in this aspect of the game? Even trying the damage-control approach wasn't always fruitful as Page took a kick at the 23 and still returned it to the 40.
Basil's lack of leg was bad on kickoffs but it was even worse when attempting to score points. As the Buckeyes tried to answer Toledo's first score and two point conversion giving them an 8-7 lead, the offense was given 30 yards in Rocket penalties as part of a 46 yard drive but Basil didn't come close on a 47 field goal try. He's still without a made FG in his college career. What concerns me most about this is I've seen the kid in practice with my own eyes and he consistenly drilled 40+ yarders. Will he always have the yips on the big stage? 
hat tip to toledo
Well, it's more of a hat tip to Eric Page and to a lesser extent, Tim Beckman and his total squad. Clearly, they are not your dad's Toledo. As I heard Herbie mention last night, it's very possible Toledo is a better team than Miami, though having home field makes that a bit of apples/oranges for the purposes of evaluating next week.
If not for their 102 yards on 14 penalties, 3/16 on 3rd down and one turnover, they could've become the first Ohio based team since Oberlin in 1921 to beat the Buckeyes. 
The Buckeyes pretty much shut Page down back in the 2009 game (6/54 but that was not the case yesterday. The All-American got loose for 12 catches, 145 yards and 2 TD in addition to KO returns of 42 and 27 yards. 
He is flat out electric and I thought Toledo did a great job of lining him up all over the field, creating nonstop mismatches in coverage. Eventually, Heacock was forced to insert Bryant in place of a linebacker in certain situations to try and address the mismatches and missed tackles as Page altenated between crossing in front of the LB's then behind them, in front of the safeties. I would love to have that dude on our team. 
I won't watch any MAC football this year but I have a hard time thinking he won't be the league MVP.