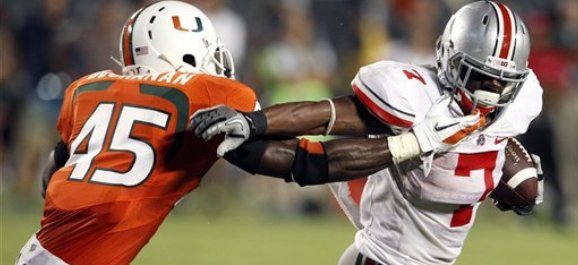 If last week was a dose of reality then last night was a dose of medicine - if you can call arsenic medicine. 
The Buckeyes were beaten soundly in every phase of the game except maybe punting as they were flat out embarrassed 24-6 last night by the 'Canes in Sun Life Stadium. 
The tsunami that started last December with the initial discovery of player shenanigans then swelled as more misdoings came to light and Gee/Smith botched every opportunity possible to avoid the worst case scenario leading to mass casualties on the field and sidelines finally became too much for the leftovers and newcomers on the roster to overcome. 
So, today begins the rest of what was already a lost season if you are a fan with only two goals in mind (win B1G, win BCS game and/or title). I guess deep down even us blue sky types knew this was a transition year, we just didn't want to admit it. The key now is that Fickell realizes what he's dealing with and as a result, works on developing players with an eye on saving the program while hoping that's enough to save his job. (While I'm on the Fickell topic, I get that some of you are organizing a posse because he saved his timeouts but sadly, he was doing his team a favor.)
There'll be no disclaimer heading into this week's five things. I'm not fuming nor am I apathetic. I just finally gripped reality and took the medicine. 
say it ain't joe
If Joe Bauserman starts another game at Ohio State, Fickell should be fired at halftime. 
We knew the guy was brought in to be a career backup. Hell, he knew it. I'm doing my level best to keep that in mind as I process what the passing game looked like last night. 
The bottom line is that I don't care if Braxton had 4 turnovers last night, Bauserman still doesn't give this team the best chance to win by enough of a margin to sacrifice the future by playing a guy that simply isn't good enough - after nearly a decade in the program - to be given the keys to the offense. 
His ineptitude goes much deeper than his statline of 2/14 for 13 yards. Wow. Think about that. How is that even possible?
Ohio State really only had two chances to make this a game last night and both times, Baus failed to take advantage. 
After the Bullets forced Miami to punt on a 3 and out early in the 2nd quarter with the score 14-0, the Buckeye 'offense' set up shop at their own 31. The combo of Hall/Hyde chew up yardage but Joe B could not complement those efforts going 0/3 through the air. Reed dropped the first attempt on the 3rd play of the drive. Seven rush attempts later, Baus threw a fade to Reed that looked like a Rubiks Cube in the air, wobbling like a drunk down High Street. The killer occurred on 3rd and goal from the 5 as Baus threw the ball away on a rollout in the zip code of Fields BUT he had Stoneburner wide open over the middle. Even a slighty competent QB scores a TD that brings to score to 14-7 but you simply can't describe his QB play as slighty competent. 
The 2nd punch to the gut occurrred late in the half following a Bradley Roby interception giving OSU the ball at the Miami 23 with 5:40 left in the half. Now, Baus did make a contribution on this drive as he took a Roughing call on 2nd and 9 but he would quickly trump that play with another display of low level mediocrity. 
On 3rd and 6 from the Miami 7, Baus correctly identified Stoney as open on a quick hitter over the middle but his throw sailed behind his target. True, Stoney could have made the catch on a ball thrown hot and behind him. That's not the point. A competent QB makes that throw. And makes it 14-10 late in the half. Problem - Baus is not a competent QB. 
With even a serviceable QB, the game is 14-14 at the half. In no way is Bauserman serviceable. This is not piling on. It's reality. His best throw is the throw-away. That is fact. Bellsari was miles better than this guy. 
Braxton Miller should take every snap the rest of the season. Fickell will be doing his university a disservice if he comes to any alternate conclusion. (I know, BM struggled mightily but at least he has youth as an excuse and talent that it mold-able.)
jordan hall & carlos hyde is a nice 1-2 punch for now
Jordan Hall ran as hard as I've ever seen and unexpectedly, did most of his damage right up the gut. The expectation was that he'd be effective outside the tackles on sweeps and screens but he showed even his longtime supporters (raises hand) that he can run between the tackles from time to time. One of the very few positives from last night was the running game, specifically the efforts of Hall and to a lesser extent, Hyde. 
He hits the hole much faster than any of his teammates and showed great vision upon reaching the second level. For me, his effort reaffirmed how laughable it is that some fans still hold on to Berry as this mythically awesome running back when Hall is the one that has produced with the ones. If anything, the unfortunately valid comparison is that both have a hard time staying on the field albeit for different reasons. 
Hall was a beast in the first half racking up 83 yards on 13 carries and hauling in one of Joe Montana Bauserman's two completions on the night. He was gashing the defense behind solid blocking from Brewster and Linsley (later, Marcus Hall - we hardly knew ye).
Sadly, Hall wasn't adequately conditioned for the hot night in Miami. 
He would tally exactly one carry for four yards in 2nd half thanks to cramps and some questionable decisions from Bollman in which he actually let Baus drop back to pass. (Dialing up passes on 1st, 2nd and 3rd down of first possession of 2nd half?)
Meanwhile, Hyde proved a formidable complement to Hall's slashes picking up 54 yards on 12 carries (4.5). To his credit he fought for every inch. One particular carry was his 3rd and short tote on that first drive of the 2nd half. There was absolutely no room to run and he willed his way for the half-yard conversion. He also caught a pass for 12 yards again showing he's a lot more versatile than his size would indicate. 
If nothing else, the RB position should be in capable hands until Boom gets back. That'll likely signify a major drop in carries for Hyde, save a goal line package, but I applaud how the kid has stepped up. 
the fickell era - measured in months?
Ever since Fickell was named the interim coach, I have written much in the way of backing the wildly inexperienced local product from DeSales. A leap of blind faith, I was enamored by having a Buckeye through and through being the one with the keys to the kingdom. 
He gets the tradition. He brings a more fiery attitude to practice that I viewed as a welcome change. He wants the job as bad as any coach in America. He brought in Vrabel. His hiring would provide some stability in recruiting - depending on the timing. In short, there are lots of positives when talking about Fickell. 
Despite all those positives, there are clearly a few things working against any chance of him sticking around beyond this year. First, his lack of any head coaching experience is evident. While I could care less about "taking his timeouts back to OSU on the plane" the fact of the matter is he was indecisive about what to do in that situation. A few times the camera panned and he was frozen in a almost-calling-timeout stance but opted not to do so. He wasn't sure what to do. 
Second, he's set up to fail with this roster. There is talent but thanks to suspensions and defections, a huge chunk of the experienced talent isn't on the field. Not being able to effectively plan for replacing the starting QB, RB, LT and WR is too much for even a test tube coach comprised of DNA from the games greatest coaches. Woody would be 2-1 with this team. Last night's game was not winnable with the curent roster, location and timing. Period. 
At this point, I will measure Fickell's positive impact on OSU by how he handles the program from this point forward. Meaning, will he put the long term viability of the program ahead of his desire to secure a contract? 
If he's truly a selfless Buckeye, he'll place a premium on development of younger players, specifically Braxton and the receivers over opting to let Bauserman hand the ball off all day long, even if it's working. I'm not saying completely throw in the towel so don't lambaste me, just saying there should be two agenda items, (1) development and (2) winning, instead of just winning, the rest of the way. 
Hell, with the state of the B1G, he could still win a lot of games with this strategy. 
the lb position is void of game changers
Don't be fooled by the stats. Those tell you Sweat (9), Sabino (8) and Klein (6) were the three leading tacklers last night but they don't tell the rest of the story. 
Linebacker simply isn't a position of strength for this football team. Sweat would be (was) a decent 3rd best LB on a typical OSU linebacking corps, not the best. I actually like Sweat a lot so that's not a knock. I just don't think he's even in the conversation of #1 LB's at Ohio State over the last how ever many years. He's a gamer that plays hurt and never gives up. I like that. But he's not an elite OSU linebacker. 
Sabino has some speed but often takes poor angles to the football and is not the sure tackler you need at the Mike. He also has a penchant for overpursuing plays. 
Klein, who I thought would have a breakout year, currently projects to have a ceiling as a serviceable linebacker. That said, he's young so I do still have hope for him. He's got some talent but he also sometimes overpursues and misses tackles. He's also...I'll just call it not fast. Unlike Sabino, he appears to be a little sharper in understanding the defense so that might also bode well for him as his career progresses. 
Bottom line, these guys are collectively too damn slow to be an elite corps. Throw in the breakdowns in pursuit / tackling and you've got yourself a middling group of linebackers. 
The other point here is that from my perspective, the defensive line is doing their job in taking on blockers giving the LB's room to roam and make plays. They simply just aren't good enough to do so with consistent playmaking aplomb. 
I hope we get to see more Shazier in the rotation going forward. 
This feels like a year to mancrush the punter
Hey guys, how 'bout that Ben Buchanan kid?!
Though it was meaningless because the OSU offense wasn't going to score in the 2nd half no matter where they got the ball, Buchanan was simply outstanding in helping OSU win the field position battle. 
After the first stalled drive of the 2nd half (LOL @ dropping Joe B back three straight times), Buchanan took a low snap and rolled a punt to the Miami 7 yard line. The Buckeyes were flagged for illegal formation so Golden opted to have Buchanan rekick. The result? Buchanan lofted a 60 yard tear drop that bounced on the five yard line and bounced straight up in the air allowing the coverage team to down the ball at the 4. Good stuff. 
After the next OSU 3 and out, Buchanan was at it again depositing a high arching 38 yard punt that Benjamin was forced to fair catch at the Miami 10 yard line.
Following another 3 and out on the next Buckeye possession, Buchanan was at it again placing a 48 yarder at the Miami 12 with about a minute left in the 3rd quarter. These were big kicks as OSU still at least had an outside chance of winning (not really but you get my drift). 
The impressive performance by Buchanan tied his career high, set last week, with 3 punts inside the 20. 
So, maybe I'll buy a jersey this year after all.