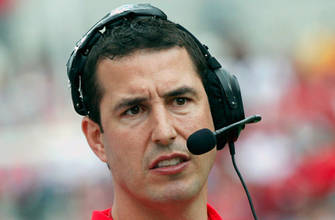 We're pleased to announce the addition of former Buckeye punter Jon Thoma as a contributor to Eleven Warriors. There are a lot of former Ohio State football players, but not many that can write as well as Jon. Feel free to pepper him with questions about hang time and do follow him on Twitter and his personal blog, Thoma Times.
Last Saturday was a little bit unreal. It was the inevitable collision of unrealistic expectations meeting squarely with talented opposition, resulting in the THUD of Buckeye Nation back down to earth. If you thought it was going to be that bad, then your name is either Mark May, or you think like him. So even if you were right, you lose.
Last Saturday felt like USC 2008 to me. We had an old starting quarterback and a young one trying to take his place (and just like '08, the young gun will get his shot). We were missing huge talent due to injuries or suspension (Beanie in '08, Posey, Adams, Boom, Williams in '11). We made turnovers at crucial points and struggled to move the ball against an athletic defense in others.
Of course, there are huge differences. Back then, we were a top 5 team with a Little Animal led defense which would rebound from the 35-3 early-season drubbing to nearly beat Colt McCoy's Longhorns in a terrific Fiesta Bowl. Now? Who are these Buckeyes? Our old quarterback looks terrible, and our young one looked no better. We have two games before we get our stars back, and an unforgiving schedule to look forward to. So what now?
Last Saturday didn't look like the beginning of the end for Bauserman, it looked like the end of the end. Maybe I was wrong about how good I thought he was going to be, but I still think he has the potential. It is hard to imagine the situation he has had to step into, without any play-making help on the offensive side of the ball. We too easily overlook the dropped passes in our statistic driven culture, but the play at the position has been too inconsistent to dwell on one facet.
Putting Braxton in seems like the easy answer, but he turned the ball over multiple times in limited reps, so that clearly is not the be all end all. And how about the defense? 27 missed tackles in one game? In a word, unacceptable. As hard as it is to admit, this team is not good, and will be a work in progress. Just as hard to admit, I think for the first time in seven years, the Buckeyes are… rebuilding.
The debacle in south Florida reminded me of the empty seats in the 'Shoe we came back to the week after USC in '08 against Troy. 2008 was my fourth season as a Buckeye, and the first time I had ever seen the bleachers of Ohio Stadium during a game. It reminded me that we live in a "what have you done for me lately" world where even the greatest fans can become enemies.
The easy thing for a fan to do is boo. Just like a baby cries when it does not get what it wants, uneducated fans will boo. Under appreciative fans will boo. Meanwhile, the kids on the field will continue to try their hardest to win games and put smiles on the faces of those in the stands. A booing fan does not help his team. A booing fan is only joining the defense. If you plan on booing this Saturday, please do everyone a favor and wear black and gold so there is no confusion.
The Miami performance also reminded me that Coach Tressel had bad games too. We can't be calling for Fickell's head when he loses a game with a team that lacks talent. Watch the season play out rather than jumping to conclusions. The first to jump to conclusions are always the first to jump off of the bandwagon. Buckeye Nation is not a bandwagon. Buckeye Nation is the greatest fan base in America, and the tough times are when we need to step up and prove that. We can't abandon our boys when they need us most.
Last Saturday reminded me that learning and improvement come first. We may not have what we want right now, but in no way does that stop us from getting it. Buckeye fans get their first wish with a Braxton start this weekend, and we go from there. There is no better chance for new life than conference play starting in a week. Big Ten season is a whole new season. There is light at the end of the tunnel. When the boys come back from suspension we will all be singing  "Hail, hail the gang's all here, so let's win that ol' conference now!"
Last Saturday was last Saturday. It happened, and it's over. Now we have nine "next Saturdays" to look forward to. Be positive, be safe, Go Bucks.