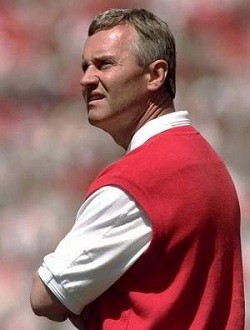 Way back on September 8, 2001, the Ohio State Buckeyes hosted the Akron Zips in Ohio Stadium. This was the season-opening game 10 years ago, but it was special for another reason, which is also another parallel to this season: it began the reign of a new head football coach, one James Patrick Tressel.
At the time of his hiring, few could imagine the heights of success that Ohio State would climb under the tutelage of the former Youngstown State coach. Even fewer could imagine how it all would end, with the coach resigning in disgrace amid an embarrassing scandal. In January of 2001, all that fans wanted to hear was the program would be run with class and integrity, and that there would be a renewed emphasis on beating their hated rivals.
To that end, the newly hired coach made an appearance at the Schottenstein Center during an OSU-Michigan basketball game and delivered a short address that would become the stuff of legend. Tressel promised "I can assure you that you"ll be proud of our young people in the classroom, in the community and most especially in 310 days in Ann Arbor, MI on the football field."
Despite the raucous enthusiasm of OSU fans to this promise, the Michigan faithful were less than impressed.
Even the most zealous Michigan supporters could do nothing but chuckle at the very idea of an Ohio State victory in the Big House next season ... Meanwhile in Columbus, recruits are abandoning a ship with a Division I rookie at the helm who has yet to hire a crew.
Needless to say, that was a small bit of hubris on their part, and they were in for a serious deflation in 310 days. But before getting to that goal, the Buckeyes had 10 other games to navigate, and it all began with that initial home date with Akron. And before they could deal with the Zips, Ohio State coaches had to rebuild a large part of their offense and decide who would start at quarterback. Sound familiar?
The team had a returning starter at the position, senior Steve Bellisari, but his performance in his first two years as a starter had been, shall we say, uneven. With a new head coach and all-new offensive staff, all positions were up for grabs. As a result, the spring brought a 4-man QB battle between Bellisari, sophomores Craig Krenzel and Scott McMullen, and freshman Rick McFadden. 
Ultimately, Bellisari won the position, McFadden transferred to Akron, and Krenzel and McMullen bided their time knowing that one of them was the future of the position. Adding to the experience in the backfield was senior running back Jonathan Wells, and his presence and leadership would guide the offense as the season wore on. The offensive line was a patchwork unit but was anchored in the middle by All-American candidate LeCharles Bentley.
On defense, OSU had lost two junior stalwarts who decided to enter the NFL draft: CB Nate Clements and DT Ryan Pickett. However, the core of the defense returned in the form of LB's Joe Cooper, Courtland Bullard, and Matt Wilhelm, and safeties Mike Doss and Donnie Nickey. Reserve LB Cie Grant moved to CB to replace Clements and former starter Derek Ross returned to take over the other CB spot vacated by departing starter David Mitchell. Two other former LB's, Will Smith and Darrion Scott, moved up to starting positions at DE.
More than 100,000 fans streamed into newly renovated Ohio Stadium (capacity was increased by over 10,000) on gameday, creating an electric atmosphere for Tressel's first appearance on the sidelines as head coach. Tressel had earlier served as an OSU assistant in 1983 and 1984. On the other sideline, Akron's head man (Lee Owens) was also a former OSU assistant, working for John Cooper as offensive line coach in the early 90's.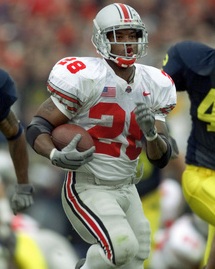 Ohio State's offense dominated the game from start to finish, although the final score of 28-14 hardly demonstrates that. In fact, OSU racked up 525 yards of total offense to only 248 for Akron. Bellisari looked sharp as he repeatedly found young receivers Michael Jenkins and Chris Vance. Jonathan Wells led all ball-carriers with 119 yards rushing and 2 TD's. 
Bellisari's 61-yard TD pass to Vance put Ohio State up 28-7 in the 4th quarter, and it seemed like a good time to put in the reserves. Unfortunately, one errant throw by back-up QB Scott McMullen gave the coaches something to bark about for the next week. As the Buckeyes were driving for a score that would have added insult to injury, McMullen fired a pass late over the middle and it was intercepted by Akron's Rickie Coble at the Zips' 13-yard line. Coble took it back all the way and the final score would make the game look closer than what it was. 
Ohio State had accomplished what they needed to accomplish, a win over an out-manned team to start the season. The offense had rolled early and often, and the defense made life difficult for Akron. But there was a sense that something was missing, that the game should have been put away long before it was. Ohio State fans were getting their first taste of what would come to be known as Tressel-Ball.
2001 would be a strange season for Ohio State football, with one game postponed due to the 9/11 terrorist attacks (San Diego State), a 17-year old RB (Lydell Ross) rushing for over 100 yards in a game and then disappearing for much of the rest of the season, and making history the wrong way via a loss at Penn State that allowed Joe Paterno to set the all-time division I victory mark for head coaches (324).
The team was resilient, always coming back to win the week after each loss. But they frequently had trouble coming up with a big play or a big stop when they needed one. As a result, the team lost 4 games by a combined 15 points. Bellisari sat out the Illinois and Michigan games after being arrested for DUI. Nevertheless, the Buckeyes rebounded from their worst loss of the season (a 34-22 home setback against Illinois) by completely dominating Michigan for one half before holding on for dear life in the second half to win 26-20 over the Wolverines. 
The frustration of all the near misses and the chemistry built through the adversity of the season would serve the team well the next season, as they rolled to an unprecedented 14-0 record on their way to the school's first undisputed National Championship since 1968. By that time, Tressel-Ball was a household word, "Holy Buckeye" was a near-legendary play, and a seemingly unremarkable incompletion to Chris Gamble had been replayed more times than any play since the Immaculate Reception. What a difference a year makes.