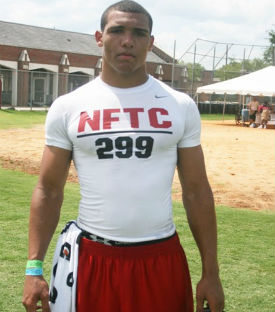 While it's generally not thought of as a football state, New Jersey has actually produced some pretty good players over the years. Knowshon Moreno, Donald Brown, Shonn Greene, Malcolm Jenkins, Dwayne Jarrett, Brian Cushing, Miles Austin, Eugene Monroe, Anthony Davis, Ron Dayne, Joe Flacco, Bryant McKinnie, and BJ Raji are just a few of the names you might recognize that hail from the Garden State and that pipeline doesn't appear to be ending when it comes to the recruiting class of 2013.
We already got you familiar with Voorhees Eastern CB Eli Woodard (twice), and now we introduce to you another 2013 stand out from Jersey in Somerset Immaculata DE Tashawn Bower. Bower, who stands at 6-5/230, is one of the best defensive linemen in the nation for his class and is rated as a consensus top 50 player in the country by most recruiting sites. He currently has nine scholarship offers, but as one of the hottest prospects on the market, expects many more suitors to come knocking down his door in the next few months.
The good news for the Buckeyes is they begin Bower's recruitment with a head start. Bower has relatives who live in Columbus and are Buckeye fans and have been pitching the school to him often. Bower grew up watching Ohio State often and likes that Columbus isn't too far away from home and that he would have relatives out there if he needed them. 
We got a chance to sit down with Bower to discuss his recruitment, interest in Ohio State, what other schools the Buckeyes will be competing with, and much more. Join us after the jump to learn more about Tashawn Bower, who one day may be donning the Scarlet and Gray.
You made the trip up to OSU this summer for camp. Was it your first time there? What were your initial impressions of the campus and football program?  
Yeah, this was my first time seeing the school.  I didn't get to see much of the campus, but I'm well aware of the success of the football program.
Coming all the way from New Jersey, what makes you interested in Ohio State?
Well I have family right in Columbus so they always talk about the school. It's also not too far from home so family would be able to see games.
When you were on campus did you get to speak to the coaches? If so, which one(s)? What did they tell you about a scholarship offer?
I spoke to Coach Siciliano while I was on campus. He told me that I should call him in a few days after I left camp. When I got home I called him and they wound up offering.
What other schools are you interested in and who has offered? Do you have a favorite or list of top schools at this point?
I'd say I'm interested in Florida, Miami, Oregon, USC, UCLA, Iowa, Wisconsin, and all the schools that have offered me: Syracuse, Rutgers, UConn, Virginia, Florida State, Ohio State, Virginia Tech, Tennessee, and West Virginia. I can't say I have a favorite or list of top schools because it's still early for me and I don't want to make any decisions soon.
When do you expect to make a college decision?
I'll probably make a decision after I take all five official visits.
What factors are you looking for in the school of your choice?
I'm looking for a place where I can be comfortable living at for four years, as well as somewhere that has good academics and athletics.
What are some things on the football field you do well? What are some things you need to improve on?
I think I'm very aggressive coming off the ball and have good speed getting to the ball. I really want to improve my take-off. I think it will impact my performance a lot.
What are your goals for the remainder of your high school career? What are your goals for the college level?
I want to get an all-country award and definitely a state championship. At the college level I want to be around 245 pounds, maintain my speed, and just be ready to play