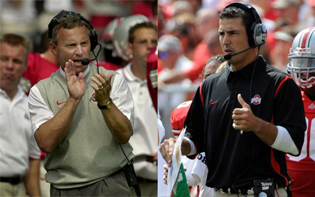 11W Heavy Industries grows yet again. Please welcome Elika Sadeghi, to our ranks. During football season, Elika will be interrogating an opposing blogger, Twitterstar or beat writer and kicks things off today.
Happy hump day Buckeye Nation! I'm sure you are just as excited as I am that we finally only need one hand to count the days til kickoff (THREE DAYS!!!). As big of a relief as it is that my voice has had adequate recovery time (and is ready to go for another season), my celebratory beignets at Cafe du Monde and hurricanes on Bourbon Street seem much too long ago. I'm so giddy I'm almost positive I'm singing "We Don't Give a Damn..." in my sleep.
This time around, not only do Buckeye fans get to kickoff a new season, but an entirely new era of Buckeye Football as well. It's hard to believe that nearly ten years have passed since Coach Tressel and the Buckeyes were taking the field, oddly enough against Akron, for his debut at Ohio State. When I think back to all the great memories we've experienced since that day, it makes me even more impatient for Saturday and the Luke Fickell era to arrive so we can see what each has in store for us.
In addition to my annual enthusiasm each fall, it is my pleasure to bring to you "Across the Field" every Wednesday this season, where I'll give you an inside look at each week's opponent through the eyes of one of their own writers. As the season progresses, feel free to let me know what kinds of questions you would like me to grill our "Across the Field" guests on.
This week I had the opportunity to interview MAC blogger extraordinaire Matt Sussman, of Hustle Belt, and get his take on this Saturday's Akron game and the Zips' 2011 season. So without further ado, here's a little something to help you get to know the 2011 Akron Zips a little better.
COACH IANELLO IS GOING INTO HIS SECOND SEASON AT AKRON AFTER A ROUGH 1-11 DEBUT. WHAT KIND OF CHANGES DO YOU EXPECT TO SEE WITH ANOTHER YEAR UNDER HIS BELT AND NEW STARTERS OUT ON THE FIELD?
Matt Sussman: Considerably less frowning. Ianello has the reputation of being this wizard recruiter so we're going to see, hopefully, some positive signs from people who aren't inherited fifth-year seniors. And, with a little luck, more than one win.
CLAYTON MOORE, A SOPHOMORE JUCO TRANSFER FROM MISSISSIPPI, WAS NAMED THE ZIPS' STARTING QB THIS WEEK. HOW OPTIMISTIC SHOULD AKRON FANS BE THAT HE WILL BE A MUCH NEEDED IMPROVEMENT OVER PATRICK NICELY FROM LAST YEAR?
MS: It's a name quarterback, as famous as a three-star former-SEC commit can be. If nothing else it's a sign that Ianello is going to find talent wherever he can that falls through the cracks, even in the heart of Mississippi and drag it back to Ohio. I'm going to miss Pat Nicely as a starter, mostly because anybody whose name is also a command always has a special place in my heart. But QB wasn't totally the problem last year; if Moore can't cut it, Nicely will do just fine.
MOORE HAD MENTIONED EARLIER THIS YEAR THAT HE HAD BEEN STRUGGLING WITH THE ADJUSTMENT TO AKRON'S PRO STYLE OFFENSE, HAVING PLAYED THE SPREAD IN HIGH SCHOOL AND JUNIOR COLLEGE. ARE THERE ANY INDICATIONS FROM CAMP HOW MUCH OF AN OBSTACLE, IF ANY, THIS CONTINUES TO BE FOR CLAYTON?
MS: The other day I watched a video of Moore in junior college throwing the ball, and unfortunately it was just a bunch of deep passes. So, cool. He can throw the deep ball. If the line gives him enough time to find someone open then I don't think the transition will be too painful. If he's insistent on going shotgun every down then there'll be a problem.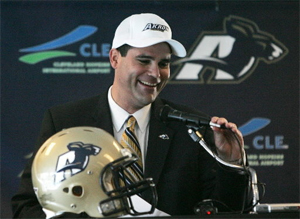 HAVING ONLY BEATEN BUFFALO IN 2010 AND FINISHING IN THE BOTTOM 20 IN THE COUNTRY IN MANY STATISTICAL CATEGORIES, THERE SEEMS TO BE ONLY ROOM FOR IMPROVEMENT FOR AKRON THIS YEAR, HOW DO YOU SEE THIS SEASON PLAYING OUT FOR THEM?
MS: All signs point to another frustrating season. They have six winnable games on their schedule, so best case they get to .500 and try to campaign for a 13th game. That's the best case. They're probably not hitting the 1-11 mark either but if this team won three or four games, Zips fans would be happy with that as they shuffle off to the next soccer match.
OHIO STATE IS 6-1 VERSUS AKRON ALL TIME, HAVING ONLY LOST TO THEM IN 1894. WHAT IS AKRON'S BIGGEST WEAKNESS THAT SHOULD HAVE OSU FANS REST ASSURED THAT THEY'LL COME OUT ON TOP AGAIN THIS YEAR?
MS: The fact that the football game is not 10 minutes long. These games are usually not won by the team's four/five best players, it's the depth of 60 players over a 60-minute span. Akron won't be able to keep up with that. You might even see the Zips maintain a tie or even a lead in the first quarter. It would be fleeting.
IN FAIRNESS, THE MAJORITY OF THOSE VICTORIES CAME IN THE 19TH CENTURY AS WELL. WHAT'S AKRON'S BIGGEST STRENGTH THAT SHOULD HAVE OSU FANS ON UPSET ALERT THIS SATURDAY?
MS: Oh, whatever I choose here will just be laughed off the Internet. They don't get penalized too often and their middle linebacker Brian Wagner makes a lot of tackles. There's no great strength to this team. If OSU loses it will be because of something they did wrong. Faulty alarm clocks, for example.
CAN YOU GIVE BUCKEYE FANS ONE AKRON PLAYER ON OFFENSE AND ONE ON DEFENSE TO WATCH FOR THIS SATURDAY AND THE NEXT THREE MONTHS?
MS: I'm looking forward to redshirt freshman running back Jawon Chisholm. He was the star of the spring game and might be that young player we can all look at and say, "hey, this team might not suck in a couple years." And defensively I want to see how nose tackle Oren Wilson plays after being exiled from Michigan State (rightly so) for being in the middle of that residence hall fight two years ago.
WHAT IS YOUR FAVORITE AKRON FOOTBALL MEMORY OF ALL TIME?
MS: Best Akron moment has to be their last-second kickoff return against Western Michigan in 2007. Up seven and with 15 seconds left, WMU intentionally took a safety to bloodlet their lead down to five. Then this happened:
GREAT CHOICE, AS BUCKEYES LOVE SEEING ANY OHIO TEAM DEFEAT THAT STATE UP NORTH! SO MATT, CAN WE GET A SCORE PREDICTION FOR THE GAME THIS SATURDAY?
MS: 37-14.
There you have it! Special thanks to Matt Sussman for participating and being a good sport. If you'd like to read more from Matt you can find him on Twitter at @suss2hyphens and on Hustle Belt.