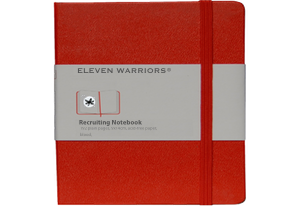 This is an exciting new feature, especially for me, as I have been covering recruiting as well as many other topics for this site for a while now, and finally get to narrow my focus to stalking high school football stars on a weekly basis. As we were with the reader survey, we are always open to suggestions, so if you have any input on what you'd like to see added or taken away from this column, please feel free to shoot me a note at alex@elevenwarriors.com.
You asked for it and now we're answering. That's right folks, now the 11W Recruiting Notebook will be a weekly feature on the site and we're excited to bring you the latest happenings in the Ohio State recruiting world. We'll still be bringing you prospect and commit interviews as frequently as we can, but this is just a bonus for all you recruitniks out there, as well as some of you hoping to get brought into the loop on who the future stars at Ohio State will be.
The Buckeyes currently have 12 commitments in their class of 2012 and hope to bring about 6-8 more into the fold come signing day in February. The coaching staff has also already gotten a head start on the 2013 class which features a tremendously talented group both inside and outside state borders and should get the Buckeyes back in gear after what is predicted to be a "down year" in recruiting for one of the nation's top programs.
In this edition of the 11W Recruiting Notebook, we'll cover week one performances from the current OSU commits and top targets, the latest buzz on who will fill out the class of 2012, what's going on with starting off the 2013 class and more. Join us after the jump to get your first of many weekly fixes of Ohio State recruiting news here on Elevenwarriors.com.
Commits in Action
All of the current Buckeye commits were in action last weekend during the first week of Ohio High School football. Here are a few bullet points on how some of your future favorites performed:
Brionte Dunn ran for 138 yards and a score as Canton Glen Oak took down Akron Firestone 38-17.
Joshua Perry (Olentangy) ran for 99 yards and 2 TDs on 14 carries in a 27-21 win over rival Olentangy Orange, but got ejected after retaliating to a member of Orange kicking him in the face. Perry got up and punched the opposing player and the ref ejected Perry after only seeing his punch and not the kick in the face.
Najee Murray lead Steubenville to a 31-9 victory of Morgantown (WV). Murray has 4 tackles, 21 yards rushing, and 15 yards receiving.
Tyvis Powell has 3 tackles and an interception in a 49-20 Bedford win over Olmsted Falls.
Pat Elflein has 2 sacks and 2 TFL at defensive tackle and played a great game on the offensive line in Pickerington North's 38-3 win over Watterson.
Frank Epitropoulos had 3 catches for 109 yards and a score, but Upper Arlington went down to Tri-Valley 29-27.
Warren Ball and DeSales got smoked by Gahanna Lincoln by a score of 31-14, but Ball made his presence known with a 20 yard touchdown run.
Taft Duo Falls Short
In addition to the commits, there were two big time Buckeye targets in the spotlight over the weekend. Cincinnati Taft, which features DE Adolphus Washington and WR Dwayne Stanford, took on Friendship (MD) Collegiate Academy, which features top 10 player DT Eddie Goldman, in the Skyline Crosstown Showdown on ESPN. Taft struggled offensively during the game, as their top weapon, Stanford, was double and triple covered throughout the day, ruining a great defensive performance in a 12-6 loss.
Stanford notched 4 catches for 56 yards during the contest, but it was Washington who stole the show and the national attention with 11 tackles, 2 sacks, and a forced fumble. Washington was highly regarded by many prior to the game, but when the next recruiting rankings come out, you can bet he'll be moved up a couple of slots if he continues to play the way he did on Saturday. 
I think both Washington and Stanford will be Buckeyes when it's all said and done. In fact, I think it's a matter of when and not if at this point in time.
Filling the class of 2012
Speaking of Washington and Stanford joining this class, I will be making weekly predictions of who fills out the class of 2012 during this column. As previously mentioned, the Buckeyes have 12 current commitments thus far and I think the final number will be somewhere between 18-20. Here's a look at how I see things shaking out come Signing Day in February: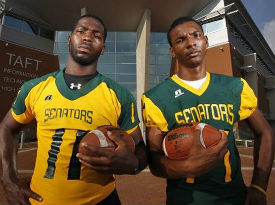 Right now everything I am hearing have all signs pointing to Stanford being the third wide receiver to accept a scholarship to Ohio State. Does that mean the Buckeyes would be done recruiting the position? I don't think so as a player we have featured before, Michael Thomas, currently holds a Buckeye offer and has OSU at the top of his list. I think the receiver, who is rooming with Cardale Jones at Fork Union Military Academy, will be Buckeye Bound come January and will be the fourth and final receiver in this class.
At offensive line the Buckeyes have two interior prospects committed in Jacoby Boren and Pat Elflein. I think Jim Bollman is looking for tackles now and would like to take two more if possible. The first player I think will come on board is third generation Buckeye Nick Davidson. It is confirmed that Davidson has an offer and holds OSU in his top five along with Stanford, Oregon, Clemson, and Colorado. I think ND chooses the Scarlet and Gray after making his visit and takes a shot at becoming the first grandfather-father-son captain lineage in school history.
The second player I think the Buckeyes will land is currently committed to Wisconsin. That's right folks, I think Kyle Dodson will have a change of heart after hearing the NCAA imposed sanctions on the Buckeyes and will flip to the good guys. Keep in mind I don't have any inside info on this move or anything of the sort, but the feeling I got when talking to Dodson after his UW commitment back in June was that he may have pulled the trigger on a verbal just so he wouldn't lose a spot in Madison. I truly think OSU is his favorite school and he was just scared of the school getting hit hard by penalties. I know I'm going out on a bit of a hopeful limb here, but it should be interesting to check in with Kyle to see if there's any movement on this front later on in the fall.
Adolphus Washington was apparently close to committing to OSU last week, but that never happened as he wanted to wait a little bit longer and take some other visits. Washington would be a huge coup for the Buckeyes as he is a nationally recognized talent who could give a jolt of energy to the recruiting momentum. The earlier he pledges, the better, but if you're a Buckeye fan I wouldn't worry too much about his decision, as I think this one is in the bag.
Other players on the defensive line that could join Washington in this class are Dion Dawson, Se'Von Pittman and Ifeadi Odenigbo. I think Dawson is definitely a Buckeye if he can get his grades together. He is a super athlete at the defensive tackle position, but he needs to hit the books if he wants to qualify for an offer. Pittman is currently committed to Michigan State, but his case could be similar to Dodson's. OSU was always his favorite school, but don't hold your breath because as of now, it appears Sparty has a firm grip on the Canton McKinley product.
As for Odenigbo, he was told he would play the VIPER position for OSU, but it appears where he will study could be a bigger priority for him than where he will play on the field. This is usually a good thing in recruiting, but when Cal, Stanford, Notre Dame, and Northwestern are some of your competition, things don't look as good. I still think this comes down to Notre Dame or Ohio State and right now I struggle to put the Bucks on top. of course, that could all change next week.
Finally, looking at defensive backs, there are a couple on the board in Trotwood-Madison's Bam Bradley, Florida's Jordan Diggs and Pennsylvania's Demetrious Cox. Bradley waited a long time for the Bucks to offer, but finally got his wish this summer and now has Ohio State and Pittsburgh (where his brother Nicholas Grigsby is a freshman) on top of his list. I think the good guys take care of business at the end of the day. Diggs was once very high on OSU, but has cooled that interest down since Jim Tressel stepped down.
I still think the Bucks are in it for Diggs and anything can happen after his official visit, but Nebraska and Notre Dame have an excellent shot as well. Cox, a Jeannette product, seemed to be a more likely option before the staff got word of three defensive backs committing, and it's not looking like there will necessarily be a spot for him in this class. Watch these two closely over the next few months as either could end up playing in Columbus.
To sum things up, I think Stanford, Thomas, Davidson, Dawson, Washington, and Bradley will all definitely come into the fold, making 18 players in this class. The other two potential spots are up for grabs and any of the players mentioned could take them. We also could see someone not currently in the picture make their way onto the scene as we have in year's past, so make sure to keep checking back with 11W on the latest buzz.
2013 Looking Like The Real Deal
The 2012 class was supposed to be one of the bets, if not the best, recruiting class in Ohio football history. If that's the case, you would think there would be a bit of a drop-off in 2013's prospects, but that couldn't be any further from the truth.
We're still about a year and a half away from the class of 2013's signing day, yet already elite prospects are beginning to emerge and Ohio State is showing some big time interest in the state's best. Already with offers are Middletown QB/ATH Jalin Marshall, Fitch DL/OL Billy Price, Trotwood-Madison DB Cameron Burrows, and Hilliard Darby DB Caleb Day. I think all of those prospects will become Buckeyes in the near future which would give whoever the coaches are at that point a very nice starting point.
Some other players that are on the OSU radar and could be candidates for offers are Cardinal Mooney LB Courtney Love, Massilon Washington QB Kyle Kempt, St. Henry QB Kyle Stahl, Kettering Alter QB Malik Zaire, Tri-Valley QB Nathan Strock, Canton Glen Oak QB Reid Worstell, Brecksville QB Tommy Tupa, Warren G. Harding RB LeShun Daniels, Warren Howland RB Deveon Smith, Copley RB/ATH Argeros Turner, Akron Fireston WR Kevin Gladney, Shaker Heights ATH De'Niro Laster, Glenville WR Chris Overton, Bishop Hartley TE/DL Jacob Matuska, Cincinnati Moeller OT Alex Gall, Centerville OT Evan Lisle, Canton Glen Oak OT Steven Mathie, Huber Heights Wayne OL Lovell Peterson, Canton McKinley OT Xsavier McAllister, Lakota West OT Kyle Meadows, Pickerington North DE Jake Butt, Pickerington Central DE Taco Charlton, Toledo Whitmer DE Nigel Hayes (Kenny's brother), Trotwood-Madison OLB Michael McCray, Cardinal Mooney DB Marcus McWilson, Warren G. Harding DB Jalyn Powell, Trotwood-Madison DB Reon Dawson, Avon CB Ross Douglas, Canton Glen Oak DB Tyler Lancaster, Hudson ATH Ben Gedeon, and Marlington ATH Dymonte Thomas. 
Obviously this is a large list, but certainly a good one. If the Buckeyes get off the hook fairly easy from the NCAA, they should have their pick of the litter from this impressive group of Ohioans.
In addition to these in-state prospects, out of staters that have offers are Ellenwood (GA) Cedar Grove QB Jonathon McCrary, Seffner (FL) Armwood QB Darryl Richardson, Richmond (VA) Hermitage RB Derrick Green, Somerville (NJ) Immaculata DL Tashawn Bower (11W interview coming shortly), Baltimore Gilman School DL Henry Poggi, Fort Wayne (IN) Bishop Luers OLB Jaylon Smith (brother of Rod Smith), Tyrone (GA) Sandy Creek DB Shaquille Wiggins, and Voorhees (NJ) Eastern CB Eli Woodard. I think the Bucks have a great shot at landing any and all of these players, but if you'd like me to narrow it down, I say they get Green, Bower, Smith, and Woodard as of today.
Other out of staters on the radar include Lexington (KY) Catholic QB Kyle Bolin, Virginia Beach Salem QB Bucky Hodges, Naples (FL) Barron Collier TE Mike Heuerman (Jeff's brother), Lansing (MI) Eastern OT Joshua Crim, Detroit Cass Tech OT David Dawson, Wheaton (IL) St. Francis OL Kyle Bosch, Naperville (IL) North OL Caleb Goebel (Garret's cousin), Detroit Cass Tech DT Kenton Gibbs, Lakeland (FL) Lake Gibson DT Kenennard Swanson, Miami (FL) Northwestern OLB Jaquintin Victrum, Indianapolis Warren Central LB Tim Kimbrough, Miami (FL) Northwestern DB Artie Burns, Tampa (FL) Plant DB Paris Bostick, Fort Myers (FL) DB Eric Wester, Plantation (FL) CB Sojourn Shelton, Newman (GA) DB Tray Matthews, and Encino (CA) Crespi CB Tyler Foreman, just to name a few. 
As you can see 2013 should be a good year as well. It will definitely be interesting to see how things shake out.