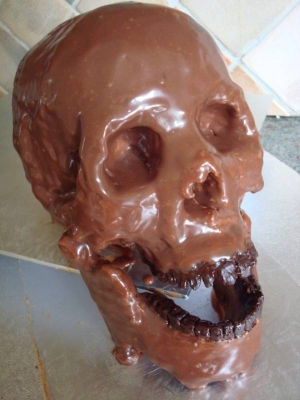 Happy Tuesday everyone, and welcome to your morning Skull Session. Busy day yesterday! Mike Vrabel was officially announced as the new Linebackers Coach for the football team, ESPN decided to sue Ohio State in an effort to get their hands on the whispered nothings between Jim Tressel and Ted Sarniak, and I went outside for about five seconds and almost melted to the pavement in what in retrospect would have been a hilarious parody of the Wicked Witch of the West from the Wizard of Oz. Or maybe Juge Doom.
In any case, hopefully today will be less unbearably hot (DOUBT IT!), less litigious (MAYBE IF I'M LUCKY!), and just as filled with former NFL players motivating you to within an inch of your life (NOT LITERALLY!). Also tonight is the MLB All-Star Game, so maybe if the recursive insanity of Jim Tressel/Tatgate scandal eating its own tail like an ESPN Ouroboros gets to be too much for you, flip it on over there and watch some grizzled frowny guys chase a small white ball in an exhibition game that shouldn't matter but totally does for some reason.
Back To Vrabel Boston.com has a nice rundown of statements pertaining to Mike Vrabel, his retirement, and his hiring by Ohio State. We've posted some comments from his longtime teammate Teddy Bruschi, but this article also includes comments from Chiefs GM Scott Pioli, Patriots owner Robert Kraft, and El Capitan himself, Bill Belichick (as seen to your right in the Buckshots).
Not too bad. Oh, and also this is pretty great, too.
Warning Signs In Oregon Chocolate Chip Kelly has had a fairly rocky road to navigate during his tenure as the Oregon head football coach. Surely he would've liked it to be far more vanilla than it has been; ripples and swirls of success have been coupled with scandal and student misconduct. But through it all it has always seemed that he, being the cherries jubilee on top of a burgeoning college football superpower, could ride out any rainbow sherbet of gossip. Okay that last one didn't make any sense.
Anyway, the reason Kelly should be concerned is because if recent history has taught us anything, it's that once the Trustees start to circle the wagons, there is a better than decent chance that the sports coach is going to be left on the outside looking in. And that's exactly what's happening at Oregon. Currently the members of the board are saying all the right things ("We just want the facts," "Nothing has changed," etc.), but if I were a coach who had paid $25,000 dollars for access to players and then left a goofy note trail proving it, I would start figuring out some backup plans for employment.
This Should be Interesting In case there was any doubt, Jim Tressel will be at the August 12th hearing in front of the NCAA infractions committee. Like others on this site, I agree with the idea that the NCAA has to have already gotten their hands on any communication between Ted Sarniak and Tressel, the last largely unknown piece of this puzzle. Because of that it's probably unlikely that those e-mails will come up at the hearing.
What will be more interesting is to see how Jim Tressel reacts to being the scapegoat. To save its own hide, OSU has turned Tressel into a pariah, and which would be a bitter pill for anyone to swallow. But that's the thing about Jim Tressel; we already know what he's going to say and how he's going to act. Because he's the hero Columbus deserves, but not the one it needs right now.
So we'll vilify him. Because he can take it. Because he's not our hero. He's a silent guardian. A watchful protector in a sweatervest. A dork knight.
Swisssshhhhh I am a Reds fan. Sometimes I don't like to admit it, and hedge my bet by saying I'm a baseball fan instead, and when I do it allows me to post news like this with impunity:
Ohio State will be joining a growing list of college baseball teams that play on artificial turf. AstroTurf GameDay Grass is being installed at Bill Davis Stadium and should be ready by the time the Buckeyes begin fall practice. New York Yankees outfielder Nick Swisher, who was a two-time all-Big Ten player for Ohio State, provided a generous donation to get the project started.
Nick Swisher is about the coolest baseball ex-Buckeye that you could ever dream up, and him doing this is pretty kickass. High fives all around. Not you, A-Rod. You suck.
John Legend, Lookin' Goooooooood You saw the front of the jersey, BUT DID YOU SEE THE BACK?? Hey John Legend, if you're reading this, I'm moving up to C-Bus soon, and I'm just saying, it'd be really cool if we could be OSU b-ball bros. You know, superstars of the recording industry and semi-popular niche blogging world, together at courtside, rubbing elbows with the likes of Les Wexner and a guy whose dad knows a dude. It'd be awesome.
Just think about it man. That's all I'm asking. Just think about it.
(call me)