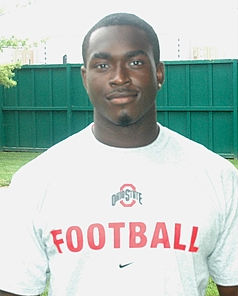 Just over a year ago a sophomore from Virginia was constantly in the ear of his all-world senior teammate, telling him he needed to go visit Ohio State. The two had a big brother-little brother type relationship so the "big brother", who at the time was more interested in schools like Florida, UNC, VT, UVA, Alabama, and LSU,  listened. Pretty soon he visited Columbus, and just five months ago signed a national letter of intent with the Buckeyes over some of the nation's top football programs. Big brother? Curtis Grant. Little brother? Derrick Green.
While the Buckeye coaches and fans have Green to thank for bringing one of the nation's top prospects to Columbus this fall, they may have more to thank him for in the future when he's making his own contributions to the Buckeye football program. Green grew up admiring Eddie George (why he wears #27) and thus, instantly fell in the love with the Buckeyes. It is a love he has not lost over the years and has visited OSU numerous times, including attending senior advanced camp the last two years.
While in Columbus for camp last year, Green (6-0/215) made his mark on the coaching staff, earning the running backs MVP award as just a rising sophomore. This year, as a rising junior, he came back with a repeat performance, but came away with more than just the MVP award. He came away with the scholarship offer he has coveted since impersonating Eddie in the school yard as a little kid.
While it's not a done deal that the Richmond (VA) Hermitage star will definitely be a Buckeye, things are certainly looking that way. It's nice to have a player, especially one from from out of state, want to be in Scarlet and Gray so much, regardless if times are good or bad right now. You can sense that when you talk to Green, which we had the opportunity to do.
Join us after the jump to see how Green feels about earning his OSU offer, what other schools are in the running for his services, how his relationship with Curtis Grant will effect his decision, and much more.
This was your second summer at OSU camp. How did it go this time and how did it feel to be back at Ohio State?
The camp went good and felt great to be back at The Ohio State University.
You came away with an OSU offer this year. How did that feel?
​It felt great to leave OSU with an offer! I know that it was my main focus [to get an offer] when I arrived at the camp last weekend.
Are the Buckeyes your "heavy favorite" school at this point? What other schools are you looking at?
​The Buckeyes are one of my favorite teams. I have been a Buckeyes fan for a long time. Some of the other schools I like include Penn State, Texas, and Alabama.
When do you plan on making a college decision?
​I don't know when I'm going to make a decision. My main focus right now is to help my team get back to states and get my coach a ring.
Will you make any other visits to OSU this year?
​Yes, I definitely plan on attending at least one OSU football game this season.
Will having Curtis Grant there be something positive in terms of your recruitment for OSU?
Yes, it definitely will. Not only is Curtis a great athlete, but he's an even better teammate.
What do you feel are your strengths on the football field? What do you feel you still have to work on?
My strengths are that I'm an all-purpose back with great vision, hands, and speed. I just ran a 4.31 in the 40-yard dash at the Penn State football camp. My biggest weakness is that I'm too hard on myself because I strive to be the best.
Did you get a chance to talk to Coach Fickell? What do you think of him?
​Yes, we were able to talk after camp and that's when he offered me. Coach Fickell is a great guy and will be an outstanding head football coach.
Eddie George was your favorite player growing up. Do you play like him or is there another player you compare yourself to?
​Eddie George is one of my favorite players because I admired what he did at Ohio State. I don't feel I play like him though. I've been told my style is more similar to Mark Ingram's.
If you can tell Buckeye Nation one thing, what would it be?
​I would tell the Buckeye Nation that I love the way they stand behind Ohio State. GO BUCKS!!!!!!!!!
Highlights