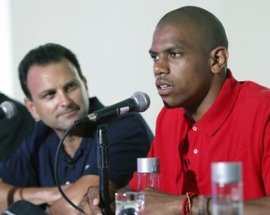 Good morning, press conference junkies, and welcome to your hump day skull session.
A day after we were formally introduced to head coach Luke Fickell, it was Terrelle Pryor's turn to take the stage flanked by super agent Drew Rosenhaus. Talk about one extreme to the other from an emotional standpoint.
While Fickell engaged the audience with a heartfelt (and admittedly senatorial) speech about what it means to be a Buckeye during 30+ minutes of unabashed Ohio State love, Pryor could only muster a 97 second helping of too little, too late.
I don't think there's any question Pryor feels bad for what's left in his wake especially when it comes to Tressel but it's hard to swallow the youth excuse or feel too much compassion because we're not talking about one or two stupid mistakes. Instead, we're talking about what appears to be a pattern of bad decisions over a significant period of time. I sincerely do wish him the best, just as I did Clarett, but I can't bring myself to feel as sorry for him as some of you.
In any event, the good news remains that he's shown no interest in talking to the NCAA and he's no longer in a position to divide the locker room or undermine the efforts of a new coach to focus on the future.
Speaking Of The New Coach. Fickell raised some eyebrows during his introductory presser when he stated, "the situation just didn't work out that we had the chance to sit down and talk" after saying Pryor attempted to call him the week before annnouncing his decision to leave Ohio State.
Graham Watson at Dr. Saturday went as far as to imply Fickell's snub might have pushed Pryor out the door and cited a Plain Dealer poll in which a large section of fans agreed Fickell's "decision to ignore Pryor was a necessary step to distance the university from the scandal."
I won't argue "snubbing" Pryor was indeed the right move but am I the only one who thinks this was likely not even Fickell's decision to make? With Ohio State attempting to be very calculated with their decisions following the bungling of things through March, I don't believe Fickell had sole authority to talk to Pryor during that particular week in time.
The NCAA had stopped by and if you believe even a bit of what we've been saying since May 30th, the decision was made one way or another that Pryor would never again suit up for the Buckeyes. Assuming that's true, I think it's safe to say Fickell was totally on board with the decision so he willingly followed orders from above to rebuff any olive branches from Pryor.
Boom Posing As The Anti-Pryor. In light of the onslaught of allegations making us all a little gun shy, I'm a bit reluctant to totally buy what Boom is selling but man do I want to. In a brief discussion with the Warren Tribune Chronicle, Boom comes off as a guy accepting accountability for his actions while following Fickell's edict of focusing on the future. 
Assuming he was truly only guilty of what he's been punished for, I am willingly and totally behind the kid especially after reading some of his comments. Helping out at the 16th annual Nick Frankos Mims-Manoa Football Camp at Mollenkopf Stadium in Warren, Boom spoke about dealing with his suspension:
"You get better from it. You live and learn from the mistakes you make when you're a younger child. No one is perfect in this world. I've learned from the mistakes I've made. Those five weeks I'll be out, I'll just be getting better and trying to lead my team the best way I can, on and off the field. That's all I can do."
That sounds like a kid accepting responsibility for his actions. As expected, Boom also spoke highly of Tressel:
"Coach Tressel is still a great person to me. He's been a great person to me. I still love him and I still respect him. Nothing has changed the way I think of the great man he is. He's still a great man to me. He's been a mentor to me and he's done great things for me. I still support him and I'll still back him in everything he does."
I don't know about all of you but I'm pulling for Boom to rebound from all this even moreso than rest of the guys involved. I just feel like he's shown the most genuine contrition and proven himself to be a sincerely dedicated player on the field as evidenced by his breakout 2010 campaign.
50 Old White Guys Walk Into A Bar. In case you missed it, NCAA prez Mark Emmert announced plans for a two day summit in which roughly 50 school presidents/chancellors will meet to discuss the future of D-1 sports.
Emmert notes two key topics for discussion will be how to maintain amateurism and and the "integrity of the collegiate model", specifically analyzing the strength of the current investigative umbrella and how to potentially rework the penalty structure so that it can be more easily understood and applied.
With those topics reportedly set to garner major attention, former NCAA investigator and current president of The Compliance Group, Chuck Smrt, took a different slant when speaking at the National Association of Collegiate Directors of Athletics earlier this week:
"I think the biggest hot button issues in compliance today are always the booster groups, academic fraud, and recruiting services. Those are the top ones out there and they are the most significant."
Smrt, whose company is helping OSU through their mess,  also spoke of players selling autographs and memorabilia:
"My guess is there will be more scrutiny in that area, whether there will be more violations, I don't know, but there will be more scrutiny because again it has people's attention.
Even with the increased attention thanks to the Tat5, Smrt still believes boosters, academic fraud and the growth of recruiting services are much more concerning.
Whatever You Do, Don't Learn Anything. You'd think kids would take a moment to stop and analyze their behavior in the aftermath of what's gone down in Columbus but college football players doing stupid things is as certain as death, taxes and Real Housewives reruns on Bravo.
How about Oregon CB/PR Cliff Harris? Dude was pulled over driving 118mph at 4:30am in a car that was rented by a school employee. Harris was driving on a suspended license at the time. Interestingly, the employee says she can prove via bank statement that Harris didn't receive an illegal benefit because he gave her $300 to borrow the vehicle.
Meanwhile, down in the sunshine state, Florida Atlantic CB Cortez Ash was busted for stealing 400 lbs of copper wire from a business at 3:15am in the morning only to return later that day and attempt to sell the stolen property to the very same business. Yes, you read that right.
The owner quickly recognized Ash and his cohort from surveillance video of the robbery and called the cops. For his efforts, Ash and his buddy are now facing burglary of a business, third-degree grand theft and dealing in stolen property charges.
Mixtape. Bookmark this to keep track of athlete arrests...Anchower had bed bugs (NSFW)...Repost!...Target is racist?!