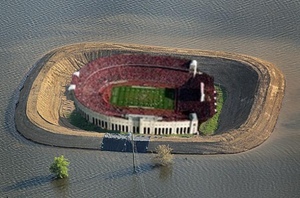 48 years ago today, a "red telephone" established a link between the White House and the Kremlin after the events of the Cuban Missile Crisis had sufficiently spooked the leaders of the two countries. They had hoped the hotline would help the two powers avoid mutually assured destruction and it did.
Luke Fickell managed to navigate his own crisis lately when all but one of the 23 members of Jim Tressel's final class managed to make their way to Columbus for the start of summer quarter and the quickly approaching fall camp.
Pennsylvania linebacker Ejuan Price, Scout's #14 middle linebacker, sought and received his release Friday and will likely sign with Pitt. Given what's transpired over the last 90 days, it's a minor miracle that Price was the only defection in this class, so Fickell has clearly passed his first major test.
Spirits appear to be high for the unflinching 22, but don't take our word for it. Here's Akron SVSM cornerback Doran Grant after the Big 33 Classic Saturday night (not long after a 101 yard pick-six):
"I noticed that right before I came here – I was like, 'Wow, I feel like I'm in a movie.' It really doesn't feel real. I'm really about to leave to go to college like in the movies. But I'm used to it now. It's going to happen. I have to do my thing."
Just like in the movies.
Doran, I've thought long and hard about this. Your Delta Tau Chi name is... Pounder.
Assume the worst and everything is a bonus. The 2012 class took another hit when Canton McKinley defensive end Se'Von Pittman committed to Michigan State yesterday. Long thought to be a future Buckeye, Rivals' #8 defensive end opted for the stability of Dantonio and the Spartans over the uncertainty in Columbus.
Pittman is considered by some to be the best defensive lineman in the state, so the loss is a big one. Taken by itself, the Buckeyes could overcome hits like this, but Pittman's departure is part of a troubling pattern on the recruiting front. Mentor defensive end Tom Stroble pledged to Michigan 10 days ago and just last week, four-star offensive tackle Kyle Dodson committed to Wisconsin, a day after receiving his OSU offer.
What makes all of this particularly painful is that the 2012 Ohio class is exceptionally loaded (particularly on the defensive line) and we're just not used to seeing Ohio kids with Ohio State offers going elsewhere. Unfortunately, there will be a few more of these to stomach as we move closer to February.
Happy birthday TP. Terrelle Pryor turns 22 today and as far as birthday gifts go, the rumored 5.1 he received from National Football Scouting isn't exactly the best of birthday presents.
The shadowy organization/league partner assigns players scores on a scale of 1.0 to 9.0. A 7.0 typically maps to a first-round selection and anything over 6.0 is thought to be a top 75 player. Pryor's 5.1 places him somewhere in the sixth or seventh rounds, but this is the supplemental draft we're talking about, so the Raiders burning a first round pick on the quarterback is still a possibility.
DOHRMANN'D. George Dorhmann's Memorial Day surprise included the names of nine current Buckeyes accused of trading memorabilia for money or tattoos. Since then, we've seen a flurry of the accused, mostly via their parents, fighting back.
Johnny Simon's father spoke out, saying the allegation was false, quickly followed by threats to lawyer-up out of Storm Klein's father, Jason, pointing out that his son doesn't even have tattoos. Now, Zach Domicone and C.J. Barnett's people are disputing the assertions. Fred Domicone, father of Zach, said the following to the Dayton Daily News:
"It is not true. You can't say it any simpler than that."
Collin Abels, Barnett's defensive coordinator at Northmont went on to say that the safety had receipts for all of his tattoos.
This meshes with what we've been hearing in that the accused have organized memorabilia and receipts in an attempt to fight back and clear their names.
If they are ultimately cleared, Dohrmann's victory lap after Tressel's resignation will be all the more absurd.
Random Bits: BCS executive director Bill Hancock will go before the DOJ on Tuesday. This is getting interesting... Brian Bobek fluff... Coaches skydiving: Ron English, Dana Holgorsen... The dream microwave... Epic Tree is epic... Lost in translation.