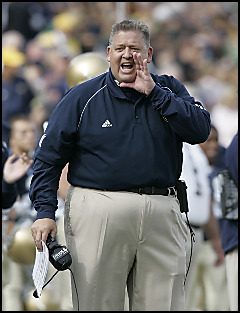 Good morning and welcome to your Saturday morning skull session. I apologize if it fails to meet your expectations but should that be the case, I blame the fact I was subjected to the nightly public address version of Sweet Caroline last night at the Clippers game. Though the song is always painful, it was worse last night as the Pawtucket Red Sox were in town meaning every fringe Boston fan within 40 miles was on hand to assist the already horrible Neil Diamond joint with raspy delight. Thankfully, my party realized The Floorwalkers could be heard down the left field line since they were playing next door at the LC outdoor pavilion so we missed the last few bars of a top 10 worst songs of all-time staple. 
Speaking of Gigantic Suck. Though it's chump change to the former football school located in South Bend, it still drew a chuckle to see Notre Dame has already shelled out $6.6 mil to rid themselves of Charlie Weis with the total amount to eclipse $7.2 mil upon completion of payments in 2015. 
Thinking they struck gold way back in 2005, Irish fans suffered through a Weis era featuring three winning seasons in five tries producing a 35-27 record. Even worse, Charlie's .564 winning percentage ranks 25th out of 30 head coaches at Notre Dame. In his defense, he is 1-2 in bowl games. The win? Over Hawaii in the 2008 Hawaii Bowl. The losses? 34-20 to Ohio State in the 2006 Fiesta Bowl and a 41-14 shellacking at the hands of LSU in the 2007 Sugar Bowl. Charlie Weis? More like Charlie Dillinger. 
PentBoathouse Open For Business. Gordon Gee and Columbus Parks and Rec Director Alan Knight will be on hand today for the grand opening of Ohio State's new boathouse along Griggs Reservoir. The $5.2 million dollar structure has been a bit of a lightning rod over the last few years with residents not thrilled about the increased traffic, potentially decreased safety and the loss of land in and around Duranceau Park near the water. 
Ohio State owns the actual 22,000 square foot structure while the city maintains ownership of the land. If you recall, Spielman was pretty vocal in opposing the structure a few years back maintaining among other things that $5.2 mil was a ridiculous price to pay for such a building. To help offset cost , Ohio State is charging the Greater Columbus Rowing Association about $35k per year to rent the space and will also rent the facility for $225 per hour. 
ThrowUpBack Unis. In case you missed it in the Buckshots, that fashion faux pas up north is planning to sport throwback uniforms when they take on Notre Dame in Michigan's first ever night game this September. As we Buckeye fans are well aware, new jerseys will always be a hot topic for debate though it's hard to envision a wide array of opinions on what is reported as Michigan's new look. 
AD David Brandon is hoping fans will line up to buy the new jersey which will be unveiled sometime at night as an underwhelming bit of marketing coinciding with their night time kickoff. I'm sure plenty of fans will plunk down the $80 or so to get their hands on the collectors item but that doesn't mean the product is appealing, unless of course you're into navy jereys that appear to have been shat upon by a swarm of bumblebees. Bottom line, money rules all, even at the most elitist of schools. 
Stock Up On The Hot Pockets and Coke. EA Sports' NCAA Football 2012 hits shelves in July touting some new features that will likely have you making trucker bombs in the basement to avoid losing precious time away from the TV. A key add especially for our Big Ten inferiority complex is the ability to fully customize conferences meaning you no longer have to swap one team for another when making changes. You can more easily load up the B1G with SEC teams and promptly destroy them with your dominant Buckeye squad. 
The game also has new Dynasty Mode OC and DC roles in which you specialize on one side of the ball creating the chance to earn a promotion to the head coaching big time if you meat program-adjusted goals. Head coaching gigs come available at the end of the season as coaches are fired/retired or taken another job. Just think, you can create a Bollman clone and conveniently have him take the head job at Austin Peay as a bit of a self-healing maneuver. 
Mixtape. Cleveland will not be hosting the B1G football conference championship game...Solid review of The Villian's rookie season...Thad missed the spring B1G coach/AD meetings to rest his crickity spine...Stewart Mandel's a humanitarian?...As accurate a timeline as you'll find (NSFW?)...RIP Randy Savage.