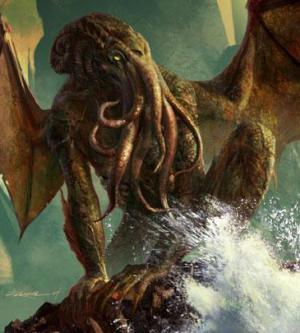 Good morning and welcome to your Friday Skull Session! It's summer break down here, for another week at least, but it's been rain clouds and cold for the most part. The same could be said for the NCAA and Ohio State, unfortunately. But while we weather the current storm, the rest of the world hums along in blissful ignorance of the true dangers lurking underneath the thin shell of reality. I speak, naturally, of C'Thulu, also known as the NCAA Compliance Office. 
It hasn't been the most exhilerating week to be a Buckeye fan. We've feared the worst, as a seemingly devestating scandal broke about what seemed to be the wholesale adoption of the kindergarten "you lick it it's yours" policy for OSU football players by Columbus-area dealerships. We've then hoped for the best when it turned out to be a routine paperwork snafu. Through it all, the week has pretty much been "take your shots at Ohio State" season throughout the internet.
Yet the world outside of Buckeyeland continues to turn.
Cineri Gloria Sera Est. On a much more serious note, in a tragic story out of Florida, a lineman for Alabama passed away yesterday morning. Vying to start this season after transferring from Junior College, Aaron Douglas had a troubled history. It's unfortunate when anyone dies at such a young age, and especially so when on the cusp of their own shot at glory. Douglas' Junior College coach had only good things to say about his former charge:
"It's a tragedy and all my prayers go out to him and his family," Arizona Western coach Tom Minnick said. "He was a great kid. He came in during the summer and helped our young kids out and was a leader on the field and off the field and did everything we asked him to do.

"He will be truly missed."
Our thoughts go out to his family. 
What are a few ethical violations between friends? Getting away from the more depressing news, we recieved word that the Fiesta Bowl was being fined $1,000,000 on Wednesday, a total that likely makes of annoyingly oft-quoted movies from the mid-90s happy, but otherwise underwhelms. Last night those the Fiesta Bowl commited their violations with were put on notice as well.
For those not keeping track, the Fiesta Bowl gave free tickets to Arizona politicians in violation of campaign finance laws. The State Ethics committee has now determined that the politicians involved were themselves in violation of the law as well. While specifics haven't been released, including the names of the alleged violators, there is little doubt that someone will feel the heat.
Money Quote:
The report detailed a wide array of improper spending by bowl officials, questionable gifts to curry favor from public officials and illegal reimbursement of some bowl personnel for campaign contributions to politicians.


The Fiesta Bowl report detailed about $45,000 in reimbursements to employees for political donations, an apparent violation of federal and state laws. It also revealed lavish and inappropriate spending, such as $33,000 for a Pebble Beach, Calif., birthday bash for then-CEO and President John Junker, $13,000 for the wedding and honeymoon of an aide, and a $1,200 strip club tab for Junker and two others. Junker has been fired.
Releasing the Kraken. Rob Oller over at the Dispatch compares the NCAA to Ye Olde Abomination-Maker, Dr. Frankenstein, accusing them of creating an uncontrollable monster. Considering the number of football coaches wandering around with bolts sticking out of their necks (*cough* Will Muschamp *cough*), he may have a point. 
The NCAA can educate athletes about the dangers of getting too cozy with supposed friends of the program, but celebrity worshippers are relentless in their pursuit of brushes with greatness. And let's be honest, most athletes enjoy being pursued.

So the NCAA can and should create more deterrents to cheating, but it also needs to understand it created some of the problems it seeks to solve. You can't market March Madness without also advertising the athletes who star in it.
Even so, much of the hype-train is the result of the schools themselves pushing the envelope, rather than the NCAA. Up until a couple of decades ago, the NCAA held the media management rights for college football, and we rarely saw more than a couple of televised games a year for most teams. It was only when the NCAA was forced to relinquish that right that the media coverage of college football exploded.