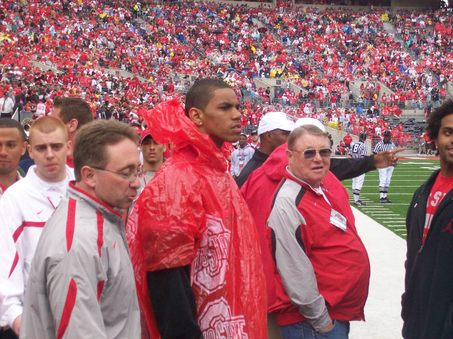 This Saturday at 1:30, as you approach the gates of Ohio Stadium under a threatening sky with a fist full of three sweaty and crumpled five dollar bills, your immediate thoughts might turn to "God I hope there are still seats in B-deck" and "Wow I guess the economy is really tough since apparently a 5 dollar Spring Game ticket in 2009 is apparently worth 15 2011 dollars." Still, if your mind happens to turn to football for some reason, and it might, there are a few things you might want to be on the look out for as the first team offense goes up against the first team defense in a series of scripted plays from arbitrary positions on the field, eschewing the traditional team drafts and Scarlet versus Grey format because for some reason we only have 10 offensive linemen on the team.
The Kicking Game
HA! That's right. Not the quarterbacks, or the running backs, or even the wide receivers. I'm starting with the kickers and thereby implying that it's the most important things to look out for. The truth of the matter is that not nearly enough attention has been paid to the kicking game this spring; if the passing game ends up struggling like a lot of people think it might, then a lot of pressure is going to fall on the running game and the kicking game to put up points. Drew Basil is now the man on both kickoffs and placekicking, and though he has pretty great range, he had better be at least as consistent as Barclay was because a lot is riding on his shoulders.
Ben Buchanan resumes punting duties, and since this is what amounts to a typical Ohio State practice, don't be surprised if you see a number of forced situations that call for Ben to kick about five times in a row. Ben actually had a pretty decent season last year, averaging over 41 yards per punt, and it will be interesting seeing how he's improved. Also expect a fake punt involving Zach Boren that you'll never, ever see during the season!
Coverage and returns should also be pretty fun to watch, since so far it seems like pretty much the same strengths (returns) and weaknesses (coverage) remain. All of which should add up to you jumping out of your seat in excitement and then tearing your hair out in frustration.
The Quarterbacks
Here's my personal opinion on what will win the QB competition: the player who can consistently make short, safe passes, not turn the ball over, and manage the game. That's it. If I thought this competition was about potential, or raw, untapped ability, Braxton Miller would be the man to beat. On Saturday he should be given some opportunities to strut his stuff, and may indeed pull off something ridiculous that prompts breathless comparisons to Troy Smith or Pat White. Still, if you're operating on the theory that the coaching staff wants a guy who can Not Lose a game rather than Win one, your perception of who is ahead in the QB competition might change somewhat.
Bauserman and Graham (the safer choices) aside, Guiton's potential performance intrigues me. He seems to have fallen by the wayside in the past few weeks, and I still don't expect him to be your starter in September, but Saturday will be his last chance for months to prove he can do something. Honestly I'm kind of rooting for the upbeat kid from Texas; he was added as an afterthought to his recruiting class and it'd be nice to see him make some noise.
The Wide Receivers
Here's a fun game to play: watch DeVier Posey for a few plays. The routes he runs, the fakes he makes, his speed, cutting ability, etc. Then watch anyone else. Then go home and watch Homeward Bound: The Incredible Journey, because that heartwarming slice of Americana is about all that will be able to pull you out of the deep depression you've suddenly sunk into. Things to watch out for? How about anyone besides Posey making plays at WR?
The talent is there, but so far no one has been able to step up and become a reliable pass catching threat. T.Y. Williams is a huge target, but needs to find ways to get separation from defenders. Philly Brown is very, very fast, but he needs to run better routes and get on the same page as his QBs.  Once these guys start to put things together they should be pretty good, but as of Saturday you're going to be looking at blocks of marble rather than David.
The Running Backs
This one should actually be pretty fun. The running backs are a ridiculously deep group, who, aside from Dave-ing it up repeatedly, will also likely be asked to catch some passes. An interesting play that the team has been running this spring is a five wide set with sometimes two running backs in the formation. And it's not just the speedier, smaller guys in there, the tankerous statured Carlos Hyde has made an impact catching the ball from time to time.
Jaamal Berry is the guy who has stood out to me the most in the spring, as his first step speed and vision are terrific. Of course, being that this is Ohio State, the guy everyone wants to see is the more Beanie Wellsian Rod Smith, who is just an absolute wrecking ball when he gets going. Truthfully, I would compare his running style more to Adrian Peterson; Smith is very tall and runs mostly upright, but is also able to dip his shoulder extremely low to initiate contact. Hopefully that will allow him to avoid injuries in the future.
The Secondary
Everyone's favorite Shining Time Station employee, Tyler Moeller, will likely be out due to him continuing to rehab his shoulder, but watching who takes over at safeties should be fun to watch. Everyone who might potentially play in this secondary loves to hit, and possible coverage issues (which there may not be many) aside, they should be pretty beastly against the run. Also something to keep an eye on is the competition for the number two corner opposite Travis Howard. Roby and Allen have looked good recently, but Dominic Clarke may have something to prove to a hopefully well-attended Spring Game.
Everything Else
Injuries. The offensive line, as previously said, is almost criminally shallow in terms of depth. If one of these guys gets hurt... euuggghh.
Ignore the scoring system. It's designed so that both offense and defense are evenly matched, at least on the scoreboard, to set up an exciting "last play in the world" scenario where winner takes all.
Melvin Fellows. He has been terrific all spring, and will have a shot to show he's the next Cam Heyward in front of a large audience this time.
Left tackle. My money's on Marcus Hall being the guy when all is said and done, but Andrew Norwell has improved by leaps and bounds in the past year or so.
Your hopes. Spring Game All Stars don't always translate into regular season All Americans, and we don't call the Spring Game MVP the Taurian Washington Award For Excellence for nothing.
Seriously, 15 bucks? Come on now.
In any case, it should be a fun afternoon at Ohio Stadium. Get there early, enjoy some lacrosse, and then sit back and watch the last football for months.