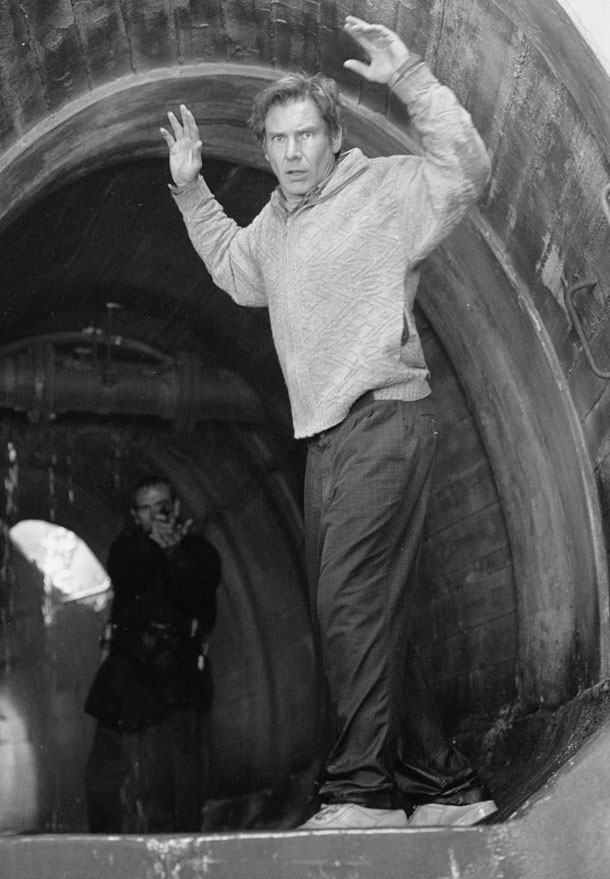 "On August 12th," reads the overly dramatic voice, "Ohio State will face the music." Cue loud klaxons, as Jim Tressel's disembodied head floats ominously against a dark background while a distorted version of "Hang On Sloopy" plinks and planks. Images of the 2010 Ohio State football season flash across the screen, slowly becoming back and white as the voice continues, "Will the NCAA buck the Buckeyes? Will Jim Tressel survive his fall from the chestnut tree of fame? Find out in TATGATE 2011!!" Explosions. Smash cut to a talking head making a lame pun before he begins an interview a hyperbolic college football "insider." Repeat 500 times.
As I mentioned in Tuesday's Skull Session, I'm not a huge fan of long, drawn out sports narratives designed to perpetuate scandal. Which is why, unless something new comes up, this will likely be the last post from me devoted to the issue. Still, there are a few things yet to be gleamed from the NCAA's Notice of Allegations, and today what I'd like to do is break down what the NCAA has requested that OSU provide at their hearing in August. Most of it is pretty routine stuff, but on the other hand a few items have the potential to reveal some interesting underpinnings to the program that we don't generally get to see.
If you've ever wanted to know exactly what Ohio State football players were told with regard to NCAA rules, or just how many secondary violations OSU has committed in the last five years, or who the hell Ted Sarniak actually is, then get ready, because in a few months it looks like we're going to find out (or, at least, Ohio State's interpretation of these issues).
A lot of the requests are procedural items that likely show up in every NCAA investigation of this nature. They want a detailed explanation of the violations committed, including a description of what was sold (including the Gold Pants), and then also the actions Jim Tressel took in trying to investigate the incidents himself. More mundane details such as sampus size, total number of student athletes, total number of university sponsored teams, etc. are also to be included. In other words, any information that will provide background for NCAA investigators as they go through the rest of the material. And while the NCAA did not accuse Jim Tressel or Ohio State of anything new in their Notice, it does appear that they will also be looking for any irregularities in the Athletic Department as a whole.
For instance, Ohio State is to provide numbers for both the total number of football grants/scholarships paid in the last four years and the average overall cost (tuition, room, board, books, etc.) for attending Ohio State for a year. There are other requests, such as bowl records, official paid visits for recruits, and lists of who withdrew from the football team and why, but what it all adds up to is that the NCAA is going to attempt to determine if there is any kind of monetary fraud going on within the Athletic Department. I don't think anyone foresees them uncovering any kind of "pay for play" situation, but the NCAA wouldn't be doing their jobs if they didn't at least check.
A few of the other items seem to be included as part of an effort to determine what kind of further punishment might be handed down, or even if Ohio State might qualify as "repeat offenders" of NCAA rules. OSU is to submit details about their television contracts, but a television ban of any sort seems unlikely. More likely is the "repeat offender" label, at least if Ohio State's numerous secondary violations could be enough to constitute a major violation in the eyes of the investigators, as OSU is required to submit a detailed explanation of all their secondary violations in the last five years, including a separate list for those form the football program. Which is a very, very long list. Adding to the issue is that the NCAA wants to know exactly what Ohio State players were told in terms of compliance, obviously with special attention paid to what players were told about selling memorabilia.
Background information aside, other pertinent information related to this particular case will be coming to light. The NCAA wants to know exactly what punishments the university gave out to both Jim Tressel and his players, and who exactly in the Athletic Department knew of the player's violations. It's unlikely we'll get any more names or details from either of these; so far the company line has been that Jim Tressel and Jim Tressel alone knew about this, conducting his own investigation and telling no one. If that's the truth, Tressel did a hell of a job of keeping a lid on everything for so long. If it's not, then someone else is about to pay the piper.
Probably most interesting is the chance that we'll finally get to find out exactly who "Uncle" Ted Sarniak is, and what his relation to Terrelle Pryor has been in the past five years or so. Honestly it's hard to fathom a situation where a wealthy guy takes a college athlete under his wing as being completely innocent, but OSU will likely try and put the best face on Sarniak and the situation overall. Also to be identified is Chris Cicero, the lawyer who first alerted Jim Tressel to the violations.
The NCAA's overall aim in collecting this information is to determine three things: first, that there are no further issues or irregularities within the Ohio State Athletic Department that need to be addressed. Secondly, that OSU has been consistent in its self-reporting of both the Tat Five incident and the Jim Tressel coverup. And finally, that the self-imposed punishment handed out by the university is sufficient in light of the violations committed.
I don't expect that the NCAA will find any new bombshells from the information that OSU will provide, although the smaller things may add up, such as the mountain of secondary violations committed by the football program does worry me somewhat (although Ohio State's meticulous reporting of them may help their case here). Could OSU get off with the punishments they've already imposed on themselves? Possibly, but given the scope of information that the NCAA wants, I feel that once they make their final determination there will be more punishments headed our way.