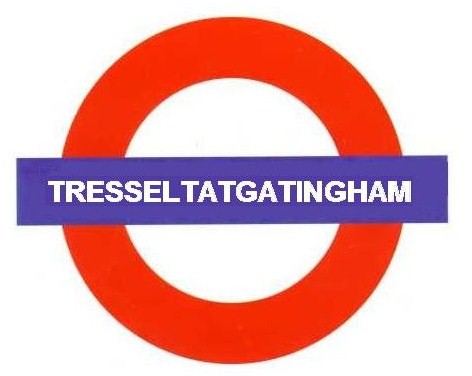 The most conspicuous uncertainty created by l'affaire de les mensonges et tatouages (that's French for "the unfortunate bullshit dominating your headlines since December") is the series of position battles that began with spring practices. None of those battles will hold more importance to Ohio State's success in its five handicapped games than the one occurring behind the ample posterior of Michael Brewster.
We already know Luke Fickell will be standing in for Jim Tressel on gameday for at least those first five Saturdays.  What we don't know for certain is who will start in place of Terrelle Pryor, DeVier Posey, Mike Adams, Boom Herron and Solomon Thomas, all of whom were assured to play with their respective first teams come September.  Of those five, the one understudy whose success matters the most is the one assuming the role that will be relenquished back to Pryor in Lincoln on October 9.  What's distressing is that we probably won't know who that will be until summer winds down.  An ongoing NCAA investigation plus an ongoing depth chart battle means there's no closure of any kind of Ohio State at this time.  So much for a quiet offseason.
You can forget about any of these position battles for temporarily open positions providing any foregone conclusions prior to late August.  Between a virgin gameday head coach and numerous other first-time starters outside of those sliding in for the suspended, reconstructing this depth chart is going to be an extremely aggressive exercise in hazard mitigation.  This coaching staff is going to take as much time as possible to determine the path to least risk, which also creates uncertainty for the opposition.  Yes, Tatgate is so diabolical that it will spawn a horrifying Frankendepthchartenstein opening Saturday opponent for the Akron Zips (that's German for "accidental starters who are still better than your intentional ones.")
Foregone conclusions are not bold statements, they're sure things.  Saying Joe Bauserman or Braxton Miller will definitely be the starting quarterback in Miami is a bold statement.  Conversely, naming your newborn daughter "Jasmyne" or "Destyni" and then predicting that she'll grow up to become a stripper is a foregone conclusion.  We are simply not afforded that level of obviousness for the exercise of figuring out who our substitute quarterback is going to be.  Tatgate is doing Ohio State a huge favor for the 2012 season when Pryor is no longer an option in game six or any other game, when this decision needs to be made permanently, but there's the tricky matter of 2011 to deal with first.  It's especially tricky because regardless of what the media guide says about Nic Siciliano, Tressel has been the defacto quarterbacks coach for a decade.
This uncertainty speaks directly to the variety of quarterbacking attributes on the roster.  Fortunately this shouldn't be one of those awful Austin Moherman/David Priestly/Steve Bellisari situations where you're attempting to mollify varying degrees of lousiness either.  Tressel's worst recruiting classes over the past several conference championship seasons have each produced multiple difference-makers.  The Buckeyes will be sans their most notable difference-maker for the five games that he would have used as a foundation for a Heisman campaign.  Do you have any idea how much those trophies go for on the secondary market?
Speaking of secondary market, Ohio State's backup quarterback options - to borrow from our favorite virtual drinking buddy Brent Musberger's vernacular - include [begin tipsy Musberger voice] "the Elder Statesman, the Afterthought, the Legacy and the Prodigy." [end tipsy Musberger voice]  They all wear the same uniform, but look closer and you'll see that they're about as similar as snowflakes.  Each candidate brings an advantage to the field that also comes with a deficiency.  Remember that video game Gauntlet where you had to choose if you were going to be the warrior, wizard, valkryie or elf?  This is kind of like that, except without the awesome medieval weaponry.
Bauserman's clear superiority is in his tenure.  Perpare yourself for an onslaught of "Bauserman is old" jokes between now and the end of the season, because he is really, really old.  As a rising high school senior, Bauserman gave his verbal commitment to play for Ohio State and four months later the Buckeyes actually lost to Michigan.  That's how old Bauserman is.  Granted, there was time away from Columbus to pursue a baseball career, but as far as tenure goes Bauserman is breathing that rarified Todd Boeckman air.  We know from experience that can be a mixed bag.  There's usually a good reason why the most tenured guy isn't already starting.
Kenny Guiton's first visit to Columbus came after he committed to playing for Ohio State.  Austin Boucher, Kevin Newsome and Tajh Boyd had all declined their Ohio State scholarship offers prior to Guiton receiving his, and by all accounts he has become the model teammate with a legitimate shot of winning the job.  Keep that in mind the next time you have ill words for any Plan D recruit.  Nobody knew who Joe Germaine was either. 
Taylor Graham's father transferred to Ohio State from Notre Dame after Lou Holtz installed an option-run scheme ill-fitting of his classic drop-back skills.  The son, el apuesto fusilero (that's Spanish for "enormous man-child who drills holes in receivers' chests from 40 yards away") is very much like the father, however his team's offense is more predicated on the available skills rather than a system in which pieces are stubbornly placed into.  Another tidbit about the elder Graham: He's the reason that Kirk Herbstreit didn't see major action until his senior year.  It's really too bad; that kid could have grown up to be famous.
Finally there's Miller, the newest quarterback who is practicing spring football with the Buckeyes during what was scheduled to have been his last semester in high school.  He's also the Buckeye we seem to know the most about of the four, as we've been hearing about how good he is since his freshman year in high school.  With the proliferation of scouting videos to the Internet, seeing a kid who makes everyone else on the field look slow and silly has started to lose its radiance, and in case you haven't seen Miller's tape, "other kids looking slow and silly" is the prevailing theme.  However, his homegrown candescence hasn't taken on the same legend simply because too many of us have actually seen it live.  We're quite certain that it's real.
The worst possible quarterback scenario is an August camp that doesn't produce a clear-cut starter.  As any seasoned football mathematician realizes, having four starting quarterbacks really means you have no starting quarterbacks, simply because it's nearly impossible to maintain some semblance of rhythm playing flag football with alternating quarterbacks, let alone college football.  The coaching staff knows this and has to make a decision - albeit, not until September - on what that peckin order is going to look like.  If none of the candidates are able to make it an obvious choice with at least a couple of tough games on that handicapped slate, the Buckeyes could be su la merda fiume senza una paletta (that's Italian for "stuck in Delray, Detroit without heavy artillery or body armor.")