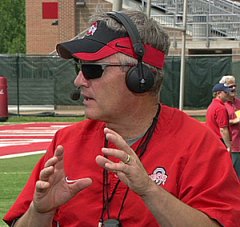 The Spring Game is less than two weeks away and the end of the school year rapidly approaches. This spring opened with a lot more questions than usual, focused especially on the heavy attrition faced on both sides of ball, whether through graduation or suspension.  But as spring practice moves apace and the fallout from the Tat5 moves fades into the frothy background of the pre-season miasma, the focus shifts to the future rather than the past. 
Tressel and All-American Center Mike Brewster took questions from the media today during a B1G Q&A, and fielded questions about Pryor's development as a player, the doghouse, how to deal with negative attention, and our newest, corn-obsessed bretheren. 
This Buckeye team, no matter the reality, will always be looked as Terrell Pryor's team. So it's no surprise that the veteran QB was the first subject to come up. Pryor has been recovering from a foot unjury suffered during the Sugar Bowl against Arkansas, so couple with the suspension, his profile during the spring practices has been different than would normally be expected. Tressel had this to say:
Well, Terrelle has had an interesting spring practice so far because he had an injury during the bowl game. He'll be back running around in May. What he's really done to take the next step in his development has been to spend a lot of time in the film room, working with the other players. . . We've been proud of the progress he's made each year. . . 
Of course, the obvious question is who will understudy for Pryor during the first five games?
That's such a difficult one. . . I kind of vacillate each day. I think yesterday it was Kenny. But we don't have a game tomorrow, we don't have to make that choice today. We have 15 practices to make that choice. . . That's a great question, I wish it was definitive, but I just don't think I can answer that. 
11W favorite Kenny Guiton is the starting quarterback in September, ladies and gentlemen! You heard it here first! Until tomorrow, maybe. Somehow, I tend to think we won't know who's starting until the week before the game.
Next, Tressel addressed the Mel Kiper article where it's claimed Pryor projects as an NFL tight end. Considering the absurdity and inflammatory nature of the claim, Tressel took it in stride:
I think this, you know, you can never worry too much about someone's opinion because there's lots of them, and you can never hold on to an opinion you like. . . [Pryor] made a quantum leap last year, just in the way he ran the game, he managed the game. . . We've got to go to work like crazy, work on his throwing. . . I think as you listen to the experts, making sure you can do things in the shotgun and under center is crucial [in the NFL]. He's working on both, and he needs to work at both. . . I don't think the draft of 2012, and it's just my opinion, he'll be looked at as a tight end and not a quarterback.
Projecting quarterbacks is always a dangerous business. Josh Freeman is looking like a Franchise QB at Tampa Bay, while Jamarcus Russell is Jamarcus Russell. That said, the idea that Pryor, who has started at quarterback for 3 years at a top level program and whose experience at tight end consists of exactly zero snaps, will not get a look from any of the 20 or so teams desperate for a QB is patently absurd. It's enough to make one think Kiper is getting jealous of the attention Todd McShay gets everytime he proves to be dumber than everyone thought. 
Perhaps the biggest information to come out of the conference was the status of defensive bulldog Jonathon Newsome:
Steve, you know that I've been known to have a doghouse, and Jonathan [Newsome] is coming in and out of it, mostly because we don't feel he's doing everything he needs to do, so he's doesn't have all of the privileges available to him. 
Newsome was one of those expected to be fighting for a spot in the 2-deep at linebacker, and this is probably why we haven't seen him much. Newsome is in the mold of a Homan or Rolle, speedy and rangy, so we can only hope he gets it together before the season starts. 
Finally, Tressel let lose this old-timey thought on the atmosphere surrounding Nebraska football:
I think what you feel is more important than what you see. When you got off the plane in Lincoln, you just feel football.
Sounds like they should fit right in.