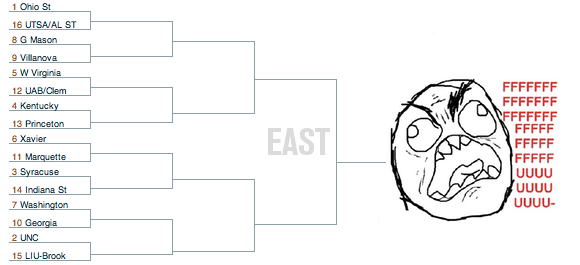 The experts (and fake experts, and fake pundits, and everyone at B/R) seem to agree: the East Region is absolutely loaded. Ohio State, the tournament's #1 overall seed, will likely have to beat George Mason/Villanova, Kentucky and then North Carolina (or Syracuse) to even get to the final four. If the seeds play out, they'll meet Duke there and then Kansas in the championship game. Oh well, nothing worthwhile ever comes easy.
We'll have much more on this during the week, but here's some reading material from around the web:
KenPom profiles for Texas San Antonio and Alabama State. While we're at it, here's George Mason, Villanova, Kentucky, North Carolina and Syracuse.
Yahoo's The Dagger previews the region with "Ohio State's tough road to the Final Four". Money quote:
The committee didn't do the Buckeyes any favors by putting them in the most difficult quarter of the bracket, but Jared Sullinger and company should still get out of the East to advance to Houston. North Carolina is prone to too many cold spells on offense, Kentucky's defense is suspect and even Syracuse doesn't play zone well enough to defend Ohio State's perimeter attack.
FiveThirtyEight's forecast has Ohio State cutting down the nets. Advancement probabilities by round: 1st 2nd round - 99.8%, Round of 16 - 86.2%, Round of Eight - 66.8%, Final Four - 49.3%, championship - 31.3%, winning it all - 20.7%.
Tipoff Time: Ohio State will play at 5pm(-ish). The game will be televised by TNT.