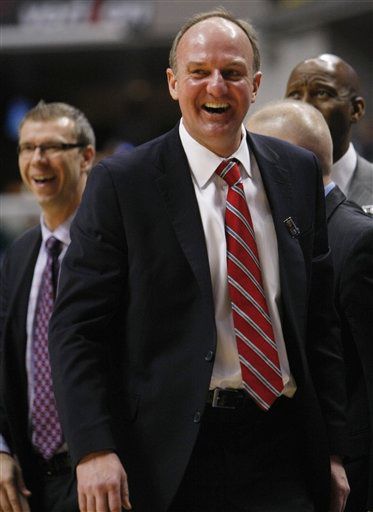 Needing overtime to get past Northwestern 67-61, the Buckeyes take on a Michigan squad that came back from a nine point 2nd half deficit to beat Illinois 60-55. Already 2-0 against Michigan this season, Ohio State looks to reach the B1G championship game in what will undoubtedly be a charged up Conseco Fieldhouse.
The fanbases started chirping yesterday with Michigan fans chanting "Fire Tressel" and Buckeye fans responding with boos all throughout Michigan's comeback victory. There were actually more than a few threats from ushers to have unruly fans removed though I didn't see anyone actually shown the door. Bottom line, the atmosphere is going to be the best we've seen all season.
Similar to Tressel's ownership of the Michigan football program, Thad Matta has enjoyed enormous success against the Wolverines winning 13 of his 15 matchups. The two wins this season have been very competitive games with OSU winning by four in Crisler Arena to spoil Brady Hoke's grand entrance before winning by nine in Value City Arena back on February 3rd.
| # | Name | PTS | REB | ASST | POS | # | Name | PTS | REB | ASST |
| --- | --- | --- | --- | --- | --- | --- | --- | --- | --- | --- |
| 44 | William Buford | 14.5 | 3.9 | 3.1 | G | 4 | Darius Morris | 15.1 | 4.0 | 6.8 |
| 33 | Jon Diebler | 12.3 | 2.5 | 2.5 | G | 10 | Tim Hardaway Jr. | 13.8 | 3.8 | 1.7 |
| 23 | David Lighty | 12.3 | 4.1 | 3.4 | F | 1 | Stu Douglass | 7.3 | 2.9 | 1.5 |
| 0 | Jared Sullinger | 17.3 | 9.7 | 1.2 | F | 0 | Zack Novak | 8.6 | 5.8 | 1.6 |
| 52 | Dallas Lauderdale | 4.5 | 3.5 | 0.2 | C | 52 | Jordan Morgan | 9.5 | 5.6 | 0.5 |
Opponent
Michigan's impressive comeback win over the Illini saw Darius Morris score eight of his 17 down the stretch with Tim Hardaway Jr. adding 16 and Zack Novak 14. A streaky three point shooting team, the Wolverines buried 11/24 (46%). How they perform beyond the arc today will be something to keep an eye on. In the near upset of Ohio State back in January, Michigan was also 11/24 from downtown though they hit just 6/19 (32%) in the 62-53 loss in early February.
The Wolverines are using a different starting lineup than OSU faced in the two prior meetings with Stu Douglass replacing Evan Smotrycz. For the few minutes Lauderdale is in, that creates a bit of a size advantage for the Buckeyes. Within their rotation, Michigan did use the smaller lineup against OSU for stretches of the previous meetings and Sullinger had up and down results. In the first meeting, Sullinger really struggled defensively when the Wolverines forced him to play on the perimeter. He failed to communicate on some switches and didn't hedge effectively giving Michigan some easy buckets.
Morris scored 18 against the Buckeyes in January but most of that was condensed into an eight minute stretch of the 2nd half. Craft held him to 12 in the 2nd matchup including just two points in the 2nd half on 1/7 shooting.
Hardaway Jr. will have to come up big for Michigan to pull the upset. He went for 11 and 15 in the two previous games, burying three triples in each. Novak and Smotrycz were also factors in the first game with four treys apiece. Stu Douglass has had little success against OSU this season, scoring just 10 points on 4/14 shooting in 59 minutes. 
Inside, freshman Jordan Morgan will have his hands full with Sullinger. He played just 19 minutes due to foul trouble in January but scored 10 points in 28 minutes the 2nd time around.
Buckeye Breakdown
Unable to get in a shootaround before the Northwestern game, OSU struggled from the floor connecting on just 32% of their shots. Today, another built in excuse, fatigue, could be a factor as Sullinger and Diebler played 45 minutes yesterday with Buford logging 43 and Craft 40. My guess is the raging atmosphere will supply all the adrenaline necessary to fend off another poor shooting effort from Buford (3/14) and Sullinger (2/12).
Buford scored 19 in the first matchup with Michigan and 11 big 2nd half points in the February tilt shooting a combined 11/25. Sullinger was more up and down. He played what was then his worst game of the year in the January win turning it over six times along with the aforementioned defensive struggles but he bounced back with a monster 19/15 dub-dub including eight points during a backbreaking 13-5 Buckeye run that turned a slim 44-42 lead into a 57-47 bulge with just over a minute to play.
Craft was a boss yesterday with 17 points and seven dimes, huge contributions considering Buford and David Lighty delivered just 15 combined points on 6/22 shooting. He averaged nine in the two earlier Michigan games with slowing down Morris as his primary focus.
Bouncing back from a offensively invisible six points at Penn State, Lighty played well versus Wisconsin with 13 points and six boards but against the Wildcats he tallied just eight points, seemingly not looking to attack as much as we've seen in the past. He's passed up some open looks recently and he's just 5/15 in two games against Michigan this year. Could he be ready to bust out? If I had to guess, I'd say Buford is the much more likely candidate to get it going early tomorrow which might open lanes for Lighty and jumpers for Diebler.
It's tough to beat a team three times in one season but, in what should be another close game, I'll take the Buckeyes by six.
Etc
As a ranked team, the Buckeyes are 31-4 against Michigan. 
Ohio State has won 11 of their last 14 conference tournament games.
Matta has four of the top eight single season win totals in school history.